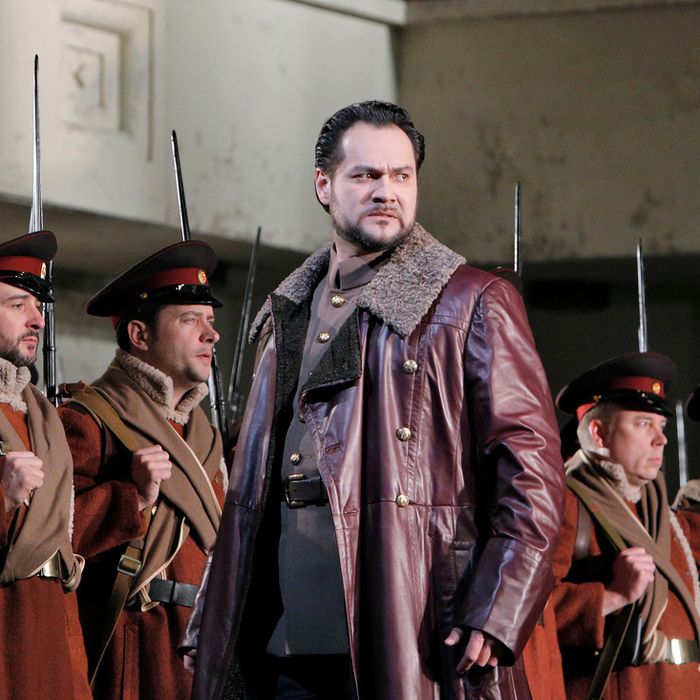 The Met's Prince Igor.
Photo: Cory Weaver/Metropolitan Opera
At Russia's southern border, a swaggering prince named Vladimir hosts costly festivities shadowed by threats from its Central Asian nemesis. An all-out war has brutalized the region; what's needed now is order, purpose, and pride. Even as the latter-day Vlad locked down Sochi against Chechen terrorists and welcomed the world to the Winter Games, the Metropolitan Opera mounted its own imperial Russian spectacular. Borodin's Prince Igor swept back across the company's stage steppes for the first time in nearly a century. Usually, Valery Gergiev would have been on the podium for the occasion; instead, the Met happily made do with Gianandrea Noseda, an Italian whose feel for Slavic music evidently goes marrow-deep. Gergiev was at Putin's side in Sochi, conducting a mash-up of his nation's cultural history. Somehow, Noseda's opening night in New York felt like the more gloriously Russian event.
There's little that's authentic about Prince Igor — it's a posthumous patchwork of sketches, stitched and restitched many times over the years. It's also vulnerable to silliness. YouTube yields a 1969 Soviet movie version, an extravaganza of headgear, horses, and dancing tribesmen that's just a quick leap to Kismet. Borodin's score bubbles with irresistible tunes and gaudy contrasts, with the exotic Polovtsians moving in sinuous oriental dances while Russians answer with thick-soled marches and honest folk songs.
The last time a New York company staged the piece (City Opera, amazingly, tackled this behemoth just twenty years ago!), a squabble broke out in the Times' pages over whether its east-west kitsch was integral and dangerous or decorative and inconsequential. The scholar Richard Taruskin fumed that the opera was a "steamy borscht of harem girls, church bells, high nationalism, and basso profundo." The paper's critic Ed Rothstein defended it as "a radical attempt to comprehend the foundations of modern Western society as it was taking shape."
Tcherniakov sidesteps that debate by focusing on characters instead of crowds. It's not that he's slimmed down the show: a corps of Polovtsians dances in a field of poppies, loutish soldiers start a drunken riot, and the Russian people complain so prolifically that the Met chorus steals the whole epic over and over again. (Chorus master Donald Palumbo may be the company's only indispensable employee.)
But against this teeming panorama, the spotlight finds Igor, sung with sad majesty by the great Ildar Abdrazakov. Tcherniakov and Noseda have restored Igor's often-excised second monologue, and that decision keeps the production firmly at eye level. As a leader, Igor is a failure. He rushes his armies toward carnage, lets himself get taken prisoner, and staggers back, half-conscious, to his blasted home. In Abdrazakov's performance, that final soliloquy fleshes out the character, equipping a cardboard sovereign with human trappings, such as remorse, tenderness, humility, and some last reserves of fear.
Yet the center of gravity in Tcherniakov's Igor is not the title character, not the pernicious Prince Vladimir Galitsky, sung with fine nastiness by Mikhail Petrenko; and certainly not Igor's fellow captive and son, who has lost his heart to the enemy conqueror's daughter. No, the production's tight focus gives us Yaroslavna, the Penelope to Igor's Odysseus, pining with fierce dignity for his return. Oksana Dyka makes her Met debut in this production, and if her voice sometimes acquires a cast-iron clang, it just suggests the character's steel spine. What emerges is a powerful female figure, a rarity in opera. She is not simpering, self-pitying, shrill, wayward, or doomed; she's an indomitable leader with a liquid heart, who yearns for her husband and faces down her wild, despotic brother in a dramatically delicious confrontation.
Miraculously, Prince Igor has a plot — not just a puzzling sequence of events, but a dramatic arc in which characters evolve and interact. This may seem like a low bar to set for a four-and-a-half-hour opera, but in this case it qualifies as a genuine editorial triumph. The reason is that Borodin was a distinguished chemist who treated composing as an infinitely postponable hobby. Nicolai Rimsky-Korsakov recalls in his memoirs how Borodin procrastinated the orchestration of the Polovtsian Dances so long that the two friends finally spent most of a night tearing through the job together. Collaboration was a necessary habit. After Borodin's early death, it fell to Rimsky-Korsakov and Alexander Glazunov to sift through the disorganized pile of sketches for an opera he'd been working on for years. They left a good deal of Borodin's music on the floor and wrote some of their own. The new edition restores the discards and discards some of the posthumous interventions.
To keep from relaxing the tension, Tcherniakov keeps us mesmerized during scene changes with a huge close-up of Igor, projected on a giant scrim. The wounded prince grimaces and sweats in uncomfortably high definition. The technique undercuts opera's circus qualities, and amplifies its power to fuse the intimate and the grand. But that's not enough for this director, who leads us right into Igor's fevered mind, suggesting that entire scenes are hallucinatory dreams. It's an awkward move, which leaves the wounded king standing mesmerized in the poppy fields while a love duet and the Polovtsian Dances whip all around him.
Tcherniakov is trying too hard, and sometimes he leaves the principals wandering, unsupervised, across a vacant concept. The costumes suggest a Russia that flits through time, while the palace at Putivl could be a dilapidated Soviet Ministry of Something-or-Other that collapses spectacularly, leaving a grimly familiar landscape of rubble. There is only so much relevance to be wrung out of Borodin's sprawling patriotic entertainment. But who cares if it's a combination of too little and too much? What matters is that the Met has returned a long-absent marvel to its rightful place in the repertoire. Along the way, it's also shown that Russian opera in the West no longer needs Gergiev to thrive; in Noseda, it's got a new errant prince.
Prince Igor is at the Metropolitan Opera through March 8.