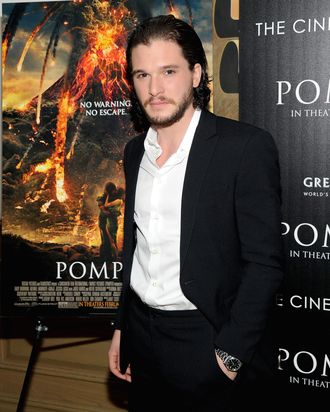 Kit Harington.
Photo: Jamie McCarthy/Getty Images
As Jon Snow, a member of the Night's Watch on Game of Thrones, Kit Harington doesn't get that many costume changes; his body is usually cloaked in coats and furs. But for his recent work in the action movie Pompeii, the actor had to be more physically revealing, and that meant getting into gladiator shape. "I wanted to do a body transformation for something — it was one of those processes that I had never really done before," he told us Wednesday night, at a Cinema Society screening hosted by Grey Goose. But there was a downside to his commitment to working out: "I became obsessed with it," he said. "To the point where I was going to the gym three times a day for six days a week. I was becoming exhausted. So the trainer stepped in and said, 'Look, you don't need to go through all of this. This is body dysmorphia now.'"
Harington called the process "fascinating" nonetheless. "Now that's what everyone assumes I have under my shirt, which is the main reason to do it," he said. Speaking of what's under his shirt, should his Game of Thrones bosses want to up the male nudity quotient of the show, as we've requested, Harington is game. "There are certain things that you can't show as much," he said, motioning to his groin area. "But I think there should be more." And then, grinning, "I think there will be." Spoiler alert!