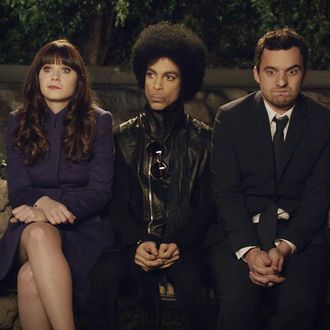 The producers of New Girl have every reason to do the Batdance this morning: Their Prince-powered post–Super Bowl episode pulled in a massive 25.8 million viewers last night and averaged an 11.1 rating with folks under 50, according to preliminary Nielsen data provided by Fox. Among younger viewers, it was the top-rated entertainment broadcast on network TV since 2011's post–Super Bowl episode of Glee. And more important, New Girl drew about five times as many under-50 viewers as it usually does in the overnight ratings. Brooklyn Nine-Nine also got a predictable boost, bringing in 14.8 million viewers and notching a 6.7 rating with the under-50 crowd in what will almost certainly be its top-rated episode ever. Both shows were helped by the fact that last night's blowout of a game — which was down a bit from last year, but still a Nielsen monster — ended pretty much on time, allowing Fox to start both episodes a few minutes earlier than scheduled (sorry, DVR users). As big a win as these numbers are for the comedies, they didn't set any records.
Fox correctly notes that New Girl demolished last year's postgame episode of first-year drama Elementary on CBS, which "settled" for 20.9 million viewers. This is true, but: Elementary didn't start until much later in the night (11:15 p.m.). More important, New Girl was 30 minutes; Elementary was about an hour. If you combine the averages for New Girl and Brooklyn, Fox averaged 20.8 million viewers, finishing a few thousand viewers behind Elementary, despite the much earlier start time.  Also, New Girl plus Brooklyn couldn't match the audience for the post–Super Bowl episode of NBC's much more established The Office back in 2009. The hour-long episode did a 12.7 demo rating (and 27.2 million viewers) in its first half-hour and a 9.2 rating (and 18.7 million viewers) in its second half-hour, easily surpassing the analogous half-hours on Fox last night.
While it's easy to get lost in all the this-show-versus-that-show comparisons with post–Super Bowl programming, in the end, these numerical specifics are really little more than catnip for number-crunching junkies (guilty!) and an excuse for harmless press release posturing by whichever network airs the game. Fact is, airing after the Super Bowl can only help a show by exposing it to new viewers. And as regular season ratings for most shows continue to plunge, that value increases exponentially. Consider: When Glee aired after the game just three years ago, it did an 11.1 demo rating. As big as that was, it was less than double the show's previous demo high of a 5.9 rating a few months earlier. By contrast, as noted above, New Girl pretty much quintupled its recent demo numbers last night. The raw numbers may be a bit lower than some past shows, but the incremental benefits of airing after the Super Bowl are only increasing. Oh, and even before Nielsen tallied a single number, Fox had scored its most impressive win of all, way back in December. That's when the network sold out its inventory of Super Bowl ads, collecting an average $4 million per 30-second spot.