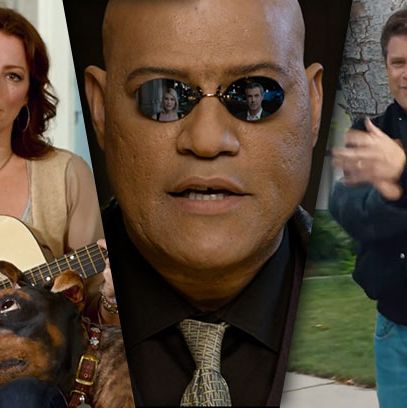 The cliché of watching the Super Bowl just for the ads felt especially true last night, when the game itself was as close as if an actual seahawk and a bronco were competing in a flying contest. As usual, a recurring theme was nostalgia, trotting out a celebrity or a character from a past era in the hopes that millions of people watching will think, Ha-ha, I recognize that person! Here's my money. Here's who popped up — from Arnold Schwarzenegger to the Full House bros to the California Raisins — and how their reappearance made the viewer feel.
COMMERCIAL: RadioShack
CALLBACK: Hulk Hogan, CHiPs' Ponch, Kid N' Play, Twisted Sister's Dee Snider, Mary Lou Retton, Alf, Cliff from Cheers, the California Raisins, and the rest of the eighties
CONCEPT: Eighties mainstays destroy a dated RadioShack, allowing for the new RadioShack to rise from the ashes, like a phoenix wearing legwarmers.
REACTION: Asking, "Was this an episode of The Goldbergs?" and wondering if it's time for a California Raisins comeback.
COMMERCIAL: CarMax
CALLBACK: Rudy
CONCEPT: After a man buys a car at CarMax, a nation — including iconic slow-clap recipient Rudy Ruettiger (played again by Sean Astin) — slow-caps in approval. 
REACTION: Chanting, "Ru-dy, Ru-dy, Ru-dy, Ru-dy, Ru-dy, Ru-dy" while the kids at your party look at you blankly.

COMMERCIAL: Bud Light
CALLBACK: Arnold Schwarzenegger, man who will pump you up and taunt you as a girly-man
CONCEPT: Regular guy is treated to a crazy night, which climaxes with a game of Ping-Pong with Schwarzenegger (dressed as seventies tennis great Bjorn Borg), in which Arnold makes him do push-ups. 
REACTION: Googling to see what percentage of the vote Arnold received when he was reelected as Governor of California. It was 56 percent.
COMMERCIAL: Audi
CALLBACK: Sarah McLachlan, sad dog advocate
CONCEPT: Dobermans and Chihuahuas are bred together, making a new crazy breed, which Sarah Macs advocates for right before one tries to eat her guitar.
REACTION: Wondering why Audi couldn't spring for Bob Barker to get in on the dog fun.

COMMERCIAL: Kia K900
CALLBACK: Morpheus from The Matrix
CONCEPT: Morpheus wants to expose a couple to real luxury, not the fabricated luxury they've been exposed to.
REACTION: Trying to remember whether The Matrix was for or against large organizations manipulating us into valuing material goods over all else, leaving us contented in our blindness to the real world around us.
COMMERCIAL: Dannon Oikos Greek Yogurt
CALLBACK: The Full House dudes
CONCEPT: John Stamos drops yogurt on his pants as a ploy to get an attractive woman to give him oral sex, but Bob Saget and Dave Coulier (who presumably were standing there the whole time) prevent that from happening by offering to clean his pants.
REACTION: Trying to determine whether this is a reference to a specific classic cock-blocking Full House scene or Dannon assumed just having these three together would check the nostalgia box.
COMMERCIAL: Toyota Highlander
CALLBACK: The Muppets
CONCEPT: Terry Crews pulls over to see a broken-down bus, and next thing he knows, his car is filled with Muppets!
REACTION: Picking up a big-nosed hitchhiker on the way home from a Super Bowl party, then throwing him out of the car when he reveals himself not to be Gonzo. 
COMMERCIAL: Comedians in Cars Getting Coffee
CALLBACK: Seinfeld
CONCEPT: Jerry and George get a coffee and a bite to eat during halftime and talk about nothing.
REACTION: Wishing for a laugh track and Julia Louis-Dreyfus.