NeNe really shouldn't be on this show anymore, right? She's always floated a little higher than the rest of the crew, but it's clear that she's having trouble adjusting to a world where she's not the star of the show, with everything happening on her terms. I want to be sympathetic to her, because she's always been the most real and is usually the funniest, but the side of her personality she refers to as NayNay is a poor excuse for the outright contempt she feels for everyone now.
She tried to explain to Gregg that she felt bullied into going to the event and should have stayed home, but felt pressure because everyone was telling her she would look bad if she didn't show up. Can someone hook her up with Alexis from the Orange County housewives? NeNe wasn't bullied into going — she made a choice to go and save face, and then acted like a second grader to prove her point about not having received a "proper" invitation from Kenya. NeNe can be as pissed off as she wants — she was wrong, and maintaining this icy exterior goes further to demonstrate how much of an asshole she is than it does to put the spotlight on Kenya for being such a blatant ass kisser. Gregg drank out of a cup shaped like a toilet the entire time they were talking — with the tank and everything — so nothing else really matters.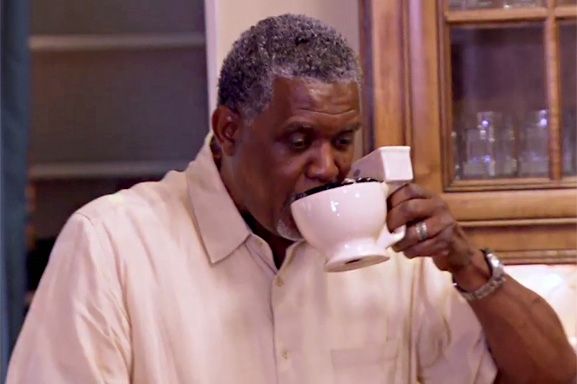 Cynthia was trying to figure out if she was responsible for how upset NeNe was since she was the one who goaded her into going, even after she "admits that she stalked her to come." Here's what I can't stand about Cynthia — she always inserts herself directly in the middle of something that has nothing to do with her, and then backs away, hands up, innocent face, asking, "What did I do?" Um, aside from literally starting all of the drama? Sit down, wig!  She's not talking to Peter, upset that he got into it with NeNe, but she's still planning a surprise birthday party for him. Both she and NeNe are wondering whether NeNe will show up, but I'm wondering why Cynthia's ringtone for Peter is the opening chords for "Free Ride."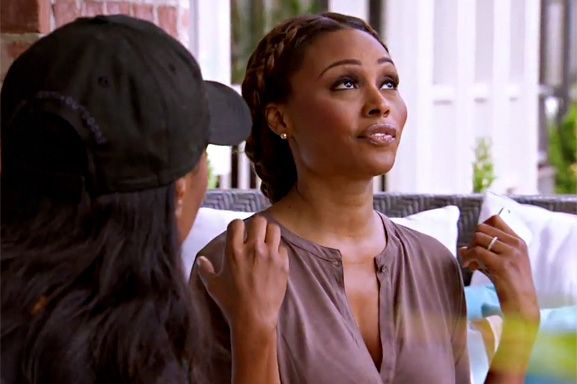 The other thing I don't understand is why the housewives drag their husbands to every event, but get upset when the men say anything to the ladies. That is some Edith Wharton, House of Mirth shit! There are no proprietary gender rules when it comes to people acting like maniacs.
Marlo put on her best flapper wig and Kenya changed out of her camel toe outfit to meet for a drink. Of course Kenya told Marlo that NeNe was acting crazy at the masquerade ball, and to Marlo's defense she did sort of try to stick up for her friend. Somehow Kenya talked her into going to Peter's Rasta birthday bash to try to smooth things over, which is all the foreshadowing you need for how well this is about to go.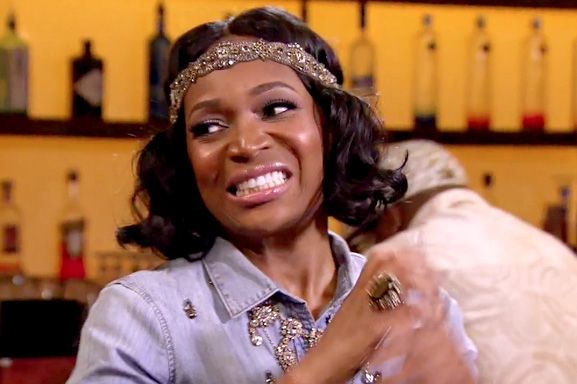 Cynthia rounded up her 19 assistants and put on her best Afro wig to get this party going, only to get the one-two punch of a white Jamaican two-man band showing up and a call from Peter saying he wasn't coming because he's tired. He eventually shows up, but the surprise is ruined because he sees Kandi in the lobby, but there's rum punch flowing like a volcano so he's happy to just get drunk and leave his sunglasses on the entire time. The band even gets into it! They put on their best Tommy Bahama shirts and beat that steel drum like it owed them money. Jimmy Fallon runs around TV doing the history of rap and two white dudes are what you get when you call for a Jamaican band in Atlanta — gentrification is real, people.

When Cynthia told everyone else how terrible the ball was, Kandi was like, "No duh — that was a straight-up ass kisser move from Kenya, and NeNe didn't want to have her ass kissed." Kenya shows up with Marlo right before NeNe shows up with Gregg, and Kandi is the first one to raise the Oh Shit flag, knowing how territorial NeNe gets about, well, everything. After an icy hello to Peter and a fake makeup with Kenya, NeNe goes right to the gas face when she sees Marlo and Kenya talking, and then leaves. Totally normal behavior for an adult woman! Kandi was the only one acting like a real friend, miming to Marlo that her tits were falling out of her dress. She may be a complete jerk about her own family, but Kandi at least knows how to hold a sister down in public. Cynthia thinks the party has solved all of the drama of the masquerade ball, because she couldn't read a situation if it came with instructions.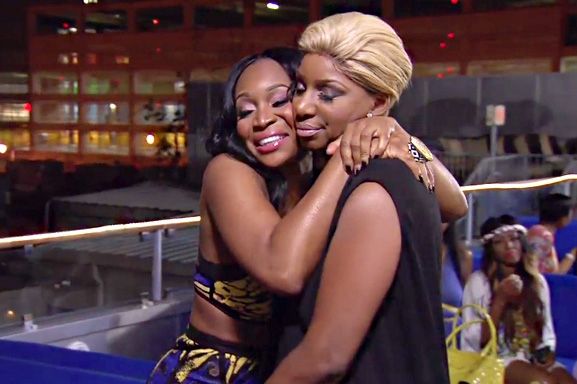 Porsha invited NeNe over to get some acting advice, since she'll be playing a woman with a broken wrist in Kandi's play, and NeNe is happy to tell her to dig deep for her emotional role and think about her divorce if she needs tears. Porsha still thinks her character is called Jade and not Jada, so before we get to the stuff about crying on cue maybe we should back up to the title page. There's some complaining about Marlo and a flashback to NeNe's friend Diana calling Marlo an opportunist, which she absolutely is, even though Porsha is shocked, shocked! to hear NeNe say it.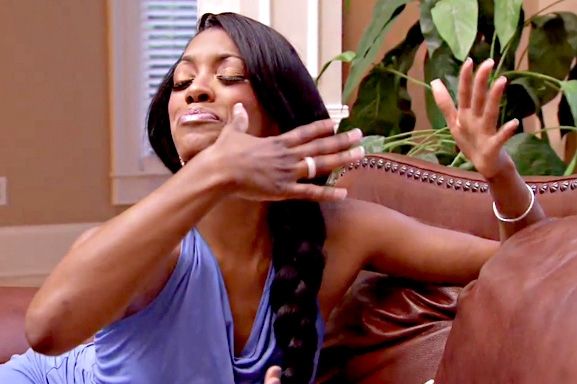 Then, Kenya made tea for Lawrence in a dress that constricted her arms at the elbow, and upped her ass-kissing game by deciding to take everyone on a trip to Mexico. I am sick of these trips! All of these motherfuckers hate each other, and a cabana in another part of the world is not going to fix that, Andy Cohen! For some reason, Kenya thinks Lawrence will make an excellent bodyguard, but I'm betting homie is in it for the free trip.
Phaedra appears for ten seconds, just long enough for Ayden to say grace. I hope she's getting some rest. Take a break, girl, take a break.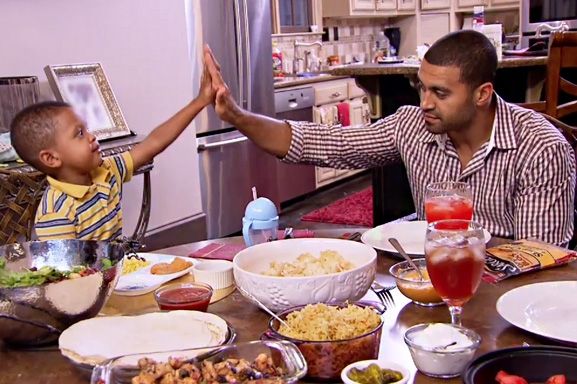 Cynthia is happy her stomach is flatter now that she's free of fibroids, so she's throwing the first annual Bailey Bowl to celebrate after bitchily declaring that some people in the group need more exercise than others. She hired a bunch of trainers to "make sure things go smoothly," and Derek J was a referee along with a blogger named Funky Dineva. Everyone I just listed was utterly useless and completely failed at their jobs, which is important to keep in mind for the upcoming events.
Everyone crafted their own teams — Porsha was Team Naked, NeNe was Team Rich, Phaedra was Team Real, Kenya was Team Twirl, Cynthia was the ever-imaginative Team Cynthia, and Kandi was Team LATE AS USUAL, even though they came in cheerleading and doing intimidating backflips. Kandi is competitive, and has stacked her team with pro wrestlers and gold medalists, because you know her ass will barely move. Marlo saunters in and rolls over to Kenya's team, which makes NeNe write Marlo off for life.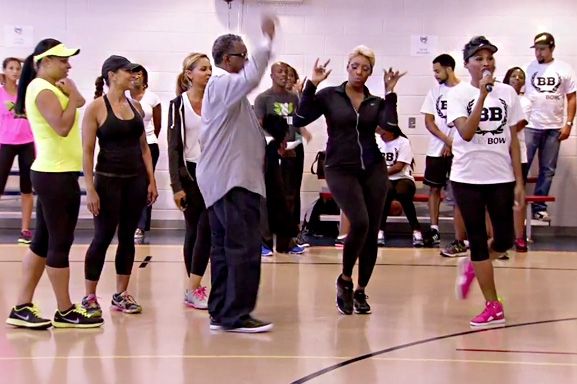 After everyone cheats at the egg and spoon race and Kandi throws a fit, Marlo starts dropping hints that she wasn't invited to be on NeNe's team, then runs and jumps on NeNe's back! Are you kidding me? NeNe is NOT THE ONE — I've never even met the woman and I can tell you that! NeNe swats her off and calls to Gregg, but now Marlo is pissed. Kenya claims she can't understand why NeNe is being shady to Marlo, but she knows exactly what's going on. Kenya gets off on instigating people, particularly NeNe, and she knows that her friendship with Marlo is going to cause major friction.
Marlo continues to yell at NeNe, and when Kenya grabs Marlo's hand and runs toward NeNe, she physically swats them down and yells, "Get the fuck off me, bitch!" before throwing a bottle of water at them. Marlo, still not getting it, continues to follow NeNe and yell, "Tell Atlanta why you're not talking to me, is it because I'm Kenya's friend?"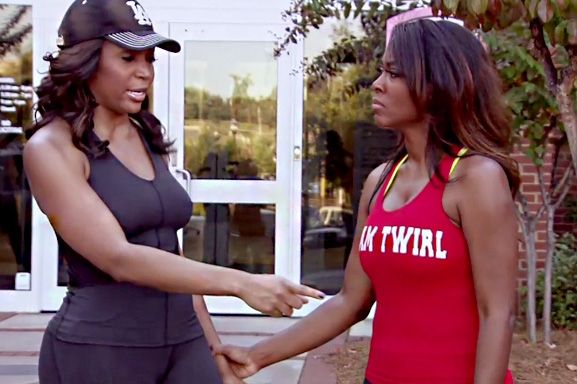 This is a mess. NeNe is too much of an emotionally stunted bitch to talk about her feelings with the woman who is supposed to be her friend, and Marlo is enough of a camera-hogging charlatan to use any excuse to grab some attention. As she walks away, NeNe claims she is intentionally not giving Marlo the reaction she wants, while Marlo breaks down sobbing about how much she used to look up to NeNe, saying she will never go anywhere near NeNe again. After only two events and more drama than was necessary, the Bailey Bowl has come to an end.

What do you think? Were either of them right to react the way they did? Can you even stand the fact that we're taking this emotional train wreck of a show to Mexico next week? It all felt a bit exhausting, like no one is having fun anymore.

Next week promises to be a fiasco — Peter talks to Kordell, Phaedra tries to decide if Apollo should come on the trip (he does), Peter talks to Porsha about Kordell, Kenya asks if Porsha signed on to be a beard, Peter and Gregg get in a fight, and NeNe calls Peter a bitch to his face! I can't take it!