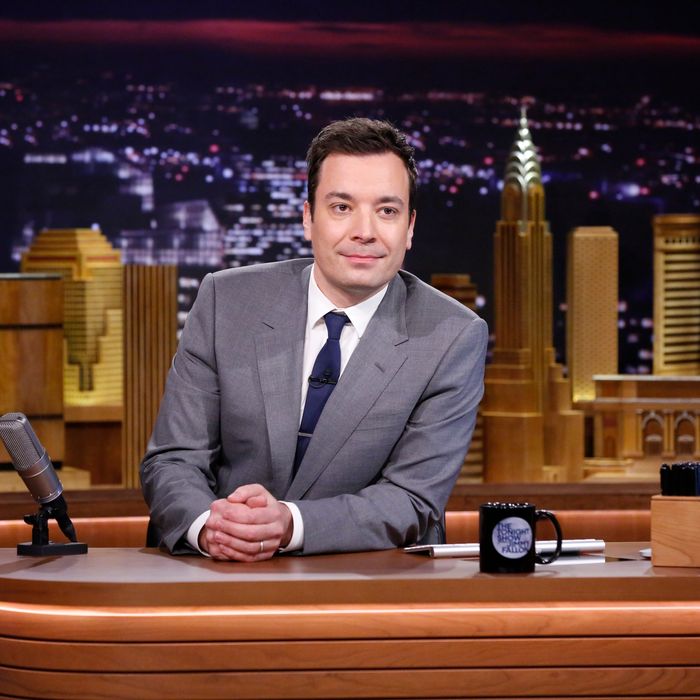 THE TONIGHT SHOW STARRING JIMMY FALLON – Episode 0001
Photo: NBC/2014 NBCUniversal Media, LLC
After months of crappy Jay Leno jokes — some by Jay Leno, but so many more about Jay Leno — and NBC maneuvering, Jimmy Fallon finally took over The Tonight Show last night. He did a fine job, because he's been on TV for 15 years, and that kind of experience will teach anyone how to get good at it. And Fallon is good at it, though it'd be nice if he started to think so.
Fallon opened the show with a series of deep, obsequious bows, and proceeded to introduce himself, his daughter, his parents, and explain how the show worked — he'll come out of a curtain, stand here on this spot, and tell topical jokes. It was very earnest, and deliberately endearing, and mostly I was charmed. But I'm already yearning for the aw-shucksiness to wear off. It's part of Fallon's appeal, I know, and I genuinely am a fan of him and the joy he brings to the often-curmudgeonly late-night landscape. His whole opening — heartfelt as it seemed to be! — was based on this "can you believe it????" attitude. Except yeah, I can believe it. Fallon's been on TV since 1998 and has hosted his own late night show since 2009. If not him, who?
Fallon led off with a signature bound-to-be-viral segment that combined some of his go-tos: dancing, silliness, and '90s nostalgia, this time in the form of Will Smith doing "The Calrton" from Fresh Prince of Bel Air. But this isn't the first time Fallon's gone to the Fresh Prince well — recall him imitating Neil Young singing the show's theme song— nor is it his first "evolution of dance" segment: He's done mom dancing, dad dancing, end-zone dancing, and two histories of rap. And these segments themselves are knock-offs of one of the biggest viral videos of all time. This doesn't mean they're not good or funny or worth doing, but it does mean they are not particularly original.
And that lack of originality pervaded the episode — even though, generally speaking, I found Late Night With Jimmy Fallon to be original and exuberant. Fallon often elicits silliness from his guests, but not so with Will Smith or U2. (Let's point out here that Will Smith had two moments of vague homophobia, too: first refusing to "twerk" along with Fallon, and then complaining that he did not like the "dude" that was strapped to him when he went skydiving — that dude being the instructor who was responsible for preserving Smith's life. You are allowed to touch men, Will Smith.) It was a respectable episode, fine and functional, but almost overwhelmingly not special.
The ostensibly most-special part was a series of cameos, with celebrities owing Fallon $100 for having bet against him in his quest to host The Tonight Show. Tina Fey? Sure, bring out Tina Fey. Mariah Carey? Yeah, why not, she is a trip. Robert De Niro — hey, he was Fallon's very first guest on his first show! Mike Tyson was there, too — how many times would Mike Tyson have to be convicted of rape before he would no longer be invited to participate in cameo segments? Joan Rivers made her first appearance on Tonight in 30 years, but instead of hearing from her — or from Sarah Jessica Parker, or Lindsay Lohan, or, God help me even Kim Kardashian — instead we heard two U2 songs. Fine! That's fine, that is so completely fine. But it is boring. "Fine but boring" cannot possibly be the parts of The Tonight Show that Fallon wants to inherit.
I recognize the futility in reviewing the first episode of a show, and I'm someone who does not draw great distinctions between 12:30 and 11:30 time slots — this just felt like a sort of blah ep of Late Night more than any kind of watershed moment.
Back in 1994, on the fourth episode of My So-Called Life, the mom, Patty, and dad, Graham, bicker gently while getting into bed. He flips on the TV.
Patty: Turn that off. I can't watch that guy. I miss Johnny.
Graham: [Laughs] I know.
Patty: I felt for Johnny, married to all those JoAnnes. I think of him, all alone on some God-forsaken Malibu beach — no guests. God, I miss him.
I remember even at the time thinking, "Gee, I bet no one will say this about Jay Leno." (I grew up in a Letterman-loyal household.) And other than NBC executives of yore, I'm not sure anyone will. But I can imagine thinking this about Fallon someday — not that he's lonely or married to too many JoAnnes, but that I miss him, that I felt for him, that it would feel weird to see someone else do his job. Which is maybe why it felt just a little off last night, like he wasn't doing his job, but rather someone else's, someone less exciting.