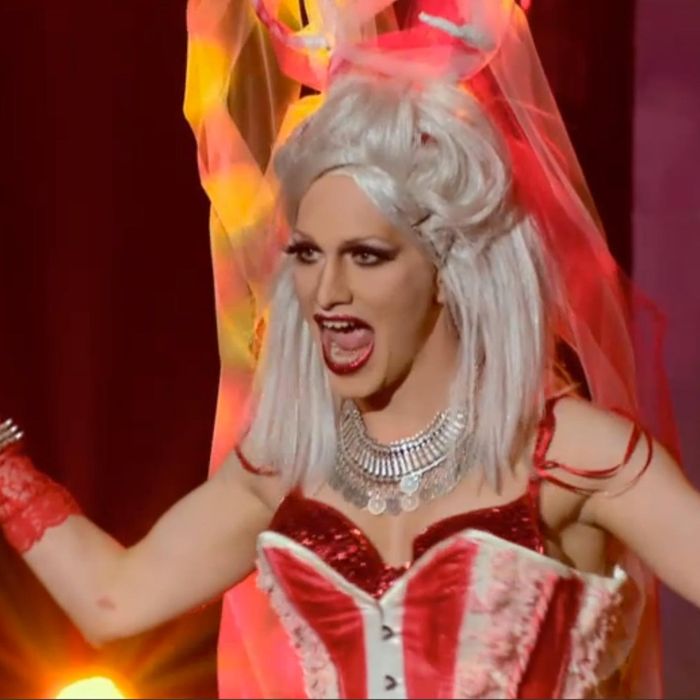 RuPaul kicks off each lip-sync battle — those thrilling Drag Race throw-downs between each episode's two poorest-performing divas — with some words of advice: "Good luck. And don't fuck it up." Because the queens are fighting for their chance to stay on the show, they must bring all of their charisma, uniqueness, nerve, and talent to the runway, which makes the battles the essence of drag distilled into two-and-a-half minutes. But what makes a lip-sync performance iconic? Yes, you should have the song down to every exhale, and yes, you should channel the song. But the most important thing to demonstrate is what is known in skills-based reality TV competitions as "making it your own." In other words, even though the lip sync is a form of pure artifice, there is an essential truth about the self to be conveyed through it — that by mouthing someone else's words, you can give voice to your own. This, honey, is what we call realness. On the eve of the Drag Race's sixth season, let's look back at the best lip-sync battles the show has offered to date.
10. Akashia vs. Tammie Brown, Season 1 (Song: "We Break the Dawn" by Michelle Williams)
Akashia quickly established herself as the front-runner in the inaugural season's "This is not RuPaul's best friend race." In the second episode, she bungled the girl-group challenge and even threw some shade at guest judge Michelle Williams, Destiny's forgotten child. But Akashia, forced to battle Tammie Brown, brought tears to Williams's eyes via transformative lip-synching to her solo effort "We Break the Dawn." At the end of the performance, RuPaul shouted, "Akashia, you motherfucking broke the dawn!" Behold the redemptive power of the lip sync.
9. DiDa Ritz vs. the Princess, Season 4 (Song: "Everlasting Love" by Natalie Cole)
When you perform a Natalie Cole classic in front of Natalie Cole, you really better not fuck it up. This was DiDa's shining moment in an otherwise middling run through the show. She let loose and tapped into the unbridled, feel-good optimism of the song. DiDa had the entire panel, including Ms. Cole, hooting and hollering and waving handkerchiefs along with her by the end.
8. Bebe Zahara Benet vs. Ongina, Season 1 (Song: "Stronger" by Britney Spears)
This was a clear instance where not having any hair was a major disadvantage. The chrome-domed Ongina had no locks to whip back and forth — just a little hat. Bebe, on the other hand, had big hair, which she finally took off in bug-eyed fashion. (This was before snatching off your wig and going nuts became a Drag Race cliché.) In a portentous moment, RuPaul recused herself from the judges table, because Bebe had managed to do what she'd thought was impossible: beat Ongina.
7. Jujubee vs. Tatianna, Season 2 (Song: "Something He Can Feel" by Aretha Franklin)
Jujubee was a lip-synching powerhouse, ultimately winning (or more accurately, not losing) five battles, the most ever on the show. She started this Aretha number soft and slow, casually taking off her big gold earrings and necklace like a woman after a long day, before hitting the melismas with razor-sharp precision and descending into caterwauling glory on the floor. Jujubee proved she was Aretha; Tati was always just a backup singer.
6. Sharon Needles vs. Phi Phi O'Hara, Season 4 (Song: "It's Raining Men … the Sequel" by Martha Wash featuring RuPaul)

This was a battle between the angel and the devil: the tenacious and bullish Phi Phi O'Hara versus the lovably ghoulish Sharon Needles (quite possibly the best name in Drag Race herstory). The former desperately wanted to be known as pretty and sexy, and the latter just wanted to subvert your ideas about pretty and sexy. In the lip-sync battle, Phi Phi was high-energy dance party kid, while Sharon camped it up. We'll never know which queen "won" (in a surprise, RuPaul eliminated another queen, Willam, who had mysteriously "broken the rules"), but it's pretty clear that eventual season-champ Sharon was the better woman.
5. Raja vs. Carmen Carrera, Season 3 (Song: "Straight Up" by Paula Abdul)
A kiki — gay-speak for a party — should not be confused with a kaikai, which is what happens when two drag queens hook up. Case in point: Raja and Carmen Carrera's lip-strip to Paula Abdul's "Straight Up." Raja takes off her sad cougar dress to reveal more tasteful lingerie underneath, prompting Carmen, who "IS nudity," to go bottomless. In a gender-studies major's wet dream, the two proceed to get down and dirty. As contestant Alexis Mateo says, "This is just soft porn … It's kind of hot."
4. Latrice Royale vs. Kenya Michaels, Season 4 (Song: "Natural Woman" by Aretha Franklin)
One style of lip sync is to prance around, spinning and jumping into splits. Sometimes, this works (see: Sahara Davenport as a wedding ballerina against Morgan McMichaels), and other times, it's sad. In this season-four dust-up, Little Kenya Michaels, looking like a deranged kewpie doll, pirouetted around Latrice Royale, who did not budge an inch. Wearing a baby bump (the challenge prior was to transform heterosexual dads into their pregnant drag sisters), Latrice was the embodiment of Queen Aretha herself, emoting with every unsung syllable. She was still, powerful, and joyful. In a move of total desperation, Kenya took off her wig. Santino spoke for us all when he just shook his head.
3. Jinkx Monsoon vs. Detox, Season 5 (Song: "Malambo No. 1" by Yma Sumac)
In one of the rare nods to the high camp of opera, Jinkx and Detox lip-synched to a song by Yma Sumac, a Peruvian soprano famous for her vocal range. Detox had been viewed as a strong lip-syncher, famous for her unique ability to seemingly detach her lower mandible while she sings, but by the time she went up against Jinkx, she'd used up all of her tricks. Jinkx, meanwhile, was the young, fresh ingénue, alternating flirty kicks with grinding hips. Sorry Relaskatox, this was always Jinkx's show.
2. Jujubee vs. Raven, All Stars (Song: "Dancing on My Own" by Robyn)
The stakes were high when biffles Jujubee and Raven faced off for a spot in the finale of All Stars. Both had made the season-two finals and lost. Both loved the other. While Robyn's "Dancing on My Own" had already become the club anthem for lonelyhearts everywhere, Juju and Raven pulled the song back into the immediate context of the competition and their friendship. "I'm right over here, why can't you see me? I'm giving it my all, but I'm not the girl you're taking home," took on a deeper melancholy and reminded you that in this game of winner-takes-all, friends would have to beat friends — at least until the following week. Thus spoke RuPaul: "Shanté, you both stay."
1. Manila Luzon vs. Delta Work, Season 3 (Song: "MacArthur Park" by Donna Summer)
How can Donna Summer's disco version of "MacArthur Park" be interpreted as anything but camp? The lyrics are patently absurd: "Someone left the cake out in the rain / I don't think that I can take it / 'Cause it took so long to bake it / And I'll never have that recipe again." Delta did a fine job playing the straight man, but this was Manila's stage. Outfitted in a Big Bird–inspired dress, the deranged look on her face was so horrifyingly perfect that it's hard to imagine the song any other way now.
Honorable Mentions
Morgan McMichaels vs. Sonique, Season 2 (Song: "Two of Hearts" by Stacey Q)
Raven vs. Nicole Paige Brooks, Season 2 (Song: "My Lovin' (You're Never Gonna Get It)" by En Vogue)
Alex Mateo vs. Shangela, Season 3 (Song: "Even Angels" by Fantasia)
Latrice Royale vs. DiDa Ritz, Season 4 (Song: "I've Got to Use My Imagination" by Gladys Knight & the Pips)
Coco Montrese vs. Alyssa Edwards, Season 5 (Song: "Cold Hearted Snake" by Paula Abdul)