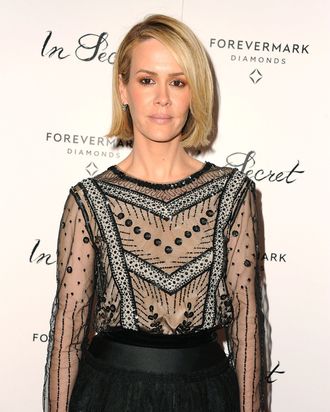 Sarah Paulson.
Photo: Angela Weiss/Getty Images
Season finale? What season finale? The women of American Horror Story: Coven were reunited last night in Hollywood when both Sarah Paulson and Kathy Bates showed up at L.A. hot spot Aventine for a party, hosted by Forevermark, touting their co-star Jessica Lange's new movie, In Secret. Paulson, in particular, was in the mood to give props to all of her past co-stars; when we mentioned her Oscar-nominated 12 Years a Slave colleague Lupita Nyong'o, Paulson predicted, "She's gonna take home the gold," and gushed about Nyongo's recent transformation into a fashion darling. "I want you to know that I had a moment at the Golden Globes in the bathroom, where I'm fixing my lipstick, and this vision in red is in my peripheral vision," said Paulson, laughing. "I pretended not to notice her because it was too much to take in, and she tapped me on the shoulder, and I was like, 'Ohhh, I gotta talk to this bitch? Who is this person?' And she's like, 'Sarah?' And I'm like, 'Oh my God, Lupita!' And then we started screaming like a bunch of schoolgirls.'"
Of course, Paulson is no stranger to transformation herself; she's played three distinctly different characters on the last three seasons of American Horror Story, and she confirmed to Vulture that she'll be coming back for the fourth. Creator Ryan Murphy recently revealed that the new season will take place during the fifties and that Lange is already practicing a German accent for it; when we asked Paulson if she's training in a similar vein, she smiled widely and confessed, "I'm not working on an accent, but I'm working on something. That's all I can say." We pressed her to elaborate: The new season likely won't debut until October, so what could she be practicing at this early a date? "A special skill. A very special skill." Does Paulson's months-long training lend more credence to those persistent rumors that the new season will involve a super-scary circus? Speculate away!