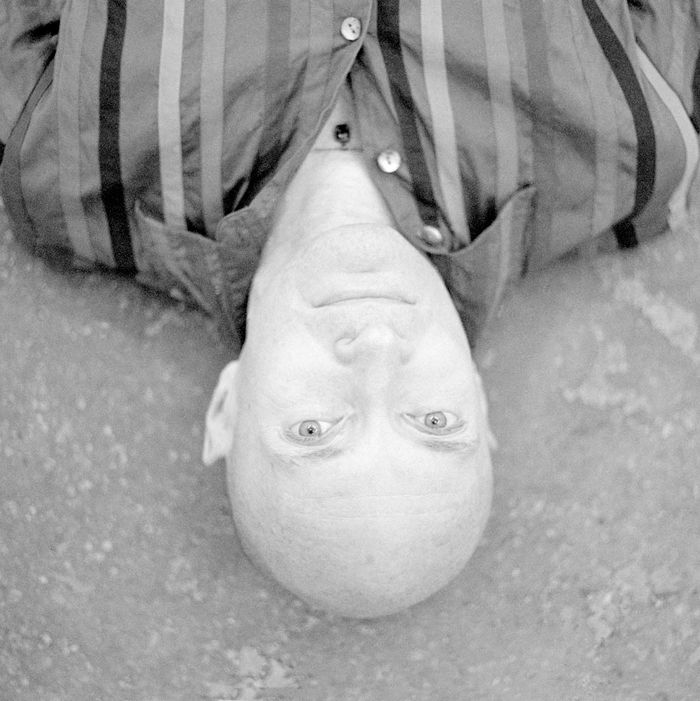 Hudson, photographed by Judy Linn.
Photo: Judy Linn
Hudson — the founder of the Feature Inc. gallery, who went by one name — was one of the greatest of his generation, a generation that was rich in art-dealer talent. Feature opened on April Fool's Day 1984 with a show of work by Richard Prince, and was eventually among the first to exhibit the art of Takashi Murakami, Raymond Pettibon, Tom Friedman, Charles Ray, B. Wurtz, Judy Linn, Richard Kern, Lisa Beck, Tom of Finland, and many others. Hudson was 63, but seemed timeless. He was one of the last of his kind, and among the smartest, wittiest, and most visionary gallerists I've ever known — old-school in that he almost seemed not to want to be a dealer. He just loved art and artists.
The possessor of a sharp eye, an enormously fine-tuned bullshit detector, and an ability to disagree affably but firmly, he started in Chicago, then moved the operation to New York four years later, landing first at 484 Broome Street. Before that he'd been an artist and a performer and spent ten years as an administrator and curator in the not-for-profit sector. Hudson called his gallery Feature "as a way to deflect a personality from the gallery, an attempt to let the exhibitions be the focus. The structure of having several galleries simultaneously show differing exhibitions was my move against stardom and a push for pluralism and multiplicity … it is the artists who lead the way. Watch what they're doing and you'll see what is happening." When it came to curators—many of whom drifted away from his gallery over the past decade — he told the artist Dike Blair, "They should flee from hipness and the current notion of art as fun … What ever happened to the museum as a place of study, aesthetics, and the subjective, or the quiet time wandering about a museum deep in thought or ecstatic with emotion? Perhaps museums should institute one silent day weekly … curatorial positions should be created for those with training outside academia." Amen.
At first he might be placed in the class of gypsy-dreamboat super-intelligent anti-gallerists like Colin de Land, Gavin Brown, and Michele Maccarone. But Hudson was more taciturn, detached, solitary. He avoided being the center of attention and was not social. He said that when he went home after hours, he didn't read the paper or the internet and, except for listening to music, remained in total silence until the following day. "I prefer art that is complex and multi-focused," he said. "Such work is, and probably always has been, out there, yet because it isn't an easy read, or easy to explain. It rarely functions in the market in a very big way."
Unlike almost every other dealer I've ever known, Hudson sat at the front desk. No office walls separated him from the gallery. Getting a checklist or signing-in meant seeing him, as he was forever working — usually with a staff of one or two. His great director Jimi Dams left to form his own excellent gallery in 2005. Since then, it's mainly been Hudson and the wholehearted artist Anne Doran. Once, when asked to comment on the architecture of other Chelsea galleries, he remarked, "Well, I wouldn't exactly call it architecture. In scale, administrative layout, and personality — the suits — we see business at work, the corporate model, which I don't find rewarding or wish to encourage." Whenever I called late on summer weekends looking for information, Hudson always answered the phone himself, in the gallery.
It wasn't until recently that Hudson participated in art fairs, saying, "We should all pay less attention to the salesmanship and showmanship of auctions and fairs, and, of course, be more aware of the not new and hot. Stop running around trying to see everything everywhere, and spend more time with the richness that is close to home." Time eventually forced his hand, and over the past few years he did participate in a few, to fabulous effect. The first, I think, was at Zucher Studios on Bleecker Street where there were no more than a dozen other galleries, most lesser known. I bought two marijuana brownies from him for $25 each and gave them to my best stoner friend, who said they were divine and a great price. His fantastic booth at the Outsider Art Fair (Feature as an outsider!) was all tantric drawings by anonymous Indian artists.
I often saw Hudson early on Saturday mornings going around to other galleries. He saw a lot of art and had well-formed individual opinions on everything he saw. I learned a lot from him and stood corrected often. In the early 2000s, when photographic work dominated the scene, he called for a "moratorium on photography, especially art-directed snapshot-quality images of low life, especially when class, gender, and sexuality are pictured …. and avoid the notion of the largest possible photographs, particularly when laminated to Plexiglas. MoMA's Gursky exhibition made me think that this guy makes great postcard images, and many of them actually would be more significant at that scale and in that form."
He was ultra-aware of the shift in metaphysical control from artists and dealers to speculator-collectors and auction houses. He lost artists to bigger, slicker galleries. Still, few dealers have been more committed to and passionate about the artists they represent. In 2014, Feature is a special gallery of special artists: Always on the cutting edge, but always art-first. I often didn't quite understand the work he showed. But — as with only a tiny handful of gallerists — I trusted him enough to make extra efforts to come to terms with it. I was sometimes sheepish around him, especially when I wrote about an artist and event I assumed he didn't like. Even then, he was sweetly funny with his disapproval and scorn. He had nicknames for people. He called me "Salt shaker." I knew this was a sly reference to the way I can get caught up in the flavorful hype and throw myself at, say, a performance by Jay Z. I'm told he could be quite harsh to artists who sent him unsolicited work that he didn't like, writing notes that suggested why they might want to give up art. I'd love to do an exhibition or book of these letters and notes to artists. Hudson loved engaging with those who engaged with him. He was always available for conversation. I think I loved him. I know I'm in shock and despondent that he's gone. The art world has lost a colossal spirit.