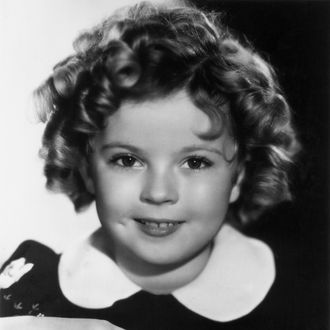 Photo: Hulton Archive/Getty Images
America often abandons its kid stars once they leave childhood. Or freezes them in the amber of their prime. Shirley Temple knew. She was the first and she was one of the biggest, and she was both left behind and nostalgized before finding a second path for herself. From 1935 to 1938 or so, she was the nation's premier box-office sensation and her fresh faced, ringlet-headed, angelic look helped give Depression-minded moviegoers something sweet to rest their minds on. Then she got a bit older, and the war came and moviegoers taste changed, and she retired from the movies at the age of 21, a full lifetime lived in two decades. She died Monday night at the age of 85 at her home near San Francisco.
For many, that would have been it, fame come and gone and then half a century more of half-anonymity, adult features hiding those of the former child star. But Temple (who became known as Shirley Temple Black after marrying her second husband, Charles Alden Black, in 1950, a year after she retired from the screen), later took a turn outward and engaged with the world. In 1967, she ran for Congress and lost. Two years later, at the age of 41, she was appointed a representative to the United Nations by President Richard Nixon. In 1972, she discovered a lump on her breast and underwent a mastectomy, becoming one of the most famous women up to that point to publicly discuss breast cancer and the need for vigilance and treatment. In 1974, she became Ambassador to Ghana. In 1989, she was tasked as Ambassador to Czechoslovakia, serving in that role until about six months before the dissolution of that nation in the wake of the Cold War's end.
Born on April 23, 1928 in Santa Monica, California, Temple learned how to tap-dance by the age of 3. It was then that she was discovered by a scout and placed in a series of short films called Baby Burlesks. By the time she was 6, Temple was a star. The film Bright Eyes was developed specifically for her and it produced the hit song "On the Good Ship Lollipop," which stuck to Temple like the candy of the title.
Twentieth-Century Fox head Darryl F. Zanuck knew he had a star on his hands, and over the next two years, placed Temple in seven more films — The Little Colonel, Curly Top, The Littlest Rebel, Captain January, Poor Little Rich Girl, Dimples, and Stowaway — several of which featured her as an orphan, a role that allowed moviegoers to project maximum sympathy onto her. In several films, Temple starred alongside Bill "Bojangles" Robinson, a black actor and dancer, and their staircase tap in The Little Colonel has become one of the more famous dance moments of the classic Hollywood era.
She was considered for the role of Dorothy in 1939's The Wizard of Oz, but Zanuck refused to lend her out to MGM. The following year, she left Twentieth Century Fox, lost the No. 1 box-office spot to Mickey Rooney, and began to mature. Stints with several other studios followed, but she couldn't regain the level of fame that had greeted her as a child. Her last film role, A Kiss for Corliss, came in 1949. And then, a second act in public life, in government, in public service.
This post has been updated throughout.