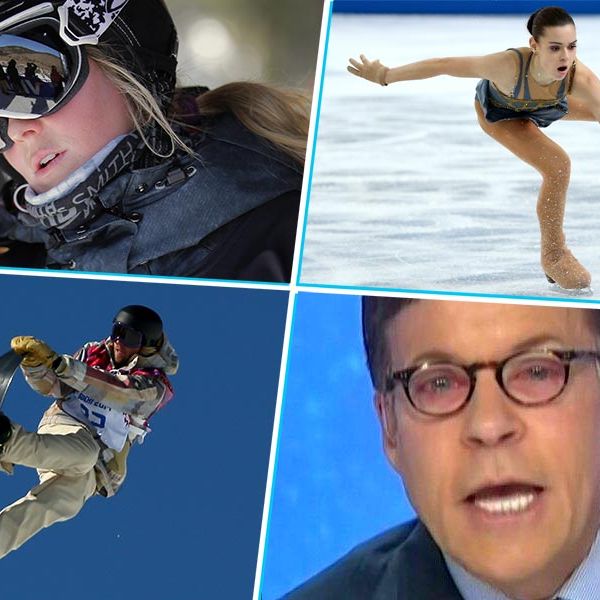 Photo: Clockwise from top left: Doug Pensinger/Getty Images,Ryan Pierse/Getty Images,NBC,Mike Ehrmann/Getty Images
The 2014 Winter Olympics are almost over, and we must soon say goodbye to the men and women who made us laugh, made us cry, and made us wonder whether we're able to pull off vintage Chanel and a bouffant as a casual daylook. (We can't. We know we can't.) But it's almost certainly not farewell forever; Hollywood producers are likely searching every Sochi nook and cranny to find stories to adapt in a series of big-budget biopics and the like. And since we care (we really do!), we thought we'd help them out by offering up ten stories from the 2014 Winter Olympics that are ready for the Hollywood treatment.
Canadian Alex Bilodeau and his brother Frederic should get … a Lifetime movie.
One of the most heartwarming human interest stories to come out of Sochi is that of Canadian skier Alex Bilodeau and his older brother Frederic, who has cerebral palsy. The brothers lean on each other for support as Alex pursues his Olympic dream and Frederic defies a diagnosis that presumed he would be unable to walk after the age of 12. If that's not upbeat Lifetime movie material, we don't know what is.
Tara Lipinski and Johnny Weir should get … a regular hosting gig. Is it demeaning of their substantial skills to suggest that Weir and Lipinski should get a sports show for people who don't normally watch sports? What if those people are us? Based on the natural chemistry of their NBC figure-skating commentary, Weir and Lipinski would kill it with a weekly sports wrap-up in which they weigh in on a variety of sporting events. Alternately, NBC should keep Weir and Lipinski on retainer and call them in as a host duo whenever Tina Fey and Amy Poehler are unavailable. Miss Universe, the Super Bowl, the Triple Crown, the NAACP Image Awards, you name it — the sky's the limit with these two.
The hotel dogs in Sochi should get … their own reality show.
The Hotel Owners Association of Sochi should just go with it at this point and turn "the embarrassing number of stray dogs wandering the halls" story into reality television gold. Tourists in Sochi can enjoy a resort town filled with adorable vacation pets, and we the viewers get to enjoy them vicariously on this reality show with a suggested title of Howliday Inn. (Note to execs: You might have to pay Bunnicula author James Howe for rights to title; still seems worth it.)
Late U.S. freestyle skier Sarah Burke should get … a biopic.
We want the full Jennifer Lawrence Oscar-movie treatment for the story of Burke, the women's freestyle skiing pioneer who successfully lobbied the International Olympic Committee to add the ski half-pipe to this year's Games. From sneaking onto the snowboard half-pipe as a teen to winning gold four times at the Winter X Games, Burke's story has the big screen written all over it. Half-pipe champion at the 2005 FIS Freestyle World Ski Championships, Burke was favored to medal at the Games before her death in 2012 at the age of 29 (she died of injuries she sustained while practicing). Bradley Cooper would play Burke's husband, Rory Bushfield, since we are imagining this would almost certainly be a David O. Russell joint.
Russian women's figure skater Adelina Sotnikova should get … a teen comedy.
Before this year's women's figure-skating event, Adelina Sotnikova was treated as something of an also-ran to 15-year-old teammate Yulia Lipnitskaya … until Sotnikova won the gold, that is. In the vein of Pitch Perfect and Bring It On, the movie would focus on underdog Sotnikova as she struggles to prove herself, even though, to the outside observer, it seems clear she's every bit as smart and likeable as Lipnitskaya. Sotnikova and Lipnitskaya end up being both be great friends and rivals for years to come, as they are both barely out of middle school.
U.S. women's bobsledder Aja Evans in … a family sitcom.
We're torn between a family sitcom and a holiday family film for Aja Evans, the brakewoman for this year's bronze medal-winning women's bobsledding team. Either way, we'd focus the action on how Aja juggles her Olympic training, her personal life and her family … which is comprised almost entirely of world-class athletes. Okay, not entirely, but Evans's father Fred was the first African-American swimmer to win a national collegiate championship; her brother Fred is a defensive tackle for the Minnesota Vikings; her uncle Gary is a retired Major League Baseball player; and her cousin Gary played for the New York Mets. Cousin Gary! Yeah, this is definitely a three-camera sitcom. We can hear the laugh-track already.
U.S. snowboarder Sage Kotsenburg should get a … Food Network show.
The problem with Ryan Lochte's failed reality show is that there simply wasn't enough of a hook. (Just kidding, there were a lot of problems with What Would Ryan Lochte Do? — for example, it premiered nine months after the 2012 Olympics.) Slopestyle gold medalist Sage Kotsenburg won't have that problem, because he's already already found his premise: bacon, and things made of them. After asking for and receiving a gold medal made of pork, Sage is all set for his own Food Network show, in which he eats various foods shaped into things. Steezy indeed.
The U.S. speed skating suits should get … a Nova documentary.
U.S. speed skater Maria Lamb all but blamed the team's new Under Armour speed skating suits for the United States' failure to perform in Sochi, inadvertently shining a light on the constant changing world of sports technology. The U.S. team abandoned the Mach 39 suits, designed by Lockheed Martin, after several days of competition and returned to their old Under Armour suits, which raises an interesting question: "What new sports technologies work … and which have failed?" The documentary could also explore changes to ski helmets, bobsled design, and any other recent innovations.
The Jamaican bobsled team should get … an ESPN 30 for 30.
After not qualifying for the Games from 2002 until 2014, the Jamaican team had a rough journey to Sochi, having to raise $80,000 to make the trip and dealing with delayed luggage and equipment. Once at the Olympics, the Jamaican two-man bobsled team was bombarded with non-stop references to the 1993 comedy Cool Runnings. A 30 for 30 documentary about the modern-day Jamaican team would shine light on both the bobsledders' personal and professional lives, their continued struggle for legitimacy, and the bizarre experience of competing under the shadow of a two-decades-old Disney movie costarring John Candy.
Bob Costas's pink eye should get … a horror movie.
The general public's extremely vocal repulsion at the sight of Bob Costas's increasingly infected eyes seems like a real eye-opener for the horror genre. Get it? Because his eyes were so painfully diseased, they could barely open? Our point is, people are terrified of eye problems. In a sort of updated, sporty version of They Live, a Costas-eseque sportscaster who is stricken with an epic case of pink eye becomes newsworthy himself when it is revealed that he now possesses the ability to see which athletes will win before they've even performed. Not wanting to reveal the winners accidentally, he recuses himself until the antibiotics kick in and fresh pillowcases arrive. Little does he know that an international gambling ring will do just about anything to get their hands on those infected eyes …