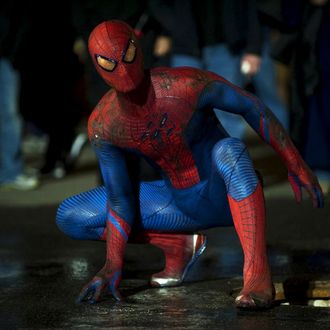 Spider-Man, Sony's cash cow spider.
Photo: Columbia Pictures Industries/Sony Pictures Entertainment
Back in December, Sony announced plans to expand their Spider-Man universe. In addition to more Spider-Man movies, there will be films focusing on Venom and the Sinister Six. Earlier today, in a report about the state of Sony's franchise develop, Variety offered more details. Apparently, Sony's intention is to knock out one Spider-Man universe movie a year, putting them closer to what Marvel has been able to achieve with Disney. Spider-Man 2 is set to premiere on May 2 and Spider-Man 3, which Marc Webb is officially returning for, is already scheduled for June 2016. This leaves 2015 wide open. So, unless you hear they cast someone to play Venom soon, expect Spider-Man 2.5, an amazing 90-minute movie about Emma Stone's Gwen Stacy trying to balance applying to colleges, dating Peter, and not dying.