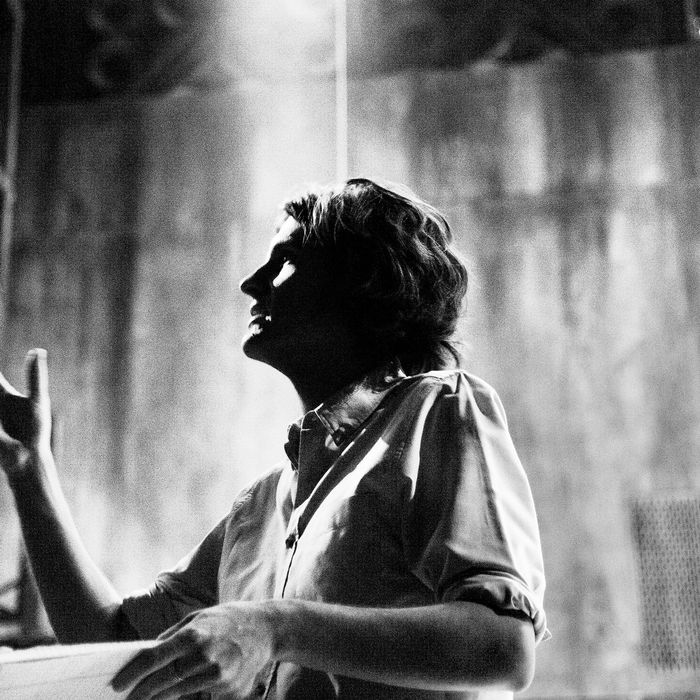 Alex Timbers, photographed by Christopher Anderson/Magnum Photos/New York Magazine.
Photo: Christopher Anderson/ Magnum Photos/Christopher Anderson/ Magnum Photos
Will everyone with ringside tickets kindly rise and proceed to take your places." A boxing ring, with a burly announcer at its center, is descending from the rafters of the Winter Garden Theatre. "Welcome to tonight's heavyweight fight! Live from Philadelphia …" The actor is interrupted by raucous cheers and applause—though not for him. It's ten days until the first preview of Rocky the musical, and a particularly complicated piece of technological razzmatazz has made its debut without a hitch.
The orchestra of the Winter Garden—where the musical based on Sylvester Stallone's iconic 1976 film will open on March 13—has been transformed into a kind of mission control. Half the seats are covered with tables, each a hub for the various departments—choreography, lighting, costume, set design, and on and on—involved in the tech rehearsals that lead up to previews. At the center table sits Alex Timbers, the 35-year-old ringmaster behind this $16.5 million circus, which debuted to rapturous reviews in Hamburg, Germany, in the fall of 2012. Timbers high-fives his production assistants on his way to the stage. "The trick with shows like this is to not get too bogged down in the minutiae or you'll never get out of tech, like one of those crazy European shows that spend six months to produce 30 minutes of shadow puppetry." He bounces down the aisle to discuss an errant spotlight, which apparently doesn't fall under minutiae.
"He's concerned with every detail," says Lynn Ahrens, the show's songwriter with her partner of 30 years, Stephen Flaherty (Ragtime). "The color of this, the shimmer on that, the sound of the guitar amps—never, ever, in all my years had I heard a director comment on the amps! And he's always right."
Ahrens and Flaherty are seated at a table with Thomas Meehan, who wrote the book. The three-time Tony winner (The Producers, Annie, Hairspray) has been writing Broadway musicals since 1977 and, at 84, has 49 years on Timbers. Among them, they've seen it all, and yet nothing quite like Timbers, who is at least ten years younger than the average commercial musical director. "He's a very special guy," says Meehan. "Almost a boy genius—like a young Orson Welles."
Go ahead, name three famous Broadway directors. Unless you archive Playbills, chances are you can't. Theater, unlike movies, is a writer's medium. Everyone knows who Stephen Sondheim is. James Lapine? Not so much. But Timbers has a style that draws attention to itself: Even when he hasn't written a show, it throbs with his big ideas and brainy joy. Over 11 years, he's created an impressive résumé of offbeat and unexpected happenings. He didn't invent the immersive theatrical experience, but he certainly popularized it with 2006's Hell House—a deadpan facsimile of Evangelical Halloween entertainment—which predated the Punchdrunk theater company's Sleep No More by five years. He's turned a vilified president into an emo-rock musical (the Tony-nominated Bloody Bloody Andrew Jackson), fabricated a wonderland out of Peter Pan's backstory (the Obie-then-Tony-winning Peter and the Starcatcher), and reimagined Imelda Marcos as a disco queen (Here Lies Love, based on the album by David Byrne and Fatboy Slim).
Each of those shows—with their loose-seeming construction, slightly twee tone, and plucky resourcefulness—poked gently at Broadway conventions. Timbers's first commercial directing gig, The Pee-wee Herman Show, was a meeting of quirky, sweetly ironic sensibilities. Like Paul Reubens, Timbers fabricates intimate spectacles that feel both fanciful and relatable.
And now Rocky. Gritty, macho, entirely sentimental Rocky, the story of a third-rate fighter in Philadelphia who finds redemption through love and a heavyweight championship. The very idea of turning it into a musical was a knee-slapper. (Dancing ­boxers!) Not to mention a questionable business move: Musicalizing film is always a crapshoot—for every Hairspray, there are countless Big Fish flopping—but a lot less foolhardy than trying to make a musical about sports (there are just two success stories: Damn Yankees and Good News!). And then to choose Alex Timbers to direct, the crown prince of easy irony (as New York's Jesse Green once described him) taking on brutish earnestness. The film equivalent would be Spike Jonze directing the next Transformers movie.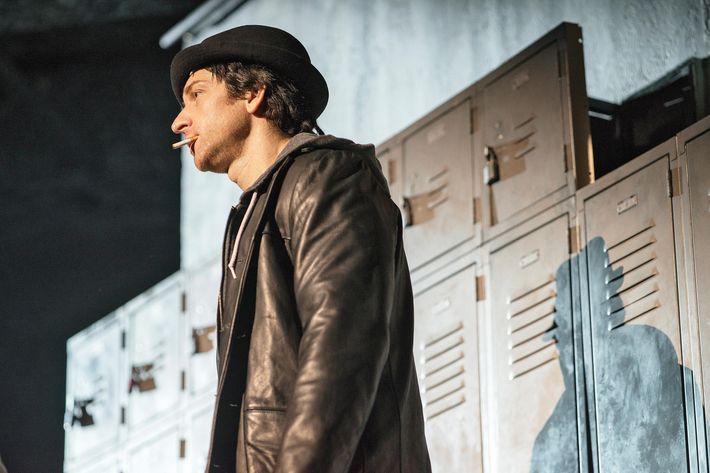 Rocky's production company, Stage Entertainment, has turned Hamburg into Europe's Broadway, and there is something Sprockets-like about its hiring a theatrical anarchist to helm the irrefutably mainstream. But the thinking certainly involved the crowds Timbers typically attracts. Post–Book of Mormon Broadway is still a remarkably stodgy world; there aren't a lot of commercial musicals that feel hip even when they're about hip people. "We could very well get a slightly edgier, more contemporary crowd who wouldn't go see a more conventional Broadway musical," says Bill Taylor, Rocky's lead producer. "I very much hope so." Still, to recoup its budget (about 400 times that of the average Off–Off Broadway show) Rocky must attract everyone: sophisticated New Yorkers, midwestern tourists, the snowy-haired matinee crowd—fans of the straight-down-the-­middle musical. That's where Ahrens, Flaherty, and Meehan come in, of course. But Timbers, even at his most anarchic, has a populist streak. "When Alex was making theater that obviously depended on being really smart, he still wanted to attract people who didn't normally go to the ­theater," says Oskar Eustis, artistic director of the Public Theater (which produced Bloody Bloody, Here Lies Love, and last summer's Shakespeare in the Park version of Love's Labour's Lost). Unlike Eustis and others who came up in the New York avant-garde of the 1970s, Timbers has never seen an inviolable wall between the seriousness of what he has done and what commercial Broadway does. "I believe in theater," says Timbers. "I'm an advocate—an activist even. I want to make musicals that are alive, as opposed to something in a gilded frame."
Still, there's populist, and then there's Rocky.
A week before the tech rehearsal, I meet with Timbers in the conference room of Stage Entertainment's New York office. He wears his handsomeness with a mild, disheveled embarrassment, scrunching his tall frame into a chair at the head of a long table. During our conversation, Timbers takes pains to be plainspoken, stopping twice to apologize for sounding academic. "If anything, he comes off as an airhead, even though he's the exact opposite," says one friend. "It's not a cagey director thing, like, 'This is my friendly face and later I'm going to come off as a monster.' " Timbers's "casual diffidence," as Eustis calls it, was puzzling at first. But "after five minutes of talking to Alex, you realize he's carefully strategizing everything he says."
The show that put Timbers on the map was his Off Broadway debut in 2003, the Obie-winning A Very Merry Unauthorized Children's Scientology Pageant, produced by his scruffy downtown theater collective, Les Freres Corbusier. In addition to directing, Timbers came up with the show's concept, a straight-faced reading of L. Ron Hubbard's writing by children. That was followed by the smart but not actually good Boozy, a musical about Robert Moses that he also wrote, and Heddatron (Hedda Gabler starring robots), which earned Timbers a career-making review from New York Times critic Ben Brantley. By show's end, Brantley wrote, Les Freres Corbusier had "switched from the shallows of glib parody to the experiential depths that only theater affords."
Bloody Bloody Andrew Jackson (scored by Michael Friedman) was the first evolved representation of what had become Timbers hallmarks: low-tech solutions to epic storytelling (Jackson exterminating tribes between verses of "Ten Little Indians"), seeming chaos that is precisely orchestrated, goofy humor, and immersive events staged in a traditional space. He took the latter to its boldest extreme in Here Lies Love. Timbers told David Byrne he wanted the audience members to be participants in Marcos's story, at one point switching places with the cast and ending up on the stage. "It was such a crazy, ambitious bit of rigmarole," says Byrne. "It took a lot to pull it off, but it worked. And the audience didn't complain. It viscerally felt that they were standing in for the Philippine people."
So far, that kind of audacity has worked better Off Broadway. Bloody Bloody, so popular at the Public, didn't survive a move to Broadway in 2010, closing at a loss. "Michael and I didn't think it would be successful there," says Timbers. "But if you end a show Off Broadway, it's done. If you do it on Broadway, whether it succeeds or fails, it will get done everywhere. It's now one of the most-produced musicals in the country. I doubt all the producers would agree, but I think it was the best decision for the show."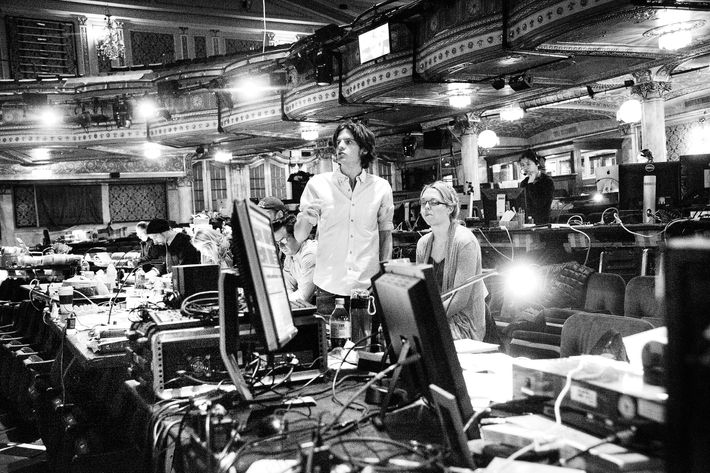 A second hiccup came last summer with a negative review of Love's Labour's Lost in the Times. Timbers, partnered again with Friedman, reimagined Shakespeare's lesser comedy as a pop-filled college reunion. Brantley, who had given Timbers four raves in a row, slapped him for falling back on old, glib tricks. Timbers acknowledges the rap against him: that he's an ironist who excels at, as he puts it, "work that feels comic and improvisational, as well as glossy and heavily stylized."
Which in part is why he took the Rocky job. "There's a side to me that is what I do with Les Freres," he says. "But if you asked any of my friends, sentiment is incredibly important to me." For Timbers, the crux of the Rocky challenge is pulling off the love story, the small moments, the heart. And that, he says, "is more representative of who I am personally. I'm excited to show that."
Timbers was born in 1978, when Rocky was two years old. He grew up in New York City, an only child. His mother worked at Sotheby's in the silver department; his father was an investment analyst. Like a pomo Mickey Rooney, Timbers was putting on shows when he was just 11. He and two friends applied to a public-access channel (the policy: Anyone who asked got a show) and started The Shamu Review. "At one point, we were on just before a show called Dyke TV, and we were a bunch of kids running around with fireworks and doing dumb sketches," says Timbers. "We thought that was an amusing juxtaposition." One sketch, "Pyro Time," involved blowing something up, then playing it back in slow motion to Carmina Burana. "A lot of what I do now goes back to that prankish sensibility, where you're doing something subversive and strange that you could feel gleeful about."
At the same time, he was mainlining MTV videos. "How to bring that kineticism and viscerality to the stage has always interested me," says Timbers, whose productions are like Advent calendars of his pop-culture education. "The idea for Rocky's boxing ring being able to move up and down like a lighting truss—that came from a Nine Inch Nails concert," he says. "The wallpaper in Paulie's apartment is directly ripped off from a scene in Trainspotting. The sound cue for Apollo Creed, when he makes his entrance before the big fight, is lifted from a Beyoncé video."
He went on to major in film and theater at Yale, a school with no hands-on film-production program. "I wanted to make stuff, so I got into improv and sketch comedy," says Timbers, who was simultaneously falling for the experimental theater of the Wooster Group, particularly the way it embraced multimedia. Yale had another limitation: The undergrad theater program has no conservatory component. "As director, you produce it yourself," he says, "learning every aspect of theater-making, from inspiring a team to working on a budget."
Timbers is never just a director; he approaches even for-hire gigs as a dramaturge and a producer. That proved invaluable when he started Les Freres in 2003, home for the Schoolhouse Rock–inspired jams—"irreverent massacres of historical icons and academic esoterica"—he'd begun doing at Yale. "I was inspired by [theater company] the Civilians—a loose configuration of artists around a mission statement," says Timbers. "I love the collaborative and familial part of theater. That's one of the reasons I couldn't just write."
Stallone brought the idea of Rocky the musical to Meehan ten years ago. "I said, 'I don't think so,' " says the writer. But after reading the original screenplay, Meehan realized that the story of Rocky Balboa contained classic theatrical elements: "It's a David-and-Goliath story, and it becomes a Cinderella story."
Initially, he questioned whether Timbers's downtown sensibility (the irony thing again) would translate to uptown. That concern evaporated after Timbers's sincere and uncommonly detailed audition for the job, a presentation that included color palettes and pictures of real boxers and Philadelphia neighborhoods in the '70s. "We saw quite a few directors, including some very big names," says Meehan. "All were somehow interested but said they didn't understand Rocky as a musical."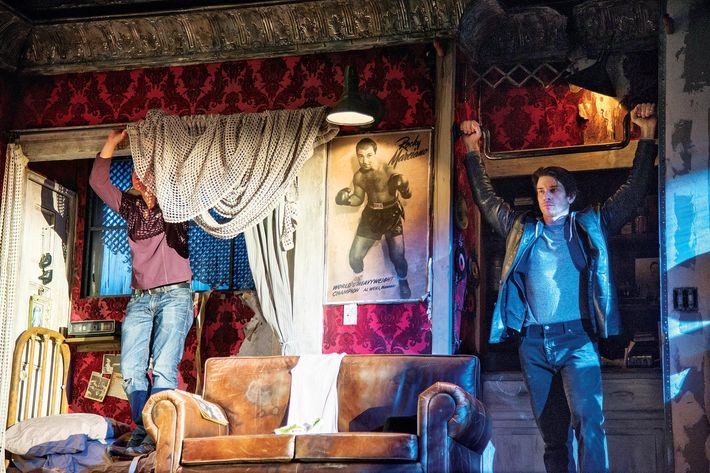 Timbers, at that point, had never even seen Rocky. "I'm a little embarrassed to say that I didn't watch it until we were already well into the production." He wasn't interested in making a clone of the movie, and neither was Stallone. The show had been in development for seven years when Timbers saw a reading at Lincoln Center—just actors and music stands. "At the end of the first act, people were weeping," he says. "At the end of the whole thing, there was a three-minute standing ovation—just this exhilaration and emotional power." He wanted to be involved because it was good, but also because, like every Les Freres production, it offered him the opportunity to turn the craziest idea imaginable into a musical. That, for Timbers, constitutes a rush. "I sort of had a traffic-accident mentality," he admits, "like, This is probably going to be fascinating no matter what."
The thrust of Timbers's Rocky pitch: Go for big, modern multimedia moments (the entry points for that younger demo), but keep the show authentic: gritty, sweaty, and slightly dangerous. Casting was critical: He wanted people who looked like toughs circa 1976. (Broadway vet Andy Karl plays the lead role.) "In many ways, I wanted the musical to have the fiber of a play—to be a Eugene O'Neill play with songs," says Timbers. "That sounds a little glib, I know, but I wanted it to have a real texture and butchness. Depicting the working class is a place where Broadway musicals often fall down," he adds. "You end up with your head mikes and your mullets, and it feels deeply inauthentic. Billy Elliot got it right, but most don't."
To that end, he hired Steven Hoggett (Black Watch, Peter and the Starcatcher) to choreograph the fight and training scenes (there is just one conventional dance number), Broadway neophyte Stephen Trask (Hedwig and the Angry Inch) to rough up the orchestrations, and set designer Christopher Barreca to realize Timbers's vision of a 360-degree show that initially scared the shit out of everyone—particularly the Here Lies Love–style finale. After watching a traditional proscenium show for two hours, parts of the audience move onstage and the boxing ring slides into the orchestra. "Alex is better than almost anyone I've seen at getting a whole bunch of people—actors, designers, producers, marketing people—to buy into really bold ideas before noticing how big an idea it is," says Eustis, laughing. "We're like frogs slowly boiling to death in water."
Rocky's final 20 minutes are classic downtown Timbers—immersive and tightly cued—on a massive scale. But then the entire production is a thing of Rube Goldberg complexity. Germany, where the show still runs, proved it could be done; unfortunately, with the Winter Garden half the size of the Hamburg theater, the engineering couldn't be duplicated. So it was back to the drawing board, with even less time to perfect it. The first previews were rough; one was canceled because Con Edison couldn't supply enough juice (salt screwed up the wiring). The smaller scenes, set in shifting, oversize dioramas, will be a clever solution to the challenge of intimacy on a massive stage—once they no longer clank when they move.
But so far, no one (including the boxing ring) has dropped from the rafters. There will naturally be comparisons to Spider-Man: Turn Off the Dark, another technically ambitious, large-scale translation of pop culture into physical theater (which, in the end, left its investors with a projected $60 million bill). But the sense of peril hanging over Rocky isn't close to the dread that surrounded Spider-Man, particularly at this stage in production.
In April, the Public will remount Here Lies Love for an open-ended run. "To get to do Rocky and Here Lies Love at once represents everything I care about," says Timbers. If Rocky is a hit, he will likely adopt the filmmaker model of one for me, one for the studio, moving between up- and downtown. Eustis worries a bit about the corrupting power of commercial theater "to absorb talent and turn it to its own devices." But he has no fears that Timbers will buckle under the pressures of Rocky. "He reminds me of the 24-year-old Tom Brady when he led the Patriots to the Super Bowl for the first time. The afternoon of the game, Brady took a nap in the locker room. He fell asleep! I thought, This guy is a different species. Alex is that kind of guy. In the case of something like Rocky, the kid has ice in his veins."
*This article appeared in the February 24, 2014 issue of New York Magazine.