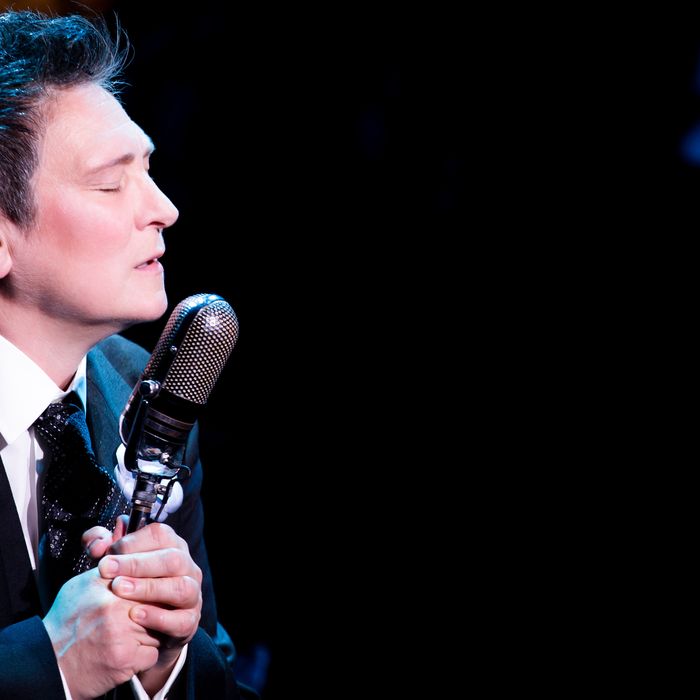 k.d. lang in After Midnight.
Photo: Matthew Murphy
I worried when it was announced that k.d. lang, the anti-capitalist chanteuse, would be replacing Fantasia Barrino in After Midnight — a revue I found  just about perfect when it opened in November. Not that it seemed likely the producers of such a delicious and tasteful production, celebrating the music and dance styles of the Cotton Club during its heyday, would rotate hordes of has-beens and never-weres into the guest-star role. I wasn't actually expecting to see, say, Carrot Top, and then Joe Biden. Still, worse has happened on Broadway — I'm looking at you, Chicago. And it wasn't clear how lang's demeanor and voice would suit the material, or how lang herself, now 52, would be suited. Not, surely, in Fantasia's stunning cut-to-there gowns by Isabel Toledo!
I should have been more trusting. First, since everyone wants to know, lang wears various menswear pieces — a dark three-piece suit, gleaming white tails — nicely cut to her frame. She looks a bit like a bachelor-uncle insurance salesman at a holiday dinner dance in Hartford. You like her at once, but don't feel you'll get to know her. And though she's not exactly "of" the piece as Fantasia was, in part because she's white and the rest of the cast is black, she makes that slight sense of separateness work. You root for her in a way Fantasia, so soignée and poised, never asked for or needed.
And then the insurance salesman opens her mouth and doesn't need your support anyway. She sings the same four songs ("I Can't Give You Anything But Love," "Stormy Weather," "Zah Zuh Zaz," and "On the Sunny Side of the Street") in what, as far as I could tell, were the same arrangements. The only change I noticed in the staging was that the backup dancers for "On the Sunny Side of the Street" were women instead of men — and she got to do a charming little ballroom turn with one of them.
Yet she was superb. The years have done nothing to curdle that ultracreamy voice, with its sweet upper register and socko chest tones. Her perfect breath control intact, her pitch rock-solid, she took an almost classical approach to living within the world of each song. Teasing, tragic, mocking, sunny, and variously concentrated tinctures thereof: She hit them all, and the big notes, too.
But never too big. One of the things I noticed again at After Midnight is the way the stupendous musical arrangements, by Duke Ellington and others, require and model a certain level of restraint; there are no overdramatic closing cadences or applause-begging stingers. The show (save for some undisciplined byplay creeping in) follows suit, abjuring American Idol–ish vocalization while keeping a lively balance in its acts between specialties, oddities, and (for lack of a better word) standards. I highlighted a few of these last time; this time I'll point out the variety and wit of Toledo's costumes (gotta love Karine Plantadit in death's-head paillettes) and the gorgeous mouth of Carmen Ruby Floyd. (What comes out of it in "Creole Love Song" isn't shabby either.) I'm sure if I go back after lang leaves the show on March 9 (pending an extension) there will be other such pleasures to highlight as well. Whether they will include the new guest-star stylings of "Babyface" Edmonds and Toni Braxton, starting March 18 — well, I'm worried.
After Midnight is at the Brooks Atkinson Theater.