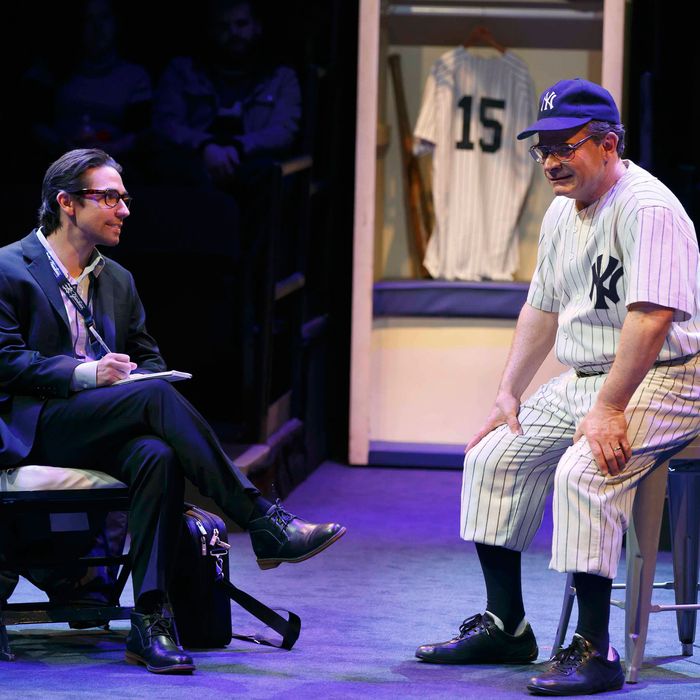 Bronx Bombers, at Circle in the Square.
Photo: Joan Marcus
There are good plays about athletes but not about sports. For one thing, the big-world stakes are too low: A game, after all, is only a game. And although baseball (for example) is theatrical in the ancient sense of being a public entertainment featuring costumes, choreography, and even a few masks, it develops no argument. Strategies may be complex and subtle, the human interactions on the diamond as various as off it, but there are only two endings, a win and a loss. And barring bad weather, each engagement invariably produces both. 
Same with Fran Kirmser and Tony Ponturo's project of creating a new literature of sports plays for Broadway, now on its third installment. The pair may succeed, eventually, in establishing an alternative financial model for commercial theater: Lombardi, in 2010, was produced in association with the NFL; Magic/Bird, in 2012, with the NBA; and Bronx Bombers, which opened tonight, with the New York Yankees and Major League Baseball. (All three plays are by Eric Simonson, who also directs this one.) The ballpark-style marketing opportunities are certainly rich: In the downstairs lobby at Circle in the Square, alongside all the Yankee-themed clothing, Steiner Sports is selling historic MLB photos and signed balls; a "Bronx Bomber" cocktail made with blue curaçao, vodka, Sprite, and seltzer can be endured for $15. And from the looks of things, the producers may be in the process of reversing Broadway's longstanding demographic tilt toward women, who last season made up 68 percent of the audience. The crowd at Circle the night I attended was notably male, with pinstriped jerseys prominent.
But the literature part? Not so much. Simonson's stabs at spiritual significance sink Bronx Bombers just as they did his previous outings. Had he elected to stick with a character-based "backstage" story, as he does in the first scene, he might have had a winner this time. That scene takes place in June 1977, after the notorious incident in which Yankees manager Billy Martin, angry at star right fielder Reggie Jackson for a supposed lack of hustle, humiliatingly benched him in the middle of the sixth inning of a Red Sox game. The next day, in a suite at the Boston Sheraton, Yogi Berra and Thurman Munson, coach and captain, try to repair the rupture before it ruins an already precarious season. For a half-hour we get surprisingly incisive portraits of four famous men, each sporting his personal take on seventies style (complete with Sansabelts) and nurturing his personal sense of injustice. For Martin, whom Keith Nobbs delivers as a shaky bantam rage queen, that means the ignominy of constantly being second-guessed by the club's owner, George Steinbrenner, unfortunately absent from the proceedings. Munson (Bill Dawes) resents not being able to play the game he loves without constant outbreaks of peacockery from Jackson, who is also, he invidiously feels, overpaid. For Jackson (Francois Battiste, in a masterly performance) it's about the respect he's owed for putting butts in the seats. And for Berra, it's the gnawing fear that the greatness of the greatest team in baseball has passed them by.
Even for a nonfan, that's plenty to chew on for 30 minutes: not just the florid characters but also the underlying issue, which — surprise — is race. Jackson feels, with some cause, that a white player with his gifts would never be treated the way Martin treats him. The danger buried in this idea is electrifying, and for as long as Simonson keeps his focus on America's Problem as seen through America's Pastime, you are willing to overlook such playwriting cheesiness as the exposition-spouting room service waiter and the mostly apocryphal but nonstop Yogi-isms. ("I may be nostalgic but I don't like to live in the past.") Peter Scolari, offering a deft embodiment if not impersonation of Berra, smartly undercuts the desperate mannerisms by suggesting an intelligence crafty enough to have devised them on purpose.
But the play completely falls apart after that. First we get Berra at home with his wife, Carmen, in a contrived fifties-sitcom tribute to the supportive lady behind the lunk of a dreamer. "A good night's sleep will do you a world of good," she says. "Everything seems worse at night." (Despite lines like that, Tracy Shayne makes something real of Carmen's tenderness, perhaps not surprising since she and Scolari are newlyweds.) But this strange detour into canned domesticity is peanuts compared to what happens next, as act two begins with a shocking derailment into full-frontal surrealism. It's Yogi's anxiety dream: a heavenly banquet of Yankee greats from all ages, convened to help him address the problem at hand. And so here come courtly Lou Gehrig, puerile Mickey Mantle, dour Joe DiMaggio, dignified Elston Howard, and appetitive Babe Ruth in a raccoon coat. Even Derek Jeter shows up, hilariously lacking any traits whatsoever.
I have to admit it's a pitch I didn't see coming. Unfortunately it seems as if Simonson didn't either. He somehow lets the frame story of Yogi's existential crisis (whose nature is not clearly laid out in any case) get completely overrun by the jocular interplay of the combative greats, each displaying his trademark qualities and alluding with half a wink to events he can't know about. ("World War Two?") Ruth, meant to symbolize the foundational greatness of the franchise, can only offer his ribaldry (and a lame Bridgegate joke) to prove it; Gehrig, the eternal avatar of the team's basic goodness, drinks milk, is polite to Dream Carmen, and ends up in a corner, inventing his disease.
After that, the doomed play limps even worse than Gehrig. It's not just that the story, having jettisoned whatever was interesting about it, is so undeserving of the emotional extremes that surrealism at its best can illustrate. It's also that Simonson, emerging from the dream, has nothing left to pitch. A lame wrap-up scene set in 2008, during the final game at the old Yankee Stadium, squeezes the nostalgia sponge well past the point where anything can be wrung from it. As the immortals appear in blinding light and the sound operator turns up the reverb, the voice of Jeter exhorts the crowd to "take the memories from this stadium" and "continue to pass them on from generation to generation." 
That kind of thing may fly in the Bronx—not on Broadway. But perhaps the producers finally aren't sure where they're aiming to be. As Yogi probably didn't say: "If you don't know where you are going, you will wind up somewhere else."
Bronx Bombers is at Circle in the Square.