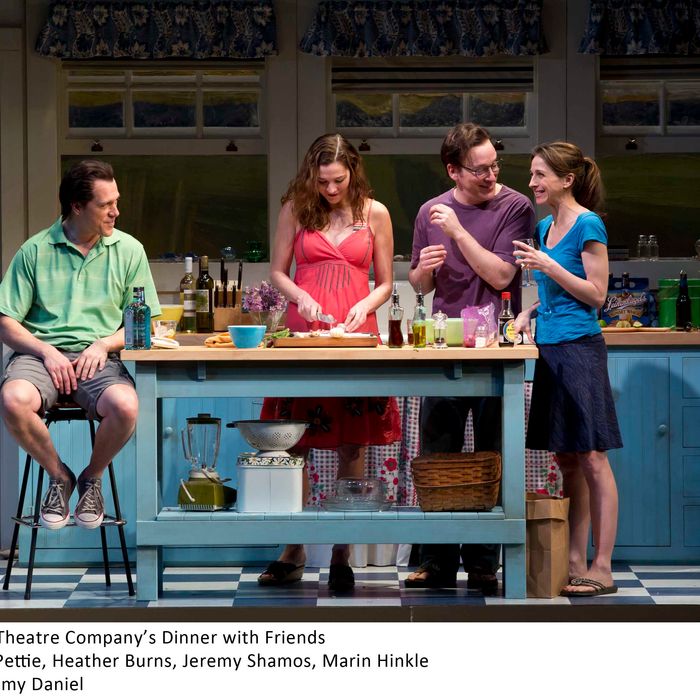 Too many contemporary plays, though chewy at the start, are stale by the end. Aggressively interesting premises use up all their dramaturgical energy, leaving nothing to grow on as the minutes tick by. And time is not good to them in the larger sense, either. After fading in the second hour, they then fade completely in the following year. A decade on, they are empty shells with interchangeable titles. But despite its generic moniker, that has not been the case with Donald Margulies's Dinner with Friends, a Pulitzer Prize winner in 2000 and a quiet stunner once again in the Roundabout's radiant revival at the Laura Pels. It grows as it goes, and seems more substantial now than ever. Hard to say whether that's because it has ripened like the tomatoes and wines it so obsessively considers — "What do you think of the Shiraz?" — or because time has ripened audiences into a deeper consideration of its sweet-and-sour midlife themes. Probably both. At any rate, it's delicious.
Forgive the inevitable culinary metaphors. Gabe and Karen, married twelve years, are food writers, and most of the play's seven scenes include the making, eating, and especially discussing of fabulous meals. Margulies gets the couple's smug mavenry dead on: "The authority with which she handled every onion, every red pepper," marvels Karen of an Italian crone they visited in Rome. It's hilarious, pathetic, and also quite natural that big moments in their lives are cross-referenced under the meals that went with them: The failed hors d'oeuvres at their wedding, the lemon-almond-polenta cake tonight. And when, as that dessert is served near the beginning of the play, their best friend Beth tells them that she and her husband, Tom, have split up, the mavens can hardly process it. "We all just went out to eat together," cries Karen in disbelief. "That Indian place in Branford. We loved their chicken tikka masala" — as if the deliciousness of dinner should have proved a talisman against disaster.
And it is a disaster, at least for Gabe and Karen. After all, they introduced Tom and Beth, twelve years earlier, over a home-cooked Martha's Vineyard supper of bluefish, corn, and salad. The four have been, well, a foursome ever since. Beth's shocking news — that Tom has taken up with a stewardess (who is actually a travel agent) and intends to stay with her, abandoning Beth and their own two young kids — tosses the other, apparently more stable couple into a sauté of anxiety. (Okay, I promise, no more food imagery.) As Beth and Tom by turns argue their case, each hoping to claim the friendship as if it could be part of a settlement, Gabe and Karen are forced to undergo a dangerous reexamination of things they thought had long since been settled. Or if not settled, buried. For if, as they discover, they didn't really know Beth and Tom except by assumption and triangulation, they may not really know each other.
This reexamination — and the willingness or unwillingness to participate in it — is the heart of the play. Beth and Tom have no choice because Tom has exploded their assumptions; surprisingly, as they rebuild their lives without one another, they become different and apparently happier people. Beth is relieved to give up the artistic pretensions that had defined and limited her since youth; Tom, rejuvenated by his new girlfriend, looks years younger and tries on New Age attitudes of the sort he once despised in Beth. "It's like his body's been snatched and he's been replaced by a pod," says Gabe. Neither he nor Karen approves of the fact that divorce appears to have been a boon in this case. Even a bad marriage, they seem to feel, is worth preserving, at least for the sake of the friends.
In their own reexaminations, Gabe and Karen discover troubling things about each other. Karen is more moralistic than Gabe imagined: She finds Tom's lapse categorically unforgivable, even after Beth has moved on. Gabe is more withdrawn than Karen knew: He sees the diminution of intimacy and "abandon" in their lives as inevitable and irreversible. But Margulies is too subtle to steer these alarming discoveries off the cliff; the couple also discovers reassuring things. Further, he seems to suggest, deep knowledge of your spouse may not be necessary for a stable marriage. (It may not even be possible.) Knowledge of self is more important. Gabe and Karen know themselves at least well enough to have sought what they needed and to cling to it once found.
Though Dinner with Friends is funny throughout, it is too meditative to be called a comedy. It works its spell not only by perfectly timed turns of the plot but by letting its questions about friendship and marriage seep through the entirety of the play and beyond. What Tom tells Gabe about his sex life with Beth — diminished by diapers, withered by disillusion — discomfits Gabe, who recognizes its truth, and then discomfits the Gabes in the audience. For this ripple of feeling to make it from character to character and across the footlights, the production has to be as subtle as the writing and, without risking monotony, as even-keeled too. The director Pam MacKinnon, an Albee expert, manages the difficult task beautifully, never allowing the actors to reach too hard or, on the other hand, to forget what's at stake. (The production is also physically ideal, with its diorama sets by Allen Moyer and painterly lighting by Jane Cox.) And the actors, exceptionally well cast to match each other, manage the tricky business of playing self-unawareness without risking buffoonery. In the showier parts, Heather Burns and Darren Pettie give petulant Beth and seedy Tom the required volubility; they make selfishness seem somehow justifiable. As Karen and Gabe, Marin Hinkle and the brilliantly low-key Jeremy Shamos remain immensely likable even while demonstrating unpleasant truths. One of which is that competent couples sometimes befriend incompetent ones because the incompetents' defects, being worse, make their own look survivable. "Every Karen needs a Beth," as Beth eventually says.
But every Beth needs a Karen, too; perhaps what's most provocative about Dinner with Friends, and makes it feel even more important now than it did in 2000, is the way it undermines the grand boomer project of repairing with one's friends the damage done by one's parents. Or as the play puts it: "Congratulations. The family you've chosen is just as fucked up and fallible as the one you were born into."
I'll drink a glass of Shiraz to that. With a slice of that lemon-almond-polenta cake.
Dinner with Friends is at the Laura Pels through April 13.