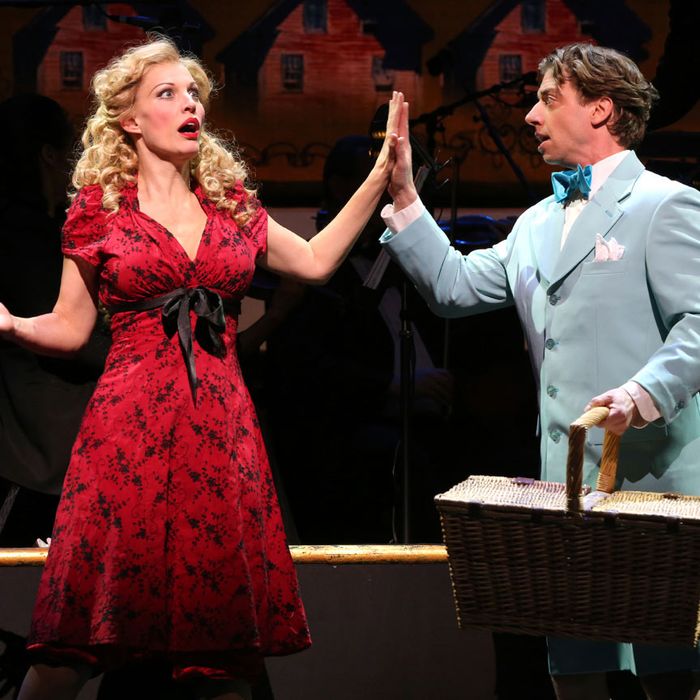 Rachel York and Christian Borle in Little Me.
Photo: Joan Marcus
Almost since the series began in 1994, Encores! has sparked arguments about what kinds of old musicals it should be reviving. If they're still commercially viable, as Chicago clearly was, do they deserve the reconstructive effort? If they're artistically minor but historically important, will they interest enough people to fill City Center? And if they're in between, aren't they too in-between? Myself, I haven't cared what shows Encores! does as long as it does them justice. I enjoy understanding what even a creaky old operetta might have sounded like and meant in its time. Yet with Little Me, the first show of its twenty-first season, Encores! may finally have met a musical that doesn't suit the mission. It's neither great nor awful, revivable nor irredeemable. In some ways it's barely a musical at all.
That is, it's barely a book musical — even though it comes from a book. Patrick Dennis's 1961 Little Me: The Intimate Memoirs of the Great Star of Stage, Screen and Television is a campy parody of a celebrity autobiography, which Neil Simon, fresh from his first Broadway outing, adapted as a 1962 vehicle for Sid Caesar. (They made 'em fast in those days.) Whereas the novel focused on the "great star" Belle Poitrine, Simon's book shifted the focus to Caesar as he played six of her husbands, lovers, and pals. Poitrine was further diluted by being halved: the matron narrating her picaresque adventures from poverty to fame via Paris and Hollywood, and the dim young bimbo doing the adventuring. She thus became a kind of second banana split, while the musical became a series of comic skits in different styles to show off Caesar's versatility. In other words, a revue.
In a program note, Jack Viertel, the Encores! artistic director, argues that the resulting coldness — the show, except for a few songs, has a clammy, manic quality — was one reason Little Me wasn't a big hit in 1962. (Two Broadway revivals, the latest starring Martin Short, also fizzled.) Audiences had by then begun to favor sentimental, character-based dramas over the anything-for-a-laugh revues that dominated Broadway in earlier decades. And it's true that both musically and narratively Little Me can barely settle down for a moment of reflection, let alone character development, despite having one of the longest books of any Encores! presentation. Belle Poitrine is a one-note joke (her name means "beautiful chest") and Caesar's roles are even less substantial. They are basically just curlicues of comic business combed over bald identifiers like "prig," "miser," "Frog," and "simp."
Caesar was a furious performer, ready to eat the audience if need be; perhaps he was able to scare this material into submission. Christian Borle, likable and amusing as always, just doesn't seem that hungry. (Or angry.) Likewise, Judy Kaye and Rachel York, as the Belles, aren't imaginative or effervescent enough with their leaden material to achieve liftoff. With a few exceptions, the score by Cy Coleman and Carolyn Leigh suffers from the same problem. Starting with the overture, with its dirty sax and frantic xylophones, you sense that what you're going to get is a clever grab bag of hasty pastiches: a locomotive number, a ragtime dance, a cool jazz specialty, a Chevalier tune. They're beautifully orchestrated (by Ralph Burns) and the lyrics are as carefully set as pavé diamonds. (Leigh was terrific with trick rhymes like "Duse" and "Lollapalooza.") But other than "Real Live Girl," and "I've Got Your Number," everything flies by as if it had somewhere more important to be.
None of this would matter much in a show like A Funny Thing Happened on the Way to the Forum, another throwback comedy from the same year. But Forum is not personality-driven. (Written for Phil Silvers, it worked just as well with Zero Mostel — and, for that matter, with the guy who played Pseudolus in my high-school production.) Nor, despite its charming Sondheim score, does it depend on any depth in its songs. The immense work of the comedy — work Simon didn't seem interested in doing — is in the craft of the lines and the structure. It's that craft, not warmth or star power, that made Forum the kind of show Encores! will never have cause to revive; lacking it, Little Me is the kind of show Encores! should probably have left alone.
Little Me is at City Center through February 9.