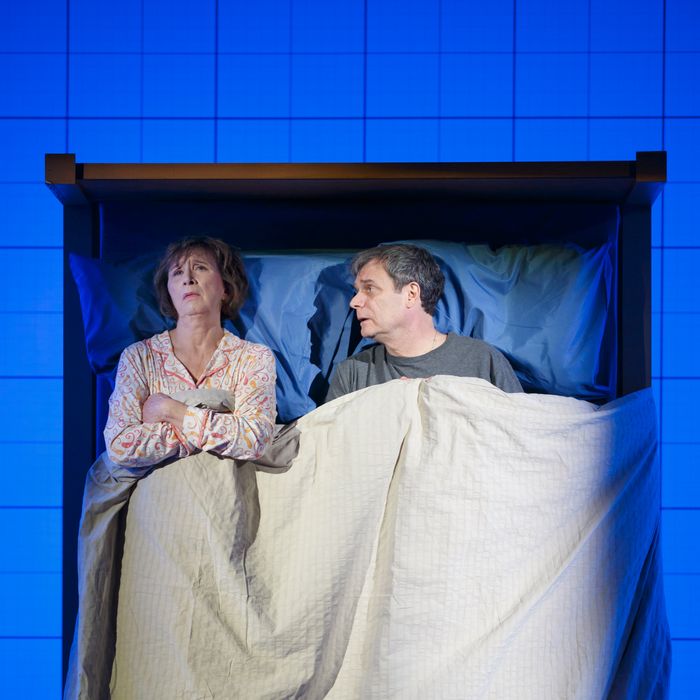 Photo: ?2014 Joan Marcus/?2014, Joan Marcus
Minutes after getting home from Love and Information, the new Caryl Churchill play at the Minetta Lane, I found a piping-hot thread called "Love and Information Just Awful" on one of the theater chat boards. "What an excruciatingly boring evening," wrote the virtual commenter. Respondents quickly chimed in to complain about the pretension and pointlessness of the play — if it was a play — and its likelihood of receiving raves (like this one) from critics. Nor was this strictly an online hate phenomenon. At the theater, even in the dark, I could see some people fuming, little clouds of blood-red hostility hovering over their heads and obscuring my view. (There were also walkouts.) I certainly recognized the feeling; how often have I fumed at what others were enjoying? It's a scandal, the way people have different taste!
A scandal and, in a way, Churchill's subject, if I dare discern one in its pure theatricality. First, to see why it gets people's goats, understand that it's by no means a traditional drama. (Who comes to a New York Theater Workshop production of a Caryl Churchill play expecting that?) If it resembles any existing theatrical form, it's vaudeville, with its panoply of bits; fifteen actors play well over 100 roles in 49 blackout scenes ranging from a few seconds to at most five minutes in length. (There are also several "random" elements that will vary from production to production.) Most of the scenes feature a snippet of conversation between two actors; a few involve longer dialogues or larger groups. All take place within a cube open on one side to the audience, ringed by tiny LEDs and covered on every interior surface with graph-paper rules. If you liked calculus, you'll love this.
If not, you may still be bowled over. Churchill, with all her intellectual games, is a generous writer: She wants everyone, including the actors, the designers, and the audience, to do their best work. This is especially evident in the latitude she not only allows but requires of the director, whose craft, often so obscure, is on full parade here. The beginning of one typical sketch looks like this in Churchill's script:
Please please tell me
no
please because I'll never
don't ask don't ask
I'll never tell
no
no matter what
it's not
I'd die before I told
it's not you telling, even if you didn't
There are no indications of who is (or even how many people are) speaking; no stage directions explain where we are or what's going on. Yet by the time James Macdonald, a longtime Churchill collaborator, has assigned the roles and staged it — in this case, Jennifer Ikeda holds the secret and Phillip James Brannon tries to get it out of her — a context is absolutely clear, and a nugget of human feeling is reliably produced. It's amazing how little it takes to achieve this effect. Under the rubric Depression, Churchill provides a series of one-liners to be scattered at the director's discretion throughout the play: "The difficulty of getting the Israelis and the Palestinians to" is the entirety of one. Macdonald gives us two Elvis imitators, one trying to rouse the other from his torpor with the line. He fails — and blackout.
What I imagine people dislike, or find unworthy of the label "play," is that sketches and scenelets like these, or even the longer ones, are not developed enough to build much internal drama, and the sequencing of them builds none. Or none accessible by traditional means. The uniformly excellent actors (even the kids!) never play the same character twice, every setting is different, and the tone of the vignettes varies almost chaotically. Everything about the play is deliberately disorienting, including the freakishly quick changes of scenery (designed by Miriam Buether for the play's original production at London's Royal Court in 2012), the gratingly bright lighting (by Peter Mumford, also from the Royal Court production), the bewildering variety of costumes (by Gabriel Berry and Andrea Hood), and the brilliant interstitial sound, by Christopher Shutt, having a field day. If you've ever wondered what it sounds like to crunch numbers, he lets you hear it.
Disorientation can sometimes feel like a mean trick being played on a trusting audience by aesthete-bullies. It's true that a few scenes are too smarty-pants to produce any direct satisfaction. Focusing on that, though, is to ignore the other kinds of pleasure and information the play is providing. The staging is beautiful, each new interaction specified sculpturally within the box, as when two supine women and a cello case (in one of the Depression segments) make a suite of Henry Moores. And where drama is very brief it may be commensurately deep. (Maria Tucci as, one presumes, a widow bagging her husband's clothes, is devastating in ten seconds.) In that sense, the play is not so discontinuous with works like Top Girls and Cloud Nine and, more recently, Far Away and A Number, all of which have self-destructing narratives of one kind or another but hang together. With Love and Information the playwright seems to be atomizing her style even further. And yet, at any magnification, the writing remains ripe with the recognizable Churchillian qualities of wit and paradox, astringency and forgiveness.
I will admit that, after a while, I began to have my jack-in-the-box reaction: The surprise was fun the first few times, less so the fortieth. But by then Churchill's meta-story begins to halo the proceedings, and there is something more to digest. She is, after all, playing with the title attributes of love and information: How little knowledge is necessary, in the theater or in a relationship, to achieve coherence? Her answer seems to be paradoxical: Not very much, and more than is ever available. Apparently interchangeable elements can make a singular play (or, for someone else, a boring one) — just as deep human connection is possible even though, from genetic codons to chat-board logons, we are all trivia.
Love and Information is at the Minetta Lane Theatre through March 23.