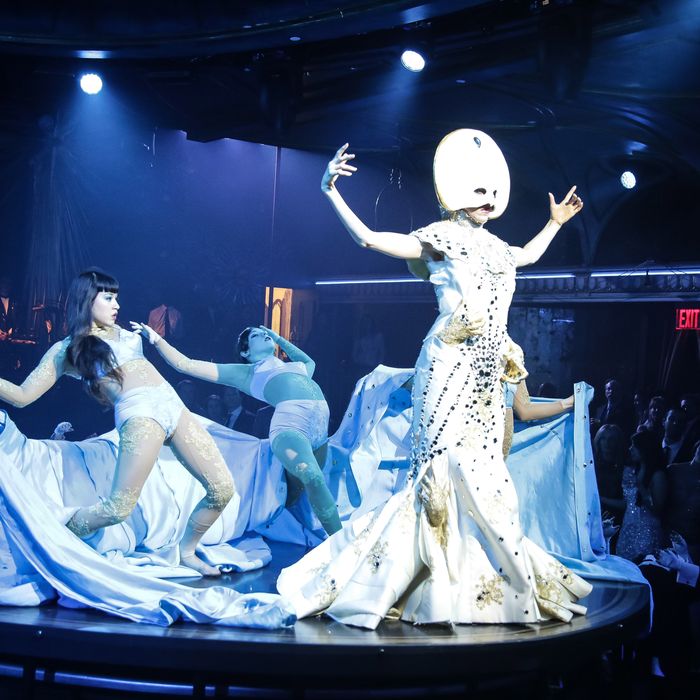 Queen of the Night, at the Paramount Hotel's Diamond Horseshoe.
Photo: Matteo Prandoni/BFAnyc.com/BFA NYC
Partway through the meal at Queen of the Night, a hunky performer who had just finished an astonishing series of leaps onstage approached my dinner table and looked around. It was like gym class all over again, only this time I was chosen. He motioned for me to follow him. When we reached a dim corridor, he took my glasses, started nuzzling my neck, and said, improbably, that I smelled like desire. What was the etiquette here? Should I have whispered, "Thanks, and you smell like an acrobat"? Should I have taken the opportunity to compensate for nineteen years of monogamy by nuzzling back? Or complained that another audience member had recently come to my table and stolen a lobster?
Such are the confusions of the new theatrical-culinary-pornographic fusion from the people who brought you the Box. Like that louche boîte, the subterranean space in which Queen of the Night takes place (it was once Billy Rose's Diamond Horseshoe supper club) is dark and deliberately disorienting, refurbished (or defurbished) by the designer Christine Jones and her team in a faux-decadent style you might call Plato's Medieval Retreat. Upon descending a ruined grand stairway from street level, patrons are randomly pulled aside and marked for different experiences with various symbols: a paste-on rhinestone teardrop, a gnomic necklace, a letter written on the skin. As a result of these markings, and depending also on the cost of your ticket, you may be given a free drink, or asked to perform, or offered the chance to bathe a lady in milk. In any case, you will likely be separated from the person or people you came with; my partner was taken away by a man who gave him a shard of mirror and then danced for him in its reflection. 
Meanwhile, you wander around the enormous space and watch things happen. A topless woman in a glass box writes messages on the walls; a man with a whip commands patrons to perform odd rituals. After a while, you are herded into holding areas as acrobats and contortionists do tricks, and then you are seated at tables as the floor show proper begins. Its vague plot seems to be about the Queen's preparing her daughter, Pamina, for her sexual awakening: not very Mozartian, despite the Magic Flute fragments occasionally heard on the Euro-crap soundtrack. But the story is merely an excuse to parade the 33 beautiful performers in various states of Thom Browne undress as they tumble and arabesque and hump and scowl. (The thrilling acrobatics are by Les 7 Doigts de la Main, currently represented on Broadway in Pippin.) There is also, as French-Canadian circus law requires, a sad-clown figure who falls in love with, and mortifies, an audience member.
That the drama itself is negligible does not mean the experience is. For one thing, there's the surprisingly good food, served communal-style—if your commune was in 14th-century Aragon. Executive chef Jason Kallert and "Director of food performance" Jennifer Rubell offer suckling pigs on spits, Flintstone-sized short ribs of hickory-smoked beef, and the aforementioned lobsters, delivered in giant birdcages. Dessert, a delicious chocolate hazelnut cake, is spooned into your mouth directly by performers, who despite their zombie-pornstar makeup don't seem to mind feeding adults like babies. 
But if you are willing to consider it, Queen of the Night has something more to offer than an expensive dinner and a soft-core S/M pageant. A lot of work has clearly gone into defining the way the sexy young performers handle their constant interaction with the less-sexy old patrons. Within the fiction of their availability, limits are more easily observed and thus approached; my guy barely seemed to touch me at all, though he did leave makeup stains on my double-breasted suit. It was foolish but safe, and the evening's aesthetic of deliberate confusion (no one tells you what's going on, what to do, or what to think) made me consider the opportunities and limitations of sexual morality in a way no treatise, sex-positive or -negative, had ever done. Coming back to my table, I saw that other people, some of whom had been given a lap dance, or just been stared at "longingly," were thinking about that too. For all its overblown sexy trappings, I found Queen of the Night a surprisingly intimate experience: not in that dim corridor with the acrobat, but in the dimness of my own philosophy and heart.
At any rate, when we got home, I thought I'd try out what I'd learned on my partner. 
"You smell like desire," I said. 
He took off my glasses. "And you smell like hickory-smoked beef."
Queen of the Night is at the Paramount Hotel's Diamond Horseshoe.