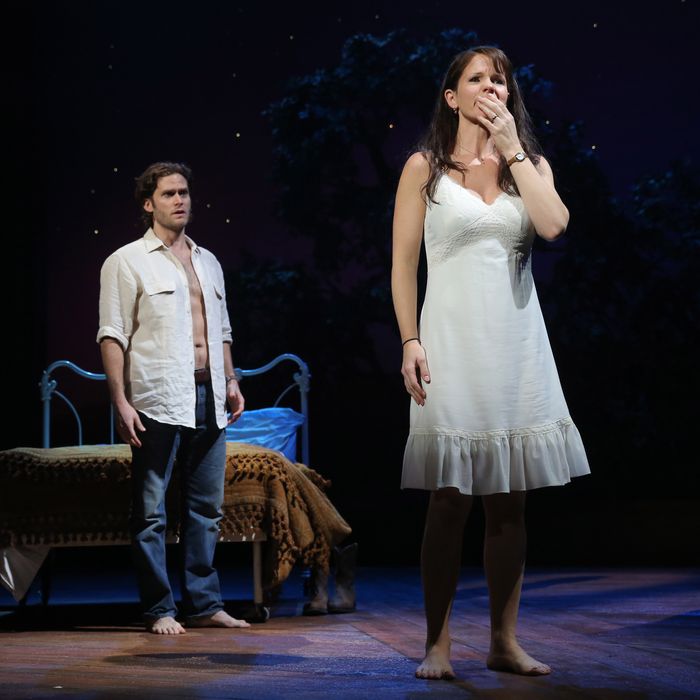 Photo: ?2014, JOAN MARCUS
The lights come up, with no fuss or pizazz, on a plainly dressed farmwoman, the endless American heartland stretching behind her. Are we in Oklahoma? Or even Oklahoma!? No, it's Iowa, but we may be forgiven for thinking of Aunt Eller with her butter churn. And though the thought is quickly dispelled as we learn, in a long musical sequence including barcaroles and waltzes and arias and chorales, that this woman, Francesca, came to the town of Winterset as a war bride from Naples, and that she is beautiful and sad and in a state of perma-longing, the connection to Rodgers and Hammerstein is not irrelevant. The Bridges of Madison County, though based on an insipid novel, is a very serious musical indeed, both rapturous and moral, with a gorgeous score by Jason Robert Brown. It is also one of the few recent Broadway shows to take up the challenge laid down by the great midcentury works of R&H and their cohort: to tell stories that weld important sociological upheavals to personal conflicts and somehow make them sing.
In Oklahoma! the clash was between liberty and restraint — cowman vs. farmer,  individual vs. community, singleness vs. marriage. Bridges, with the license some 70 years provides, views a similar set of opposites through the prism of adultery. If you were one of the 50 million who bought Robert James Waller's 1992 novel, or sat through the 1995 Meryl Streep–Clint Eastwood weepie, you know how this is going to go: Francesca will embark on an affair with a handsome photographer from National Geographic (visiting Winterset to photograph its famous covered bridges) while her husband and kids are off showing a prize steer at a state fair. Will she follow her secret heart and leave her known world behind? Or shut her eyes to passion and endure a life that, while hardly loveless, is not the great adventure she hoped for?
These are not trite questions even though the novel, just 171 pages, was memorably panned by Janet Maslin as "arguably the world's longest greeting card." That the musical succeeds in extracting something so smart and powerful from the treacle is little short of miraculous. To begin with, Marsha Norman has jettisoned all but the outline of Waller's story and radically reconfigured the protagonists. There was no way the author of Getting Out and 'Night, Mother was going to write a passive leading lady; her Francesca walks open-eyed and with frank longing into the affair. (It's the consequences that shake her.) Meanwhile, the photographer, Robert Kincaid, given to bizarre spiritual prattlings in the novel, has his outlandishness downgraded to "hippie" hair and vegetarianism. (It's 1965.) He is still, however, a dreamboat:
ROBERT: How did I get here?
FRANCESCA: I invited you.
            They look at each other for a long moment.
FRANCESCA: Either that, or the patron saint of Iowa housewives sent you to me.
And though the stakes are raised by lowering their ages so a new life together is possible — she is in her late 30s, he in his mid-40s, when they meet — they are no longer exalted fantasies. Francesca, at least, is firmly fixed in a realistic context that makes her dilemma resonate. That context is the pervasive Iowa community, who in Bartlett Sher's touching staging are visible during most of the action, singing, moving set pieces, and occasionally staring through the doors and windows of Francesca's house, not necessarily critically or pruriently but with a sense of responsibility and ownership. One of Brown's typically smart song-pegs hones the idea to a double-sided phrase: "You're Never Alone."
Robert's context, stripped of its Wallerisms, is more problematic; Norman fills in his backstory with an ex-wife who arrives surrealistically to sing a fantastic Joni Mitchell-style bossa nova called "Another Life." But the show is longish already, and there would be no point in the endeavor if not to make the story ring with music, so at some point the book had to give way, like a lover graciously bowing out. And Brown, a master of pastiche, takes a big step forward. Though there are genre songs for the family and community as needed (I especially enjoyed a tear-jerking gospel number called "When I'm Gone"), he has bet the farm on long-lined, Puccini-esque arioso writing for Francesca and Robert. These sequences do not fall neatly into typical Broadway song structures; sometimes they seem to go on for ten or fifteen minutes at a pop. And, truth be told, the single-mindedness of the book during act two (and to some extent of the lyrics, which become a bit mushy in the rush of emotion) sometimes make you wish for more variety. In these moments you recall that R&H were careful to integrate variation into the program by spelling the romantic couple with a comedy couple and even, sometimes, a third set of contrasting relationships. Here, Brown obsessively sticks to one story. If he is perching an elephant of feeling on a bentwood chair of plot, amazingly it doesn't tip.
Partly that's the high quality of the writing, of course. But the leading performances, shaped by Sher to preserve a sense of character modesty within the vocal extravagance, are exemplary. Kelli O'Hara, who plays Francesca, is never better than when working from loss and confusion; her prettiness has always contained more than a hint of hurt, which gives her voice its richest colors. Francesca was literally and in that sense figuratively written for her, and she responds with a disciplined, detailed performance (and, obviously, torrents of beautiful singing) that answer any questions about her fitness for the part. And barihunk Steven Pasquale, as Robert, who starred opposite O'Hara in Far From Heaven off Broadway last spring, and appeared in the first developmental production of The Light in the Piazza with her as well, at last gets a chance to be heard singing on Broadway. He was worth the wait.
The rest of the small cast is excellent as well, especially Hunter Foster as Francesca's husband, and Michael X. Martin and Cass Morgan as their next-door neighbors. But few shows have focused less on their secondary characters. Is that where serious book musicals are headed now? Hard to say: There have been precious few in this not-so-young century. On Broadway I'd count about a half-dozen as superior work; Off Broadway, another handful. Economics is part of it, but something else — something internal — is busting down the walls of the form. And so, even as I hope for great things from new kinds of musicals, I don't expect there to be many more signal achievements in the R&H tradition; works such as Piazza and Caroline, Or Change and (you may jeer me if you like) A Catered Affair have taken it about as fer as it can go. Whether The Bridges of Madison County is at their level, time will tell; its solutions to the problems of the underlying text sometimes create new problems, and surely any less beautiful production, with less glorious singing actors than O'Hara and Pasquale, would expose other flaws. But don't let's ask for the moon. We have the stars.
The Bridges of Madison County is at the Gerald Schoenfeld Theatre.
*This article appeared in the March 10, 2014 issue of New York Magazine.