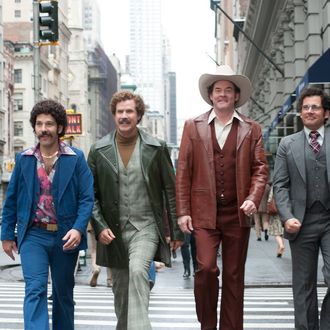 See you never, cast of Anchorman 2.
Photo: Gemma LaMana/Paramount Pictures
For years after Anchorman came out, fans were abuzz about the possibility of a sequel. Now that that sequel finally happened — and was a big success, grossing almost $170 million worldwide — director Adam McKay wants to nip any trilogy buzz in the bud. "It's done," McKay told Empire. "I think that's it. It was great to do it and it was so fun to work with those guys again, but I think that's it for Ron Burgundy." McKay also implied that this would be the last sequel they'll ever do. Sorry, anyone holding out hope for Step Brothers 2: Step Up Brothers, The Other Guys 2: The Other Other Guys, or Talladega Days.