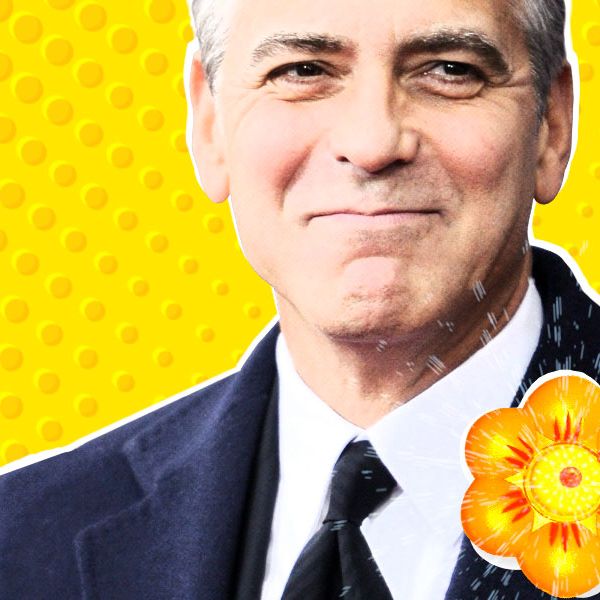 Photo: Maya Robinson and Photo by Getty
George Clooney is a prankster. It's the third thing people say about him, after noting how charming and handsome he is (not necessarily in that order). It's a reputation he relishes, partly because he loves practical jokes and partly because it gives the press something to talk about instead of his personal life. Sure enough, a new Clooney prank has been revealed (victim: his dad) while he is promoting his fifth directorial effort, The Monuments Men, which comes out this weekend. It is about time someone made all of his pranks available in one place for prankstorians, so here they are: From tricking customers at his high school job to fooling Matt Damon into thinking he's getting fat, to the many dupes suffered by friend Richard Kind and producer Jerry Weintraub. Enjoy and make sure, if you ever encounter Clooney, not to get so lost in his dreaminess that you forget to check his hand for a joy buzzer.
Seventies
• Clooney started pranking young. When he had a job selling shoes, he would write his initials and draw a smiley face on every pair of shoes he sold. (Kentucky Monthly Magazine)
Eighties
• Clooney would steal friends' cameras and take pictures of his genitals wearing glasses. He called it "Mr. Face," telling Esquire, "You put sunglasses and a cigarette, and it actually looks like a person." Victims included pop singer Pat Boone. 
1993
• The famous kitty litter prank. After his divorce from Talia Balsam, Clooney moved in briefly with good friend Richard Kind. Kind kept his cat's litter box in the guest bathroom. Clooney cleaned out the poop, but didn't tell Kind he was doing so, leaving Kind to think his cat was terribly constipated for weeks. Clooney kept it up, even after Kind took his cat to the vet. Finally, Clooney took a large human crap in the litter box. (L.A. Times Magazine) 
1994 (ER)
• Steven Spielberg was a producer of ER. Though he didn't have much involvement with the day-to-day goings-on of the show, he did send Christmas gifts. Clooney and Noah Wyle had heard that Spielberg had given the cast of the movie Always Mazda Miatas as a wrap gift a year earlier. When Spielberg got the cast of ER cell phones for Christmas, Clooney convinced Wyle that they should write thank-you notes to Spielberg that read, "Dear Steven, Thank you for the Miata cell phone." So, Wyle did. Clooney, however, did not. Spielberg never sent Wyle a Christmas gift ever again. (Conan)
• During the first season of ER, Julianna Margulies was booked on The Tonight Show. Unsure what to talk about, she went to Clooney for advice. Clooney gave her an anecdote that supposedly happened to his mother, involving a doctor's office and the line "I'm not a gynecologist, I'm a podiatrist." Margulies told the story. What Clooney didn't tell her was that years prior, he convinced his then-girlfriend Kelly Preston to tell the exact same story for her Tonight Show panel. Clooney did nothing with this for eight years, until, years after he left ER, he and Margulies were booked to appear on the same episode of The Tonight Show. Clooney had Preston and Margulies's appearances cut together, with each finishing the other's sentences. At the last minute, Clooney decided against showing it, feeling that it would hurt Margulies too much. (L.A. Times Magazine) 
• One day at lunch, an ER co-star went up to Clooney and asked, "Does my pasta smell funny?" and then pushed the plate into his face. Clooney waited. Then, on the actor's last day, Clooney put a license plate frame on the actor's car that read, "Honk if you like pussy." The guy thought everyone was honking and waving to say good-bye. (LA Times Magazine)
1996
• Clooney saw a giant awful painting in the garbage and decided to take it home, frame it, and sign it. Then for about a year he made Richard Kind think he was taking art classes. Then on Kind's 40th birthday, Clooney gave the giant painting to Kind, calling it the first painting he and his art teacher were both really proud of. Kind hung the painting for two years without knowing. (Next Movie) 
• One more prank on Kind. Clooney was at a birthday party for Harry Hamlin. Hamlin was an acquaintance at best, but Clooney was invited through a mutual friend who was hosting the party. Hamlin had put his camera down, so Clooney picked it up and tried to get people to take pictures of their butts with it. Everyone said no. But then when he saw Kind, Clooney told him that everyone was taking pictures of their butts and he should, too. Kind said sure. Clooney told Kind he would crop it so you'd just see the butt, but he actually shot it so you can see Kind looking over his shoulder, smiling. A week later, Clooney's friend played him a message from Hamlin: "I want to thank you again for a great birthday party. Could you explain to me why Richard Kind is showing his ass on my camera?" (Esquire)
• On the set of One Fine Day, they were using a $7,000 fake kitten to pass as a real cat. Clooney would have Mae Whitman throw him it, only for him to miss it and it to drop on the floor. Onlookers were horrified because they thought it was real.
1999
• One day, while filming Three Kings, co-star Nora Dunn started heckling Clooney from 25 yards away. So Clooney took an apple, speared it on a car antenna, pulled it back, and flung the apple at her. It hit her square in the forehead. He called it the "greatest shot in the history of shots." (Entertainment Weekly) 
Year Unclear (Seemingly the Nineties)
• Clooney was at a dinner party with Sandra Bullock. Bullock saw Clooney with his shirt off by the pool, and he said he was going to jump in. So, Bullock, Clooney, and another guest held hands, and Clooney said on the count of three they'd all jump in. On three, only Bullock jumped. Her expensive dress started disintegrating. (The Tonight Show)
2001 (Ocean's Eleven)
• Clooney can do a perfect imitation of Ocean's Eleven producer Jerry Weintraub. Clooney used it to request a 4:30 a.m. hotel wake-up call for Weintraub.

• Weintraub had an expensive gold silk shirt that Clooney hated. One night, Clooney snuck into Weintraub's closet and stole the shirt. Clooney proceeded to draw a giant penis on it and have it signed by everyone who was participating at a Las Vegas charity golf tournament. There were 30 signatures, including those of Brad Pitt, Matt Damon, Don Cheadle, and Wayne Gretzky. Clooney then gave Weintraub the shirt for his birthday. (L.A. Times Magazine)
• He'd put Vaseline over Weintraub's doorknobs. (People)
• He once put a bucket of water over Julia Roberts's doorway, so when she'd open it, she'd get drenched; however, a bellman got it instead. (People) 
2003
• An unnamed friend — whom Clooney calls "Frank" in this story — jokingly left Clooney a voice mail saying, "It's Frank, it's eight o'clock, and I like cock! I just like it!" This was right before Frank, Clooney, and some friends were supposed to go on vacation to a remote Hawaiian resort. They had agreed not to check their messages for a week. So, right before leaving, Clooney got the code to Frank's message center and replaced the greeting with the "eight o'clock" message. For a week, that's all anyone calling heard, including Frank's mother, who remarked, "That was a weird message." (Vanity Fair) 
2004 (Ocean's Twelve)
• Clooney would leave potted plants outside the door of Julia Roberts's trailer, so she couldn't get out. (In Touch) 
• Bernie Mac on Clooney: "Clooney always plays. He [plays] too damn much. You gotta watch Clooney. You come in the door, a bucket of water [will] fall on your head. He got it propped up at the top. You got tacks in your seat, all that kind of bullshit. He found a rabbit cage and let it loose in your room. You gotta watch Clooney." (About)
• Clooney assembled a crowd of fans outside Brad Pitt's hotel window. When Pitt appeared, they went wild. However, Clooney had them chanting, "George! George! George!" all night. (Next Movie)
• After Brad Pitt sent out a memo to the Italian crew that said Clooney wanted to be referred to as "Danny Ocean" and that they could not make eye contact with him (the Italian newspapers eventually wrote about it, as if it were true), Clooney started putting bumper stickers on Pitt's car. The first read, "I'm gay and I vote." The second read, "Small Penis on Board." (IGN)
2005
• Clooney threw a fake wedding for Brad Pitt and Angelina Jolie to prank the paparazzi. He ordered high-top tables and put them on his lawn, so helicopters would see it. For two weeks the press believed it was happening. (Today Show)
2006
• At a party for Scott Caan's photo exhibit, Clooney reportedly told Bruce Willis that many middle-aged men were hitting on Willis's then 18-year-old daughter, Rumer. Clooney was pointing out the men one by one, and Willis got more and more angry. The joke was foiled when Rumer flubbed her part in the prank. (New York Daily News)
2007 (Ocean's Thirteen)
• On a flight to LA, Clooney and Pitt challenged Weintraub to a vodka-drinking contest. Clooney and Pitt, however, were drinking water. When Weintraub passed out, they filled his underwear with M&Ms. (Fora.TV)
2008
• After Hugh Jackman won Sexiest Man Alive, Clooney called him at 2:00 AM, shouting, "Shut up, Jackman! I know what you did! You started this big campaign that's been going on and [you] took the title away from me." (People)
2011 (Ides of March)
• While giving Ryan Gosling directions, Clooney would slowly spray Gosling's crotch with a water bottle. (LA Times Magazine)
• Clooney got Evan Rachel Wood to dance and sing along to Justin Bieber's "Baby," not telling her cameras were filming it. He joked, "Enjoy the DVD." (LA Times Magazine)
2012
• At a date with then-girlfriend Stacey Keibler, Clooney hid an air horn in his hat. He blasted it to startle the waiting paparazzi. (TMZ)
2013 (Monuments Men)
• After staying at Clooney's place, Bill Murray was leaving and noticed his bags felt heavier. He opened them up to realize that Clooney put eleven pounds of gravel in the bottom. (Yahoo)
• Matt Damon was staying with Clooney; knowing that Damon was trying to lose weight, Clooney had a tailor take Damon's pants in an eighth of an inch, every few days. Damon could not understand how he was gaining weight. (The Tonight Show)
• Clooney had his father, Nick, over to watch a rough cut of Monuments Men. Nick plays George's character as an old man in the film, which ends with a shot of Nick walking into the distance. In the cut George showed Nick, it then fades to black and the screen reads, "In loving memory of Nick Clooney." (Access Hollywood)
2014
• After Tina Fey and Amy Poehler told a particularly cutting and funny joke about Clooney at the Golden Globes, Clooney promised retribution. First, he sent Tina and Amy a letter from Matt Damon that said, "Look, it sounds hypocritical because I laughed at the jokes about George and Leo, but you know, that's sort of what people think about them. But when you called me a garbage man, it just seemed like low hanging fruit, it just seemed like an easy joke. And you know, I don't want an apology, I don't want anything else, I just want you to know that my kid now calls me the garbage man." Damon, however, didn't learn Clooney sent this letter until he got two giant fruit baskets with two letters from Tina and Amy. The first letter was an apology. The second, which he read on Letterman, said, "If your note is part of some George Clooney prank, as I very strongly suspect it is, you A-list amateurs are going to have to step it the fuck up. We are not some easily confused starlets here. We are grown-ass, professional comedians. Please accept this fruit as a token of our sincerity. Best wishes, Elizabeth Tina Fey, Amy 'Boston' Poehler." Clooney brushed off their seeing through his prank: "And I just said, that's the appetizer and what's coming now, the main course, it's pretty brutal." (SiriusXM Town Hall)