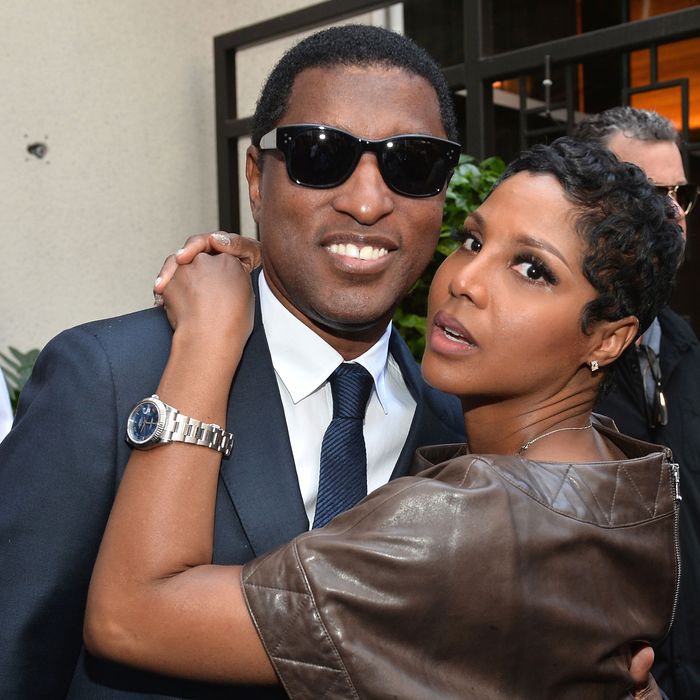 Recording artists Kenny "Babyface" Edmonds (L) and Toni Braxton attend A Conversation with Toni Braxton and Kenny "Babyface" Edmonds at The Recording Academy on September 24, 2013 in Los Angeles, California.
Photo: Alberto E. Rodriguez/Getty Images
Toni Braxton and Babyface have a long history. In 1990, Babyface (and L.A. Reid) "discovered" and signed her to LaFace Records. The pair have sung together and been on tour together, and he wrote several of her hits: "Another Sad Love Song," "Breathe Again," "You're Makin' Me High." And just in time for Valentine's Day, the two have released the album Love, Marriage & Divorce. The music? Perfect for a romantic night in. The lyrics? They detail a depressing journey through the cycle of a failed marriage. Take that, February 14! Let's trace the dissolution of a relationship through Braxton and Babyface's latest album. Some of it might be painfully familiar.
GETTING INTO AN ARGUMENT

"Roller Coaster"
"Today I've said some things to you, babe / I don't like the way it felt, no / I've been giving you, giving you so much attitude / I guess I really should check myself."
"Sweat"
"I don't really wanna think or talk about it / Cause all we seem to do is / All we seem do is scream and shout about it."
"I Hope That You're Okay"
"You know I love you / But I really don't see this happening anymore / You know I love you / But I really don't think that it's worth fighting for."
CHEATING
"Where Did We Go Wrong?"
"Ooh from the beginning I was so so feeling you / But you thought I cheated, that I played around on you / But didn't you do the same, didn't you, didn't you?"
"Hurt You"
"I did you wrong so many times, yes. / So, I know why you cross the line / But girl, never dreamed you cheat on me."
"I Wish"
"Oh baby, oh oh baby I can hardly wait to see your face / Oh baby, oh oh baby heartbreak is gonna be the case / I hope she creeps on you with somebody who's 22 / I swear to God I'm gonna be laughing at you, every day."
BREAKING UP

"I Hope That You're OK"
"And although I love you / There's something I need to say / I done thought a lot about it / And I think I'm gonna leave today"
ATTEMPTING A RECONCILIATION
"Take It Back"
"The eyes are clearly stuck against us / So waving it was stuck for way too long / There were many things that will test us / We going in this fight if we just stay strong / And I just didn't know you wanna go."
"Heart Attack"
"I said "How are you? How you doing? How you been?" / She says "I'm lovely, did I introduce my friend?" I started treat her, don't even know what for / Seeing her with someone else is only made me want it more."
"Reunited"
"When you walked out of my life / Everything fell apart / But I wanna get it right / Because I'm gonna always love you boy / And I need you boy / Tell me we'll fall in love again."
GETTING A DIVORCE

"I'd Rather Be Broke"
"I'm tired of spending all my time / And waiting on your dime / And get lovin' half the time / I'd rather be broke than with you."
"The D Word"
"I put the papers on your doorstep / The keys under the mat / Although the lawyer said to mail you / I'm still not over yet."
ACTIVELY WISHING YOUR EX GETS SICK ENOUGH TO CRY BUT NOT ACTUALLY DIE

"I Wish"
"I hope she gives you a disease / So that you will see / But not enough to make you die / But only make you cry / Like you did me."
Happy Valentine's Day!