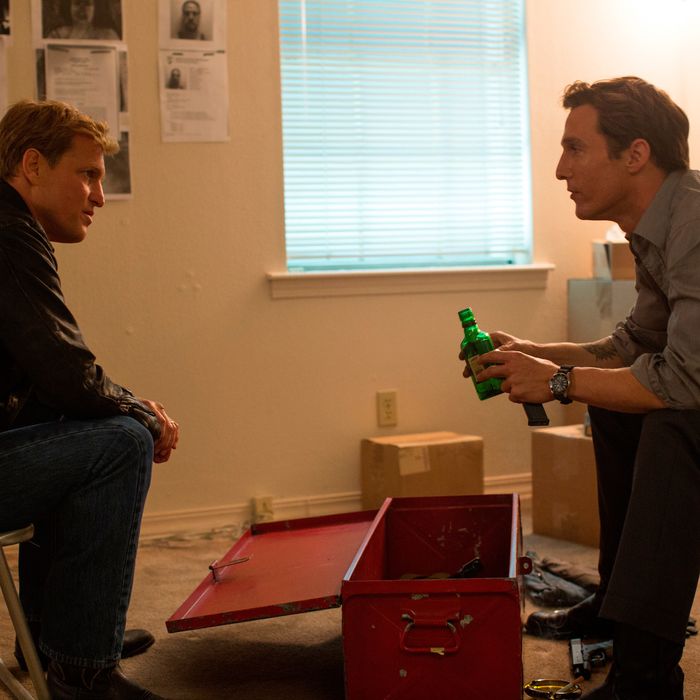 Photo: Michele K. Short/HBO
It doesn't matter whether the story you're telling centers on frayed, alcoholic investigators looking into psychosexual mutilation or quirky but affable lawmen peering into some white-collar caper. When cops and crooks play cat and mouse, the bad guys are almost certain to incite a chain reaction via hubris that exceeds their wits, while those in pursuit will play loose with their authority and contribute to a reckoning with no way out.
That's exactly where Cohle finds himself in the final minutes of "Who Goes There," a title that could rightly be posed as an incredulous question to both Hart and Cohle amid their biker-bar and stash-house exploits. The latter protagonist is high and willingly (if without actual CID awareness, let alone permission) undercover among the Iron Crusaders, an East Texan biker gang he once infiltrated that has ties to Reggie Ledoux. He's urging for cooler heads and an exit plan when the strategy of impersonating officers and ransacking an area housing project's dope supply invariably goes awry. No such luck. Shots are fired, Cohle scurries for cover and backup with gang member Ginger in tow, and covers are blown in a fashion that would seem absurd if a neighborhood of armed assailants weren't bearing down.
In actuality, only Cohle's identity has been made. The other project residents still believe these Crusaders to be cops, and when the real 5-0 show, all we see is an aerial view of minor warfare. It's an avoidable tragedy that would have happened whether Cohle was witness or not, but he arguably didn't need to be party.
Still, they got their man in Ginger, a guy who seems unlikely to sacrifice his comfortable lifestyle of racially motivated kidnappings, high-volume narcotics, and members-only clubs with Melvins playing round the clock just to protect the whereabouts of Reggie Ledoux. Though if he does, who can blame him? Ledoux is a giant, checking in at six-foot-seven and 225 pounds, and as we know, the guy likes to parade around wild swamps in his tighty-whities and a gas mask while wielding a machete. This is presupposing that Cohle and Hart (and man, was that preternatural timing when Hart pulled up at Cohle's expressed corner streets as they approached asphalt) interrogate Ginger in any official capacity. It would be hard to see them explaining the illegal seizure of this admittedly cell-worthy perp to Quesada, no matter how much leeway he's allowed them. Not to mention Ginger, or his lawyer, might have plenty to say about the drugs in Cohle's possession, never mind the roll call of individual-rights offenses.
The more foreseeable scenario is we open next week with a much less proper inquisition than Charlie Lange was granted, even if Dora's dumb-shit ex-husband was cruelly left to ponder his implicit guilt in her savage death. And don't be surprised if Hart, fully neutered with nowhere left to rage after the dual rejection from Lisa and Maggie (make it three if you count his hostile ousting from the Crusaders' bar), takes the reins this time and breaks down their suspect with prejudice.
Ginger is the latest in what's becoming a reliably revolving door utilitarian ne'er-do-well types and weirdos. TD's IMDb page is an endless scroll of bit parts with foreboding monikers like "Gangbang Biker #1" that are less red herring than this show's dark little slices of life. Executive producer and writer Nic Pizzolatto is using genre mechanics to engineer the tale of a time, place, and its inhabitants, not the other way around. Hart and Cohle themselves might be his handiest tools, blending into their environment and being more forthright with almost insidious versatility. These two men and their tenuous lives feel more and more like hallucinations themselves, increasingly putting the onus on us to see straight and, as Hart puts it, stop "paying attention to the wrong clues."
All of which brings us to True Detective's halfway point, and the fair task of figuring out just what it is we know (or think we know based on Hart and Cohle's past and present account of events as filtered with undetermined veracity through Pizzolatto's pen and director Cary Fukunaga's eye): A prostitute is dead, some kind of Satanic cult with a spiral tattoo as calling card is sacrificing myriad victims, massive meth cooker Reggie Ledoux is not entirely uninvolved, and Hart and Cohle are two typically damaged detectives rooming together in 1995 and feeding each other's obsessions as the improbable end result of stupidity and circumstance. Oh, and that Hart has whiskey dick. 
Apart from all that:
Add to the Tall Man/Manhunter myth-making comparison that those helicopter shots above the projects and accompanying ominous ambient sounds felt very Michael Mann.
"Ain't it funny, Marty? The shit you get soft about." Touché, Rust.
Both Boogie Down Productions and Wu-Tang Clan still sound apt for a show set in 2014.
At least the strip-club bartender lived up to his T-shirt.
Was that Lisa's voice on the phone, or whoever voiced the threatening phone-sex rep in Punch-Drunk Love?
Loved the end of the diner exchange between Maggie and Cohle, and Maggie's look of stunned longing out the window.
Who says this show doesn't have a sense of humor? Only those who missed Cohle walking out of the evidence locker, drugs in pants, offering aloud, "They really should have a better system for this."
Present-day Cohle is, ironically, like a snake-charming sermonizer. With pit stains. Hart, however, is growing increasingly flustered in his questioning.
Stellar musical episode, the best so far in that sense: some riotous Grinderman for the climactic fade-out, an unexpected but bracing Boogie Down Productions selection for the strip joint, a not overly sentimental Lucinda Williams cut for Hart's heartbreak, and the aforementioned Melvins (twice!), although given the region, a little Crowbar or Down might have been nice. And it's always hard to argue with Bo Diddley. The soundtrack to this show sometimes tells you all you need to know.
P.S. Not sure we need an umpteenth TV monologue about the futility of marriage. That said, pretty hard to divorce oneself from this show. Hey-oh!