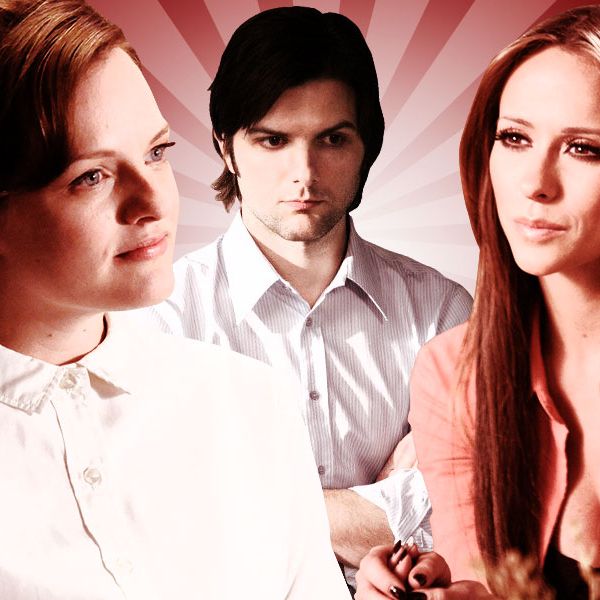 Photo: Maya Robinson and Photos by AMC, Lifetime and HBO
You can turn on your television any old time and find two heterosexual people having sex. It's common; it's often even boring. (Tasteful lighting, lingerie, conservative camera angles — you have seen this a million times.) But on television, a hand job is rare, and it is never just a hand job. A hand job is always telling us something — about the giver, and the receiver, and a society that has driven these two people to share an incredibly awkward sexual act that is usually never as pleasurable as what they could achieve by themselves. It is something to remember. So Vulture now presents our TV Hand Job Hall of Fame, honoring the best and most uncomfortable moments in manual pleasure on television.
Queer As Folk, "Death and Remembrance" (March 15, 1999)
This scene reappears in the American version, too, but let's give the Hall of Fame spot to the original British one. Nathan (Sons of Anarchy's Charlie Hunnam) is a high school student who recently, thrillingly, lost his virginity, and has been on a "look at me, I'm so sexy" kick ever since. Christian (Ben Maguire) is the school bully, and a rank homophobe, but the two find themselves in the locker room together; after complaining about the lack of sex in their lives, Nathan reaches over, unzips Christian's pants, and gives him a not-at-all gentle wank. It's mirrored later in the episode when Nathan's on the receiving side of things, this time with his 29-year-old not-really-boyfriend Stuart (Aidan Gillen).
Sex and the City, "The Big Time" (July 30, 2000)
"That night, Charlotte got everything she wanted. Trey got a hand job." It is not even a particularly memorable Carrie voice-over — not even a pun — but then, that is probably the point. This is not a rewarding hand job. This is a Hand Job of Foreshadowing. This hand job will not work out.
Six Feet Under, "In Place of Anger" (April 7, 2002)
Brenda (Rachel Griffiths) was always a sexually adventurous character, but she also frequently used sex as emotional leverage — withholding sex when she was withholding all intimacy, but also cheating on people as a way to gain power over their relationship. We first see this in season two, when Brenda decides, sort of on a whim, to give one of her massage clients a hand job. It's not out of affection or attraction; if anything, it's out of curiosity and almost fascination. It's a brief glimpse into how alienated Brenda usually feels from the rest of the world, how basic physical contact is one of the few things she's sure about.
Weeds, "A.K.A. The Plant," (September 4, 2006)
This one is really on Nancy (Mary-Louise Parker), who asks Andy (Justin Kirk) to teach her teenage son about jerking off. He does, first with a banana demonstration, and then by taking Shane (Alexander Gould) to a massage parlor for a professional "finish." They do not actually show the act — that would be illegal, probably? — but they do show Shane looking really happy afterwards.
Lucky Louie, "Drinking" (June 8, 2006)
"I can't stop thinking about death," Louie (Louis C.K.) says to his wife (Pamela Adlon) in the middle of the night. She wants to go back to sleep. He wants to keep talking about his existential crisis. She rolls over and starts giving him a hand job under the covers. He's shocked at first, and then elated, throwing his head back and grinning. "Are you still thinking about death?" she asks. "No, no!" he says.
Tell Me You Love Me, "Pilot" (September 9, 2007)
Adam Scott and his onscreen wife want to have a baby, so … his wife gives him an extended handy on the couch while watching TV. That is not how you conceive a child, really. But it is certainly how you prove that your cable show is edgy, especially when the camera stays trained right on the prosthetic. For like a full minute. That is more penis than HBO has shown in the last seven years combined.
In Treatment, "Laura: Week One" (January 28, 2008)
We don't actually see this hand job; we hear a description of it from the distraught Laura (Melissa George), as she recounts a sexual encounter that turned into sexual assault when her anonymous partner insisted she give him a hand job. But part of why Laura tells the story is "I thought of you, what you'd say about it," she tells Paul (Gabriel Byrne). "I imagined you not being able to understand it. I imagined you being disgusted." "Is that why you ran over here?" he asks, since she admitted earlier that she'd been waiting outside for her 9 a.m. session since five or six o'clock. "I didn't run," she says defiantly. "I gave him the hand job." It's the beginning of a long exploration of transference; she tells him at the end of this episode that she fantasizes about him, and the two wrestle with that idea for years. Not a romantic hand job, certainly, but a powerful one.
The Tudors, "Tears of Blood" (April 6, 2008)
Henry VII gives Anne Boleyn a fancy title and robes; she gives him … a hand job at the dinner table. (She rifles around in his pants below the camera.) You know what? It's 1532, and they're not even married. That seems like a fair trade?
True Blood, "Never Let Me Go," (July 19, 2009)
Here's a tip: If you see a man on an HBO show soaking in a bath tub, that man's about to engage in a sex act. Here, it's Jason Stackhouse (Ryan Kwanten), and he's about to get a hand job from Sarah Newlin (Anna Camp), wife of a fundamentalist preacher. "After all your trials, God wants you to have a reward," she purrs. "Let me reward you, Jason. Let me help you find your way back to joy." Well, if it's part of God's plan and all …
Breaking Bad, "Half Measures" (June 6, 2010)
There are actually a few hand jobs on BB over the years, starting with a desultory birthday HJ in the pilot. But sorry, Walt and Skyler: This Hall of Fame spot belongs to Hank and Marie. Hank is still in the hospital recovering from the injuries he sustained in "One Minute," but Marie thinks he's physically more ready to leave the hospital than he's ready to admit. "If I can get the groundhog to see his shadow … you check out of here," she challenges him. At first he declines, then he accepts the challenge, and then — smash cut to Hank being wheeled out of his room, on his way home.
Boardwalk Empire, "The Ivory Tower" (September 26, 2010)
Don't let a HJ lull you into a false sense of serenity. As Boardwalk Empire proved in its second episode, sometimes when you pull off the road to get a sulky hand job from the girl you've been trying to coerce into sex all episode — sometimes that means a blood-stained stabbing victim will wander up to your car and scare the crap out you and your lady.
It's Always Sunny in Philadelphia, "Thunder Gun Express" (December 1, 2011)
The gang is excited to see a new action movie, though a Planes, Trains, and Automobiles–style series of events prevents them from getting to the theater in time. Thanks to a fender-bender, Dennis meets an attractive woman, somehow convinces her to go to the movies, and by the end of the episode is receiving a hand job at the cinema when Frank calls in a bomb threat. Movie theater HJs. A classic!
Mad Men, "Far Away Places" (April 22, 2012)
Peggy (Elisabeth Moss) is fed up: with Don, who disappeared on a road-trip to a Howard Johnson; with Abe, who is annoying; with the Heinz executives, who don't like her pitch. So after a long day of being bossed around by various men, she goes to the movies and gives a random guy a hand job, presumably to prove that she can be powerful and reckless, too. The actual visuals on this one are a little dark — it's a movie theater, remember — but you can see enough to know that Peggy went there. For a while. During Born Free.
The Client List, every episode (2012–13)
This entire show is about hand jobs. Jennifer Love Hewitt stars as Riley Parks, a down-on-her-luck massage therapist who figures the only way she can make ends meet (now that her husband has left her and her kids high and dry) is to start working at the Rub, a massage parlor that also offers sex work. It's called the Rub! Every episode includes multiple enthusiastic though un-erotic hand jobs.
House of Cards, "Chapter 6" (February 1, 2013)
Sometimes a hand job is a gift, and sometimes it is a way to punish a dying man who just confessed his love for you after being your bodyguard for eight years. On House of Cards, the terrifying Robin Wright goes for Option B, right there in the hospital. Fear her.
Looking, "Pilot" (January 19, 2014)
Does an aborted hand job count as a hand job? Technically, there is contact, since Jonathan Groff immediately starts yelling about a stranger's cold hands (on his penis). And it takes place in a park, which is adventurous, if not exactly conducive to completion. So we'll allow it, as long as everyone understands that the hand job is supposed to be cut short. It's symbolic. Of how there will not be very much sex on this show. Get used to it.