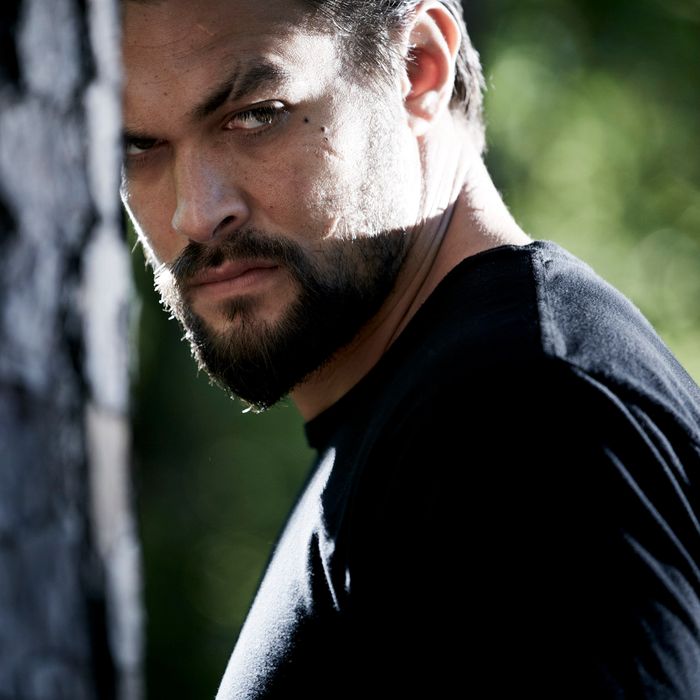 Jason Momoa in The Red Road
Photo: Sundance
The channel's name is Sundance, so it shouldn't surprise anyone that much of its original programming would evoke art house films from the '90s, arguably the peak of the Sundance Film Festival's cultural influence. The channel's latest miniseries The Red Road, about the conflict between entitled but troubled whites and an unrecognized Native American tribe, gets even more specific in its influences. It's a feel-bad regional potboiler in the vein of such dramas as Incident at Oglala, Sling Blade, and Heavy. Such movies prioritized atmosphere and characterization over plot, and examined their milieus with anthropological exactness, to the point where every pregnant pause and dropped "g" seemed freighted with meaning. Red Road creator Aaron Guzikowski (Contraband, Prisoners) and producer Sarah Condon (Bored to Death) go heavy on the portent.
In theory, the show's main character is Harold Jensen (Martin Henderson), a New Jersey cop. He's the buffer between his community's white citizens and a local tribe that has not yet been recognized by the federal government despite years of petitioning and complaint. The Anglos have their own problems: Harold, for instance, is married to an alcoholic, erratic and (it seems) mentally ill woman named Jean (Julianne Nicholson), who's the daughter of a local politician, and the Jensens' two daughters (Allie Gonino and Annalise Basso) are basically Capulet ladies waiting to get into Montague trouble.
But their distress has nothing on the low-level nightmare of the Lanape tribe. Reservation life is not for the faint of heart, but the unrecognized natives of Red Road don't even have that. They are, for all intents and purposes, non-people, at least as far as the whites are concerned, and even one of their own members doubts that their conception of themselves as Native Americans is really accurate, and that they might instead be the result of black-white race mixing. (The Lanape characters are cast with a mix of Native American, African-American, Latino, and mixed-race actors.)
Looming over this half of the story is Phillip Kopus (Game of Thrones' Jason Momoa), a half-Lenape criminal who carries himself with the smug charisma of one of those rebel characters that the young Marlon Brando or Paul Newman used to play. Phillip has a connection to the Jensen family history that becomes clearer and more unsettling as the tale unfolds, and something about the way that Momoa lopes into the frame, smirking and leering and sometimes preening, suggest that Phillip has a much deeper self-awareness than the other characters. There are times where he stirs the pot so deliberately that he seems to be aware of himself as a character in a drama, one he did not create but can at least affect. (Tom Sizemore, who plays Phillip's gangster mentor, has a similarly self-aware vibe.)
The show's biggest liability is its poky, murky, let's-all-marinate-in-the-moment ethos. And yet that same stubbornly meditative vibe distinguishes The Red Road from other crime-driven regional potboilers, including HBO's True Detective, AMC's The Killing, and FX's The Bridge. I can't think of another current series that's so determined to give you a sense of what Northeastern woodlands look and sound like after sundown, thick trunks rising into canopied gloom. It's not an engrossing, defiantly noncommercial "nothing happens" show on the order of Sundance's Rectify – which I loved, by the way – but it's committed to showing you things in its own way and at its own pace.  The stylish and substantive James Gray (The Yards, We Own the Night) directed the pilot, and a future episode is directed by Lodge Kerrigan (Clean, Shaven); if those names and titles mean anything to you, you know what kind of experience you're in for.
In time, the tribe's bitterness over not being recognized starts to feel like a metaphor for every other character's trouble: This series is filled with bitter, angry, or otherwise dissatisfied people who want to be heard and understood, and told that their grievances have emotional weight, whether they're factually true or not.