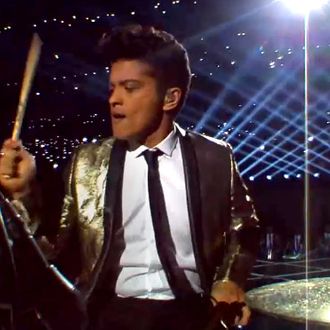 It was a hard act for anyone to follow. Beyoncé's halftime show at last year's Super Bowl was arguably one for the ages, talked about non-stop in the following weeks and months. Mrs. Carter has been top of mind again in the past month as a result of her much-lauded surprise album and her best-of-the-night performance at last weekend's Grammys. So did Bruno Mars do his Super Bowl predecessor justice? And is it even fair to compare the two, as Twitter seemed intent to do all night?
Vulture music critic Jody Rosen guessed that all-around Good Guy Bruno Mars would "meet [the Halftime show] in his usual fashion: with finesse, and without batting an eye," and that he did: Mars pulled off his highly choreographed performance without any noticeable slip-ups. Blame his polish, but there were also no surprises. He flew through the hits, "Billionaire," "Locked Out Of Heaven," "Treasure," "Runaway Baby," and an unfortunately wedding band reminiscent cover of "Shout" alongside his slick band, The Hooligans, who were endearingly psyched to be there.
When the Red Hot Chili Peppers appeared (Mars and The Hooligans managed to slide their funk medley into RHCP's "Give It Away,"), we thought maybe they would bring some sort of unexpected energy. Everyone joked about those tube socks — the ones that covered their penises so many years ago. But this is the Super Bowl and Anthony Kiedis and Flea dared only to go topless (Shout-out to Janet, a decade later?). They flailed around on stage in shorts and colorful stockings before ending abruptly so Bruno could appear once again with a version of slow jam "Just The Way You Are" dedicated to the troops.
Mars played by the rules, checked all the boxes and undoubtedly caused quite a few Americans to log on to iTunes to purchase his album, Unorthodox Jukebox. But will we still be talking about it tomorrow, let alone in 2015? Not likely. Hey Super Bowl, Taylor Swift is waiting in the wings. See you next year.