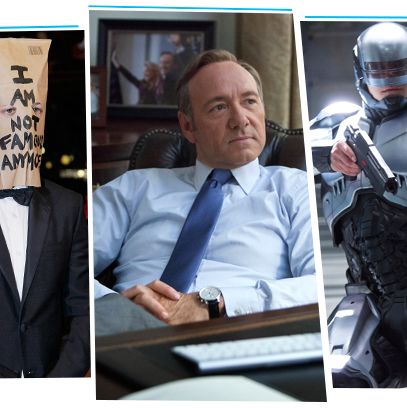 Every week, Vulture faces the big, important questions in entertainment and comes to some creative conclusions. This week, we picked our 25 favorite rom-coms since When Harry Met Sally, saw RoboCop exceed our expectations, and held hands and cried with Shia LaBeouf. You may have read some of these stories below, but you certainly didn't read them all. We forgive you.
Q: Happy Valentine's Day! Got any cool cards for us?
Do we ever! This year, celebrate that special someone with one of our homemade Valentine's Day cards featuring the ultimate best friend soul mates: Sherlock and Watson. Or, for those who still have their hearts set on scoring a date with a fictional character from two decades ago, here's a handy infographic guide to dating Jerry Seinfeld.
Q: Speaking of V-Day, I need some romantic comedies to watch this weekend. Any suggestions?
Do we ever! Vulture movie critics Bilge Ebiri and David Edelstein gave their picks for the 25 best romantic comedies since When Harry Met Sally, and people were predictably enraged (no You've Got Mail? For shame!).
Q: What is Shia LaBeouf's endgame?
Ugh, great question. After attending LaBeouf's performance art exhibit in L.A. — which involved a lot of crying and handholding — Kyle Buchanan weighed in on the actor's bizarre trajectory, explaining, "At this point, his celebrity and his career are second nature, and he's so narcotized by their constancy that he's aggressively trying to blow them up, in the same way that he can't take a role now without purposefully creating obstacles for himself." Marina Abramovic had opinions too.
Q: That True Detective tracking shot was something else, huh?
Yeah, sure, we guess — but it's more than just awesome, says TV critic Matt Zoller Seitz, who argues that it's important to put the shot in a larger context and explain its effectiveness instead of lavishing it with un-examined praise.
Q: I loved The Lego Movie — what else should I watch?
Jesse David Fox suggests taking a chance on the directors' brilliant 2003 TV show Clone High. And Gilbert Cruz wants to know how many times you sung "Everything Is Awesome" this week. A lot? Probably.
Q: Yay, House of Cards is coming back! Where did we leave off?
Catch up on Frank Underwood's shady dealings with Jessica Goldstein's comprehensive House of Cards season-one recaps (in four parts), or, if you're not prepared to jump all the way down the recap rabbit hole, read Amanda Dobbins's snappy rundown of where each of the characters left off or her profile of star Kate Mara.
Q: Should we be excited for the new season?
Read Matt Zoller Seitz's review and decide for yourself. While he has his gripes with it, there's still reason to get your hopes up; of the fourth episode, he says, "[it] immediately went on my list of the year's best drama episodes; at least half of it is eye-rollingly silly, but the other half is magnificent."
Q: Is RoboCop actually any good?
Somewhat. According to David Edelstein, RoboCop is the "rare reboot that transcends its studio's money-grubbing." Meanwhile, other critics were just surprised that it exceeded their very, very low expectations. Bilge Ebiri also chatted to star Joel Kinnaman about overcoming his own skepticism about the project and his awesome robot suit: "It made me feel like a badass."
Q: Is Jared Leto still the favorite to win Best Supporting Actor?
Kyle Buchanan sizes up the field and concludes that Leto's pretty close to unbeatable (but you never know!).
Q: What about the other categories?
You tell us! Weigh in with Vulture's Oscar ballot for the chance to win $500, and while you've got Oscars on the brain, check out ten points of interest from this year's bizarre Oscar class photo.