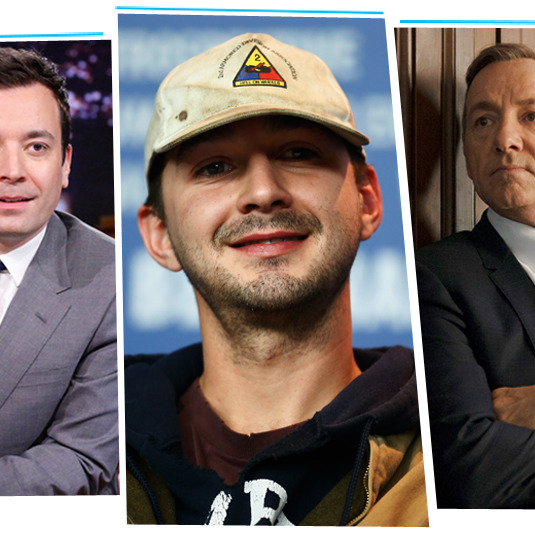 Photo: NBC; JOHANNES EISELE/AFP/Getty Images; Nathaniel E. Bell/Netflix
Every week, Vulture faces the big, important questions in entertainment and comes to some creative conclusions. This week, we theorized about the Yellow King on True Detective, watched Jimmy Fallon's debut as host of The Tonight Show, and gave Gillian Jacobs an emoji quiz. You may have read some of these stories below, but you certainly didn't read them all. We forgive you.
Q: Who is the Yellow King on True Detective?!
A: We don't know, but we have a lot of theories. For the super obsessive among you, there was a line that got cut from the end of the latest episode that might have some meaning. (Or not.) Maybe you're like Lindsey Weber, who is just really into making memes about the show. Or maybe you're like everyone else on Twitter and went nuts with #TrueDetectiveSeason2. GET INTO IT.
Q: How was Jimmy Fallon's debut as host of The Tonight Show?
A: He pulled out his typical, Internet-friendly bits, including a barbershop quartet cover of R. Kelly's "Ignition (Remix)" and a dance history of hip-hop co-starring Will Smith, as well as a long parade of celebrity cameos. After her cover story on Fallon, Jada Yuan had 39 extra insights she gleaned while going out on the town with him. While she likes Fallon, in her review of the first episode, Margaret Lyons wrote, "I'm already yearning for the aw-shucksiness to wear off."
Q: But what does this mean for late-night television?
A: The late-night beefs seem less relevant now. Josef Adalian writes that it's not really about whether Fallon beats Letterman or Kimmel, but rather, if late night itself can stay relevant.

Q: I watched the entirety of House of Cards over the weekend!
A: Of course you can follow our recaps here (we're up to episode five). If you were a go-getter last weekend and watched the whole season, though, you can discuss everything that happened with Margaret Lyons. House of Cards dropped on Valentine's Day, testing relationships across America. But if you've only just watched the first episode, well, here's a GIF of that moment.
Q: Seriously — what's going on with Shia?
A: Well, in a New York Times op-ed, James Franco defended the Beef, saying that his project was "worthy." Gilbert Cruz writes that by sidestepping the plagiarism issue, "Franco's Times op-ed looks like an unintended defense of behavior that he would likely never abide."
Q: Who is going to win in the major categories for the Oscar? I need to win my office betting pool!
A: Our resident Oscar prognosticator Kyle Buchanan parsed the tea leaves of the Director race this week, as well as the Best Picture race. He also made a tough quiz to test your knowledge of Oscar history. Or, you know, you can lighten up and watch these adorable kids reenact the Best Picture nominees and read some knock-knock jokes. Also, be sure to fill out Vulture's Oscar ballot for a chance to win a cash prize.
Q: What did Jon Stewart do before he became Jon Stewart?
A: Mopped up vomit, just like the rest of us.
Q: Isn't Gillian Jacobs just the greatest?
A: Yup. :) Watch our video, in which she takes an emoji quiz of famous movie and TV quotes.
Q: How are this weekend's movies?
A: Bilge Ebiri says Pompeii is "more fun than any civilization's fiery extinction should ever be" and "gloriously exciting kitsch." Of The Wind Rises, supposedly Japanese animator Hayao Miyazaki's final film, David Edelstein writes, "The movie won't, I'm afraid, appeal to kids the way Ponyo or Spirited Away or My Neighbor Totoro does. It's monster-, ghost-, and mermaid-free. It centers on grown-ups and is gently paced — maybe 15 minutes too long, I'd say, but you can forgive those longeurs when the work is this exquisite. It's romantic, tragic, and inexorably strange, a portrait of a young Japanese man who dreams of creating flying machines and the Imperial Empire that funds his research." And Bilge Ebiri calls 3 Days to Kill, starring Kevin Costner, the "the anti-Taken: a comic-tragic-sentimental genre hodgepodge that wants to make you feel all the feelings amid all that action spectacle."
Q: Let's crank up that nostalgia machine, Vulture! What do you have for me?
A: Dave Holmes takes us back to the hits of 1994, when Nancy Kerrigan's knee was in rehab and Beck had his breakout single, "Loser." It's 20 years later and we have a Nancy Kerrigan documentary and Beck is back with a new album. We do love the '90s.