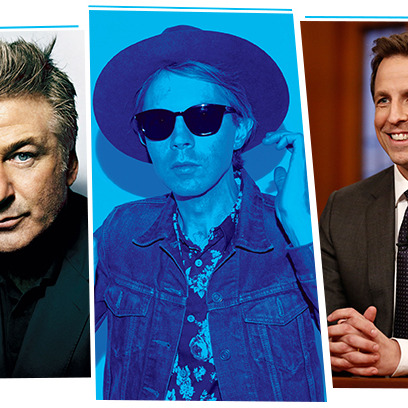 Photo: Steve Schofield,Peter Hapak,Peter Kramer/NBC
Every week, Vulture faces the big, important questions in entertainment and comes to some creative conclusions. This week, we went on the set of The Americans, assessed the Beck canon, and did some last-minute Academy Awards housecleaning. You may have read some of these stories below, but you certainly didn't read them all. We forgive you.
Q: Can you help me with my Vulture Oscar ballot?
A: This is probably one of the most competitive Oscar races we've had in years. Boris Kachka talked with some Oscar bloggers about the difficulties of prognostication. We had a Google Hangout yesterday with our Oscar experts David Edelstein, Jada Yuan, and Kyle Buchanan.
Q: Okay, but what about the telecast?
A: Well, we gave you the full list of presenters, let you know that Pink will be doing something on Sunday, and explained why we continue to watch something that we know will be terrible. Speaking of which: In his weekly column Somewhere in Time, Dave Holmes revisited the infamous 1989 Oscars, in which Rob Lowe sang "Proud Mary" with Snow White and McDreamy danced like he's never danced before.
Q: What's happening on True Detective?
A: Well, you can check out our recap of the most recent episode, but all you really need are these two GIFs. If you don't mind potential spoilers from the final two episodes still to air, you can parse through these Instagram photos. And what's Cohle's deal, anyway?
Q: With True Detective ending soon, what am I supposed to watch?
A: Well, The Americans is back just in time! Matt Zoller Seitz reviewed the second season and recapped the season premiere. Denise Martin reported back from the set and also chatted with one of its stars, Noah Emmerich. Margaret Lyons discussed the 69 sex scene from the episode, which, she surmised, was a first on basic cable.
Q: What about that show Mixology? Is it any good?
A: Margaret Lyons described the show as rapey, misogynist, and relentlessly hostile. Avoid it, unless you want to lose your faith in humanity (or just men).
Q: Anything else good to watch?
A: There's always House of Cards! We're up to episode ten in our recaps. Where are you? We're glad you asked! And you might also want to watch Hannibal — and just in case you do, Matt Zoller Seitz reviewed the second season premiere and also gave you a much-needed refresher course.
Q: There's been a lot of talk about Alec Baldwin. Is he really as bad as everyone says he is?
A: Well, you can judge for yourself in his cover story for the magazine, "Good-bye, Public Life."
Q: Well, gosh, that was depressing. Do you have something that will cheer me up?
A: How about Paul Rudd killing it in a lip-synch battle against Jimmy Fallon on The Tonight Show? Or how about Arcade Fire's performance?
Q: That reminds me! Didn't Seth Meyers take over Late Night? How is he?
A: Margaret Lyons said that Seth needs to settle down a bit and inject more of his personality into the show. Otherwise, Amy Poehler kicked off his inaugural episode with aplomb, and band leader Fred Armisen provided a lot of witty banter for the new host. He also managed to get Kanye to crack a smile during his interview.
Q: And before I forget: How is Beck's latest album, Morning Phase?
A: Vulture contributor Maura Johnston assessed Beck's career to see where Morning Phase ranks among his albums. Our music critic Jody Rosen wrote that the record is "expertly made," but that Beck sounds "extra depressed." Not depressing? The selection of GIFs we made for you of his white-boy dance moves. And that, dear readers, is where it's at.