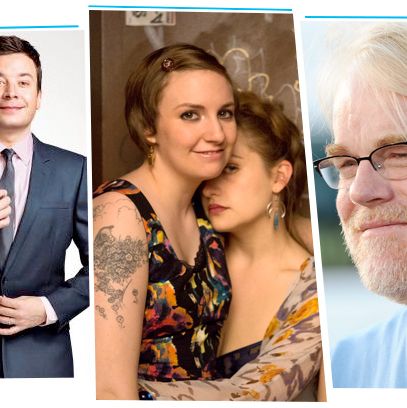 Every week, Vulture faces the big, important questions in entertainment and comes to some creative conclusions. This week, we look back on the memorable roles of Philip Seymour Hoffman, chronicle the best hand jobs in TV history, and diagnose the psychological maladies on Girls. You may have read some of these stories below, but you certainly didn't read them all. We forgive you.
Q: Who's going to win the Oscars?
You tell us! Fill out our Oscar ballot and have the chance to win a $500 prize (not to mention priceless office bragging rights). If you need some pointers, our resident Oscar Futures man Kyle Buchanan breaks down the best actor race — and sizes up front-runner Matthew McConaughey's competition.
Q: I'm so sad about Philip Seymour Hoffman's death. How can we begin to grapple with his legacy?
We bid farewell to one of the greats this week, and looking at Hoffman's impressive career only amplifies the profoundness of that loss. David Edelstein reflected on Hoffman's legacy and Bilge Ebiri wrote about his greatest performances. Abraham Riesman put together a video compilation of great PSH phone-acting scenes here.
Q: So we know the actual Super Bowl was fairly boring, but what about the halftime show?
First of all, stop comparing Bruno to Beyoncé: Lindsey Weber argues that the show was "perfectly Bruno." Plus, Bruno's sweet live drum skills made up for the fact that Flea from RHCP was totally just pretending to play bass.
Q: What's going on behind the scenes at 30 Rock these days?
We've got the insider scoop: In this week's print edition of the magazine, Jada Yuan stays up into the wee hours with ascendant Late Night host Jimmy Fallon, while Lane Brown chats with King of Comedy and SNL mastermind Lorne Michaels.
Q: How underrated are hand jobs?
So underrated! In order to rectify that, Vulture celebrates the weird and wonderful world second base with our Hand Job Hall of Fame.
Q: OMG, Mean Girls came out ten years ago. How are you guys celebrating?
In celebration of the film's ten-year anniversary, Kyle Buchanan gets director Mark Waters to spill ten juicy stories. After you're done reading that, you can test your knowledge with Vulture's totally fetch Mean Girls quote quiz.
Q: Is George Clooney the most prolific prankster ever?
Quite possibly! All of the star's high jinks are chronicled in Vulture's handy timeline of Clooney's history of pranking, which dates back to the seventies.
Q: All the characters on Girls are so messed up! What is their deal?
This week, everyone is playing armchair psychologist: Matt Zoller-Seitz and Alyssa Rosenberg debate whether Hannah Horvath is TV's most selfish character, while Gwynne Watkins calls on psychiatrist Dr. Paul Puri to diagnose the Girls various psychological maladies. Meanwhile, Colin Quinn thinks all the characters are probably sociopaths (his included).
Q: Are any of the new Amazon pilots any good?
Yes! Margaret Lyons calls the pilot for Transparent, a new comedy featuring Jeffrey Tambor, "magnificent" and "the best pilot in years," while Matt Zoller-Seitz thinks the dramas show promise too. Click here to see the full list of Amazon's new streaming offerings, which includes three comedies, two dramas, and five kid shows.
Q: What's going on at Adult Swim?
The under-the-radar ratings giant is expanding big-time, and its rivals should be worried, says Josef Adalian.