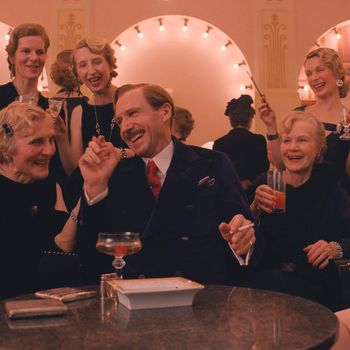 Ralph Fiennes in The Grand Budapest Hotel
Photo: FOX Searchlight
Wes Anderson's new film, The Grand Budapest Hotel, kicked off the Berlinale today: Set in a fictional alpine country, the caper of sorts centers around the titular hotel's loquacious concierge Gustave H. (Ralph Fiennes), the bloody squabble that ensues after his elderly paramour (Tilda Swinton) mysteriously dies, and the disappearance of a priceless painting known as "Boy With Apple." Not everyone in the massive cast (as seen on this poster, which reminds us a bit of Guess Who? the board game) was able to make it to Berlin for the premiere, but those that did gave some insight in the post-screening Q&A about the movie and working with Anderson.
Bill Murray is not getting rich off Wes Anderson movies.
Although the film boasts a large ensemble cast, most of the roles turned out to be nothing more than mere cameos, which prompted one audience member to ask how Anderson rounds up all these "big stars" to play these "tiny little parts." At which point a grizzled Bill Murray, looking bored to death at the end of the table, jumped in: "I'd like to answer that one!" He explained how the cast members are promised very long hours, low wages – and "stale bread … That's pretty much it. But you get to see the world, and we get to let Wes live this wonderful magical life he has where his dreamscape comes true. So if we show up, he gets to have all the fun."
Anderson used mind control to get Fiennes.
Apparently Anderson secretly tailor-made the role of Gustave H. for Fiennes, but did not tell the actor; Anderson just handed him the finished script and told him to pick a role, any role. "He said, 'What part would you like to play?" recalled Fiennes, "And I said [pointing at Gustave], 'That one, please!'" Advantage, Anderson. The director remarked: "One of the best ways to get an actor to not want to be in your film is to offer them a [specific] part. It makes them start saying, 'But I like all the other roles … ' I actually don't know anyone who else who could play [Gustave]; the character is quite grand, and theatrical, and has to recite poetry. He has paragraphs of text."
Saoirse Ronan finally gets to speak in her native accent.
Although the movie unfolds in Zubrowka, a bizarro Andersonian interpretation of Central Europe in the thirties, judging by Ronan's voice in the film, her young town baker seems to be from Ireland. On stage, Ronan said to Anderson, "I wasn't sure what accent you wanted. We did the scenes in German, in American, in English, and then you said, 'Maybe you should try Irish?'" Anderson pointed out that everyone in the film used their native accent. "Saoirse spoke like she speaks in real life. Tony [Revolori, who plays Gustave's protégé "lobby boy"] is from Anaheim, speaks in traditional Anaheim. With Tilda, we have an English-with-Scottish-roots accent."
The film actually has nothing to do with Budapest. But it also kind of does.
A Hungarian reporter in the audience finally asked why the film's title is what it is when the movie wasn't shot in her homeland and has nothing to do with it. "We went there, but realized we needed a spa town, not a grand city like Budapest," explained Anderson. "But it's sort of like the way you might have a Hotel de Paris in some other city. Or in Budapest there's a Café New York, even. I always thought our Budapest is just as connected to Budapest as The Shop Around the Corner, which is in, like, Culver City or Burbank or something. Our movie is an Eastern Europe filtered through movies and that sort of history."
Tilda Swinton is just keeping it real.
Tilda Swinton sat through five hours of hair and makeup every morning to in order to play Madame D, the filthy-rich octogenarian lover of Gustave H. (They gave her liver spots, cataracts, old lady teeth, dangly ear lobes, you name it). After this experience, was she looking forward to old age? "Madame D is what I look like when I don't put on all this makeup," she said, without flinching. "I am very, very, very old."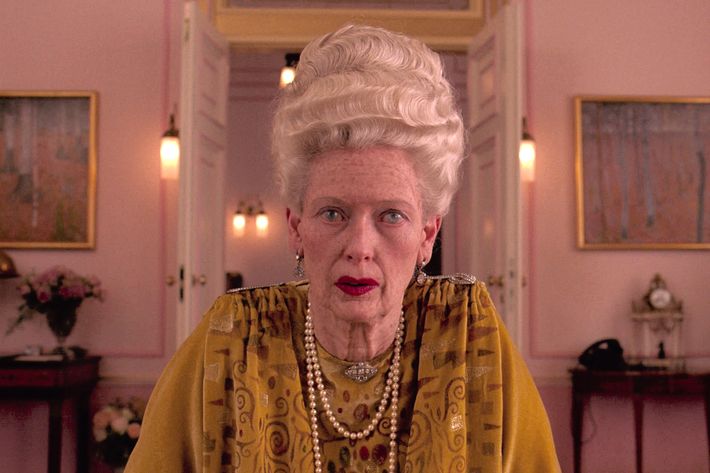 Anderson and Murray are like ex-lovers. Or father and son. Or whatever.
The duo has now been working together for around sixteen years. What's their relationship like? "Well, the romance is gone," sighed Murray. Maybe it's more familial, then? "My children are not as well-behaved as Wes," he answered. "But I maybe I'm the kind of father he either had or would like to be himself."
And lastly: Where are the PJ's?
One reporter was horrified when he noticed that Budapest featured no pajamas – a signature article of clothing in most Anderson films. However, the director did not agree with the thesis. "We don't wanna fight about this," said Anderson, "but there were pajamas." So there's your treasure hunt for when you see the film.