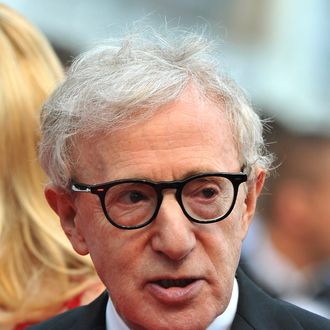 Photo: Pascal Le Segretain/Getty Images
On Saturday night, as the world discussed the harrowing New York Times piece in which Dylan Farrow again accused Woody Allen of sexually abusing her when she was 7 years old, the director took in a Knicks game at Madison Square Garden. Unsurprisingly, a TMZ camera guy was waiting for him when he left the stadium with wife Soon-Yi and and their young daughters. And, also unsurprisingly, Allen declined to respond when asked for a comment on Dylan's letter. There's video of him staring into space and, later, a cell phone here.
Meanwhile, on Sunday, Allen's lawyer sent a statement to NBC News and other outlets denying Dylan's charges. It also suggested that Mia Farrow had somehow manipulated Dylan into believing she was abused: "It is tragic that after 20 years a story engineered by a vengeful lover resurfaces even though it was fully vetted and rejected by independent authorities," wrote attorney Elkan Abromowitz. "The one to blame for Dylan's distress is neither Dylan nor Woody Allen."
Allen's publicist, Leslee Dart, followed suit: "Mr. Allen has read the article and found it untrue and disgraceful. He will be responding very soon," she wrote in a statement sent to several news organizations. "At the time, a thorough investigation was conducted by court appointed independent experts. The experts concluded there was no credible evidence of molestation; that Dylan Farrow had an inability to distinguish between fantasy and reality; and that Dylan Farrow had likely been coached by her mother Mia Farrow. No charges were ever filed." News of Philip Seymour Hoffman's death replaced Allen at the center of the news cycle this weekend, but if he really is planning to respond to the allegations himself shortly, then the situation will be dominating the headlines again soon enough.