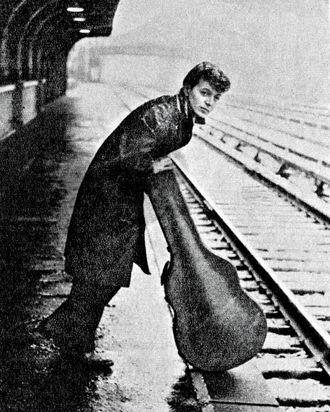 As told to Rebecca Milzoff
There was no rock and roll when I was growing up. Late at night, I would find stations from Wheeling, West Virginia, or this country station coming out of Newark. I heard a Hank Williams song one day when I was 10 or 11 called "Honky Tonk Blues" and I went out of my mind. I went up to Cousin's record shop on Fordham Road, and the owner, Lou Cichetti, took a liking to me; he'd call me whenever a Hank Williams record came in. By the time I was 12 or 13, I had his whole collection. Then I started listening to Jimmy Reed. The way I could define it now, I wanted to groove like Jimmy Reed and communicate like Hank Williams. I learned how to live listening to his records. He was so committed emotionally, physically, spiritually. It sounded like he would bite into his words at the end of a sentence and rip them off. That's how committed it was. And Jimmy Reed was always inside the song, never trying. I came from an Italian neighborhood, they were listening to Frank Sinatra, you know? Not that that was bad, but the blues and country resonated with me. I was 13 and I was a neighborhood attraction, because I knew these Hank Williams songs. I was the kid who could do this well. I must have been 14. I knew 40 Hank Williams songs on guitar; I could still rattle them off. I sang songs people didn't even know Hank Wililams wrote—that's how into Hank Williams I was. When he died, I was devastated.
I never knew I was a songwriter. I didn't even know I was a singer. My parents just got me a guitar 'cause my uncle told them to get me one, and I started fooling with it. There was a black superintendent of a tenement building on Crotona Avenue, Willie Green, and he played guitar, stuff like John Lee Hooker. I couldn't wait to get out of school in junior high to get with Willie Green to pick up some of the riffs he knew. When I first got an audition at Laurie Records, at 17, Willie encouraged me—he said, "Be yourself. Do that song we usually do." It was called "I Wanna Ride With You." And I did "Boppin the Blues" by Carl Perkins. And I think I did "Wonderful Girl" by the Drifters, just to show them my range. 

For the Belmonts, I recruited the best street-corner singers in the Bronx that I knew—Carlo Mastrangelo and Freddie Milano and Angelo D'Aleo. I met Carlo up at Tally's Pool Room on Crotona Avenue. He liked Duke Ellington, King Curtis. He was amazing, we bonded right away. If you walked into the candy store on Mapes Avenue, Frankie Milano'd always be hugging the jukebox. He was really learning the harmonies. And Angelo D'Aleo had the most gorgeous voice you wanna hear; he studied opera and had perfect pitch. I'd heard these guys at different times in my life and I didn't know what we would do together, but when I got them in my room in my parents' apartment and we put "I Wonder Why" together the song worked! It was a monumental moment in my life. It was a bit of heaven. 

We needed a name, and all the insects were taken—like the Crickets—and all the cars were taken—the Cadillacs, the El Dorados, the Impalas—and some of the birds were taken—the Flamingos—so we started concentrating on streets. A rock-and-roll group needed a name that fit criteria in three areas: It had to be great for a bowling team; it had to be great for a gang; and it had to be great for a rock-and-roll group. So we called ourselves Dion and the Belmonts. We were gonna call ourselves Dion and the Crotonas, but Belmont had a nice ring.

We used to go down to the Apollo Theater and get a lot of ideas from the horn players. We were trying to copy the horn section. You'd walk around to the back and the Cadillacs would come out to sing outside the back door. It was fantastic.  "I Wonder Why," came out in 1958. There was no air conditioning, everybody had their windows open in the summer­—so when Alan Freed said, "Number one this week, 'I Wonder Why,' " it would come blaring out of all the windows and the convertible cars. The whole neighborhood was permeated with the song.   My first tour, for six weeks straight, was with Bobby Darin, in 1958. It was just fun hanging out with him. He was older than I was; he was a college guy. It was kind of a mutual-admiration society, I guess. He taught me how to pay taxes. I didn't even know what taxes were. My father never had a real job, they never made enough money to pay taxes.

When we split in 1960, there were a lot of places I worked that were incredible—the International, where Birdland was. The Brooklyn Fox, the Brooklyn Paramount, a club out on the island called the Boulevard. The Brooklyn Fox was incredible. We were all out there—Little Richard, Chuck Berry, Fats Domino, the Everly Brothers. Phil Spector would show up with his cape and his limousine. I can't tell you how many piano stools I sat on with, like, Carole King playing, or Neil Sedaka, or with Fats Domino and seeing those chubby little hands gliding over the keyboard with all those rings. I went out to the Brooklyn Fox and Little Richard's mother said, "Hey, young fella, come over here. Are you that boy who sings 'Ruby Baby'?" I said yes ma'am. She said, "You got soul, son." That was one of the best compliments I could get in my life. If Little Richard told me, I wouldn't remember it—I remember because Leva Mae told me.
*This article appeared in the March 24, 2014 issue of New York Magazine.