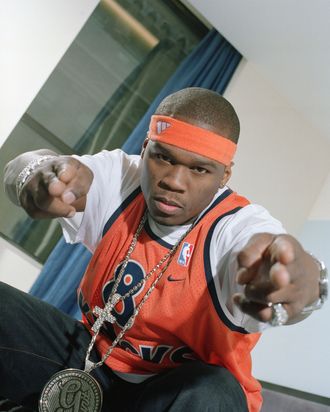 As told to Jennifer Vineyard
I was listening to pretty much everything that came out. In those days, hip-hop was just New York City–based music. There were things coming out of secondary markets, but it wasn't a lot. N.O.R.E. was hot, Noreaga, and Nas, and Mobb Deep. They had material out at that point that was really influential to the culture. I saw KRS-One perform, and he was my favorite artist. I forget what venue it was in but I remember, we couldn't get in! When we finally did, it was worth it. I think the two best crews in music at the time were the Juice Crew from Queens and Boogie Down Productions out of the Bronx. When I went to see KRS-One, "The Bridge Is Over" was more aggressive. It was kind of like, Whoa! Hold up. The album was called Criminal Minded, and it had the grit, the hard edge, the energy that lives in the Bronx, that lives in all inner cities. That was the first time I had listened to a whole piece that was written that way and was New York City–based. I had already listened to N.W.A.'s music that gave us an imaginary tour of Compton—imaginary to me at that point, because I hadn't been outside of New York City. There was a competition between KRS and MC Shan at that point, and that was a big deal. Whoever was into hip-hop culture was into that. KRS-One was my hero, hands down! There was a point in the song where he said, "Manhattan keeps on making it/ Brooklyn keeps on taking it/ Bronx keeps creating it/Queens keeps on faking it," and I'm from Queens! Every time that part came on, I felt like I wasn't supposed to like this. But I liked it so much! Every time he said that, I was like, Oh, no!"
I was lucky enough to meet Jam Master Jay in front of a nightclub in New York City, called Bentley's. It was a club they actually used to broadcast from live inside, and I was just driving. I had just made it to the point where I had a nice vehicle, a Mercedes-Benz 400SE. I had a Nets jersey on, so he thought I was Kenny Anderson! He spoke to me, and then we went into the place with him, and he started to tell me what he wanted to do with his label, and I told him, "Me? I rap." At that point, I hadn't actually ever ­recorded a song professionally. I had rapped on the local mix, from a DJ in my neighborhood who lived two blocks away from me.
Two days later, I met him in Rosedale, and he gave me a cassette tape that had a beat that he had made on it, and I wrote to it and recorded a piece in his studio. So he was like, "Yo, it sounds good. But where's the hook?" And I was like, "That part right there," because there was a repetitive point in the song. I didn't have any song structure. I didn't know how to count bars. I knew a chorus was supposed to be on a song, so I put that area where it was repetitive, but there wasn't a four-bar chorus, or an eight-bar chorus that would have things that you would remember. So he actually started to teach me how to write music. He gave me writing habits, because he would have me write the chorus three times before he picked one. It gave me the habit as a writer to up with more than one melody for the record. So on "P.I.M.P.," you'll hear the chorus area, and then you'll hear an area that feels like a bridge on the record, but that's out of the habit that I write two or three melodies on every song. It's like what Jay would say to me, "That's good, but if it is what we think it is, you need another one."
Then I ended up going to work with Cory Rooney, who produced Jennifer Lopez's albums. It was him and Markie from the Fat Boys. They were at the barbershop and I gave them my tape. He started playing it, and the phone rang and he got kind of distracted while the music was playing. And after he was done, Markie was like, "I think it's cool." I got all mad, all old school. I felt like they didn't really hear it, they didn't know what it was. "Give me my tape, man." He heard it, though. I didn't realize he could multitask. "You ain't old school. Give me my tape. Let me get out of here." And I left. And then he called in the middle of the night and was like, "Yo, want to go to Bearsville, to upstate New York?" There was a recording facility where the Trackmasters had created an area where they were producing all kinds of records. It was Tone, Poke from the Trackmasters, and all these producers, so it was heaven to me when I got there. I recorded 36 records in 18 days. It was like a camp that they created. There were no distractions, really. It was just music, just music, just music.
When I found myself approaching the actual release date of my record, How to Rob was something out of desperation. There was no plan B. The music absolutely had to work. So when Columbia Records didn't quite understand what I was trying to do as an artist, I saw myself still moving steadily toward an album release date. The major record companies, sometimes they'll have developed an outline of what is appropriate for an artist for a launch, and if you don't have specifics, they just spend the money. So time goes by and you look at the budget, and you go, "Good Lord, we spent how much money?" You won't believe how much money you spent when it's been dragging along. "I spent how much money on car services? I could have took the train! What the fuck!" They were spending it in pieces, and you look back and you say, "Damn, they spent a whole lot of money, and there's no momentum." They ended up taking the song and putting it on a soundtrack, the In Too Deep movie soundtrack, because they wanted to put the hottest things they had at the time on it. And I still had to figure out what was next, for the actual album. Actually, me and Beyoncé had a song called "Thug Love" which I recorded in '98, and that was the next single on schedule for me to actually shoot the video. It was on schedule right before I got shot, so we never actually created the visual.
Following Tupac and Biggie, it was almost taboo for you to mention an artist's name on a record. So all the artists were still competing, but they was doing it subliminally, without actually saying the artist's name. So when I came with the How to Rob record, it impacted. What How to Rob did was it put me in the culture. It wasn't the kind of hit record that would change your financial position, but it was the kind of hit record that made everyone take note of me. They were like, "Whoa! Who is this new guy, and he's saying everybody's name! He don't care about nothing!"
Hip-hop, everybody who's doing it has been influenced by New York. Kids all over the world are inspired to be writers by hip-hop music culture grown here in New York. My whole first record is New York. If you ask an artist like Nas or Jay Z, why do people always say the first album is the best album, and they'll give you an answer like, "Your whole life is your first record." Your second record is after things start to become a little successful, finances and confidence level increasing so you become more attractive. The female energy shifts. It changes your attraction level. A woman can be born that attractive. A man has to become successful and be publicly noted, because stability is attractive. Then he can become her equal. A lot of stuff in music is not new. Before I showed up, there was DMX, and the energy surrounding his material was aggressive and darker. And following DMX's success, they started singing records. They were selling a lot of records with music that had really soft content. Content-wise, it was very similar to what happens now when you get artists like Drake, because it's still relationship-based content, but he does it in a real witty way. So when it cycles back, it will be time to go back to something that's hard. Hip-hop has turned into a traditional genre of music. When I fell in love with it, it was a little more competitive, and more like a sport. You'd have a response to someone else's hit record. It was a battle of how good an artist or a MC are you. They put a hit out, and you let that inspire you to find something special to put out in response. That's what kept it alive at that point. I think nowadays, hip-hop is pop culture. It's so broad that everything is a part of our culture.
*This article appeared in the March 24, 2014 issue of New York Magazine.