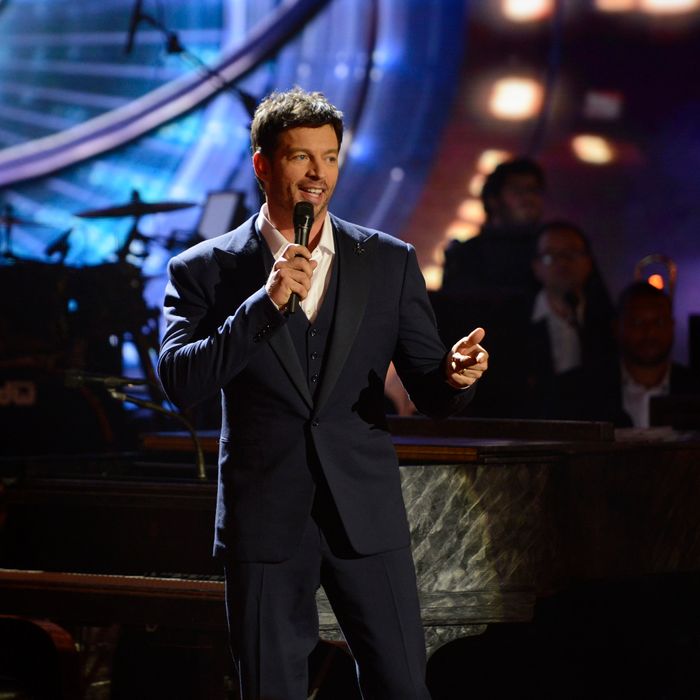 You guys! Tonight we reveal our top ten, or more important, the people who will make it to the American Idol Summer Tour! Ryan brings up that Summer Tour so much tonight that he actually makes me think about the Summer Tour, and how Summer Tours from seasons with much better ratings were pretty sparsely attended and had to cancel dates and move to smaller venues, and how this one might actually have to take place inside a Starbucks. I didn't go to the Idol Summer Tour when Phillip Phillips was on the bill. I didn't go to the Idol Summer Tour when Adam Lambert was on the bill. Do you think I'm going to go to the Idol Summer Tour and watch Sam Woolf nap his way through a John Mayer song? It is unlikely. We could maybe de-emphasize the importance of the Idol Summer Tour, is what I'm saying.
Right at the top, Ryan tells us: "Tonight's outcome may surprise a few people." This is difficult to dispute. Anything may surprise a few people, right? Just as there are no undisputed frontrunners yet this season, there's nobody who's absolutely screaming to be sent home (except maybe MK, who I predict will shrug and shuffle her way to the top 5, at least). This really could go in any one of 11 different directions, and I don't know if any of them will bother me.
We may not be getting group numbers this season — and don't misunderstand me, it's a blessing and I am grateful — but they are giving us tons of behind-the-scenes footage of the finalists, trying to tease personality out of them. This forced conviviality is kind of a bummer. We're in the limo, listening to heavily-rehearsed conservation among the top 11: "Keith got my name wrong again." "He did?" "It was funny when Harry signed those copies of Hope Floats." "We really did come back tonight, though, right?" The kids are generally dull to begin with, and now they're intimidated, which makes the producers have to produce them, and the result is feeling phonier than any Ford Music Video.
There is one nice moment, courtesy of Caleb: "This limo ride reminds me of my junior prom, and my date avoided me all night!" Though he doesn't say it out loud, the look at me now comes through clearly. Oh, good, an angry nerd who's about to get famous. What's the worst that could happen?
Up first: CJ, Dexter, and Caleb. Randy gives his little Jimmy Iovine synopses of last night's performances, deems them all awfully good, and indeed they're all through.
And then Harry Connick Jr. performs and gives a master class in charisma and sex appeal and musicality and dynamics. Maybe it has something to do with the fact that he's been at this his entire life and now he's in his forties, or maybe it's that he's performing some very lived-in songs with his actual band. Whatever. It's authoritative and refreshing.
And then of course they drive a wrecking ball right into it by having Munfarid come out and sing a song in Harry's arms. Remember that? Comedy!
MK, Ben, Majesty, and Malaya are next up for review, and if the first three of them ended up being the bottom three, it would not surprise a few people. And that's more or less how it goes: Malaya is safe, MK is safe, leaving Ben and Majesty on the Stools of Shame.
Tonight, Jennifer Lopez is our "Tastemaker" or "Trendsetter" or "Kingmaker" or whatever we're calling this thing, and she brings out Mali Music, which I originally hear as Molly Music, and I wonder whether it'll be a ravey EDM person, or some kind of musical Molly McButter type of situation. But in reality, Mali is a he and he brings a bit of a Musiq Soulchild energy to the proceedings. Acceptable!
Back to the reviews: Sam, Jessica, Alex and Jena are the last to be raked over the coals, and if it's anyone but Sam going to the Stools, this whole system is out of order. This puts me in the peculiar position of rooting for Jessica, but it is brief. Indeed, Jessica is safe, Alex is safe, and…Jena is safe! So our bottom three is Sam, Ben and Majesty. Asked for her thoughts on the matter, Jen says "I think America…was responding…to what they saw…in the show." Which is to say "You guys ate it last night." And heading back to the couches is…Sam! Injustice! I call toe-jam football on the whole thing.
0.77 percent separate Majesty and Ben at the bottom, and ultimately it is Ben who must sing for his life. He rips off his vest, and I think he's going to go to town on Grace Potter's "Stars," but it's basically a pretty low-key performance until the end when he melismas it up. What is it with these kids not singing for their lives when they have to sing for their lives?
Indeed, it's just not enough. Good-bye, only person with credible grown-man sex appeal in this entire show.
Next week, the theme is "Top Ten Songs!" Which is another softball of a theme that won't get anything new or revelatory out of our top ten the way a "Big Band" or something would! I'd say now would be a good time for one of these kids to break out and try something brand-new. It might not work, kids, but we might end up actually remembering you, which would really be your best move right now.