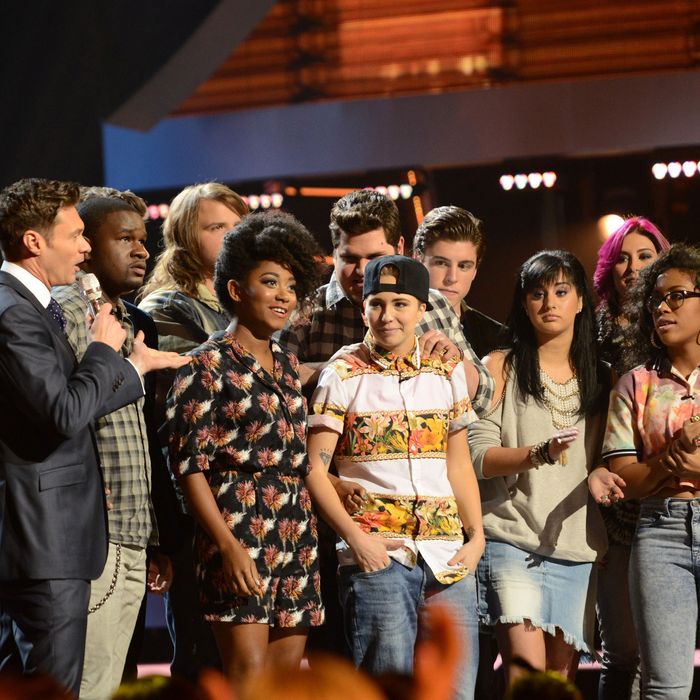 Photo: Michael Becker / FOX
Okay, guys. Tonight the top ten becomes the top nine, and we must say good-bye to one of our apparent favorites. Honestly, just as pretty much anyone could win this thing, anybody could get sent home tonight. This cake is just not rising.
We begin, as ever, with a recap of last night. Again, we're led through it by the top ten, who are discussing the show over dinner and trying to convince us that it was all much funnier than it actually was: "I thought it was funny when Ryan pretended to be Caleb." "I thought it was funny when Keith pretended to be Harry and then Harry pretended to be Keith." It wasn't, and their flat affect throughout reveals that they don't think so either. I keep hearing that these results shows are going to go down to 30 minutes, and, you know, whenever you're ready, guys.
Malaya, Jessica, and Dexter are up for their results first. The producers replay last night's mini-controversy about the lyrics of "Pumped Up Kicks" and Jessica's delivery thereof, and a second look confirms what I thought: She wasn't serious enough to give them any gravity, nor was she peppy enough to sell the irony. She was merely pleasant while singing a song about a school shooting, and the whole thing was off-putting. Harry was right. Jennifer was wrong. Randy agrees with Jennifer, which is all I really need to tell you. Dexter gets a video message from the real Florida Georgia Line, who are in the studio and must be under Foster the People levels of pressure to produce another hit. They wish him luck, but somehow the benediction of Florida Georgia Line is not enough; Dexter's in the bottom three, Malaya and Jessica are safe.
And then it's time for Jennifer to perform her desperate new single "I Luh Ya Papi." The staging is pure Kids Incorporated, and the song doesn't really distinguish itself, aside from offering Jen and her backup dancers ample opportunity to pat their weaves. (I think that's what they're doing? They keep hitting themselves in the side of the head over and over; is this a thing people do?) The song itself is very strange; it does that Black Eyed Peas thing of being four different songs at the same time without ever deciding on one. It's all very confusing, papi. But backing vocals come from Jessica Sanchez, Pia Toscano, and Alison Iraheta, so that's some good red meat for the Idol superfan. Ryan comes out of the performance saying "I LUH IT! I LUH IT!" That's not how this linguistic trick works, Ryan. You don't take the V out of love when the next word starts with a vowel. Cut it out right now.
(And man, does this season need a Pia Toscano. Since we all agree she got voted out of her season far too early, can we make a new rule and just and drop her into this season's top nine?)
Also tonight, the judges and Ryan tell us about their first experience hearing themselves on the radio. Keith's happened in rural Australia, Harry's on a local specialty radio show in New Orleans, Ryan's on tape after his first radio show when he was a pup. All plausible. But Jennifer tries to convince us that she heard "If You Had My Love" for the first time in a cab going up Eighth Avenue. Please. 1998 Jennifer Lopez in a taxi? Unthinkable.
Caleb, Alex, and Majesty are up next, and Randy tells us exactly what the judges spent all of last night saying: Caleb was lackluster, Majesty looked out of her element, Alex was strong. I'm just looking at all three of them, the whole top ten, really, and trying to picture any of them in the finals, and I can't. On the one hand, it's exciting because it's anybody's game, but on the other hand, somebody needs to start playing this fucking game. Anyway, Majesty is sent to the Stools.
And then it's time for Harry's turn as Tastemaker, and his band is Royal Teeth, recently extracted from his native Louisiana. Royal Teeth have a lot of energy but they seem to have forgotten to write a song. It's a lot of sound and fury signifying a record industry in blind panic. The lead singer sounds like Ross Mathews singing through his nose. They do the beating-on-drums-at-the-front-of-the-stage thing that's so popular right now; imagine Imagine Dragons fronted by kids from Glee: The New Class. Maybe it translates better on record?
CJ, Sam, Jena, and MK are last to be evaluated, and when CJ and Jena are sent to safety, there is only one way this can go: MK is off to the Stools. So there it is! MK, Dexter, and Majesty are our bottom three. Majesty is sent back, and then Ryan reveals what we knew an hour ago: MK is on the chopping block.
She goes right back to Rickey to go over some of the finer points of her save-me song, leaving Ryan out there to vamp for a few seconds. He assures us "MK's gonna give it everything's she's got," and I think: Oh, Jesus, what if that's what she's been doing all along? What if this is MK at a ten? She sings John Legend's "All of Me," which has worked for her before, but she's spooked and it's just not coming together. Even with the support of her two friends in the audience — who, it must be said, look like the feminists from PCU — she kind of falls flat, and as much of a pretend argument the judges put on for her benefit, she doesn't get the save.
She's going home. And here's the thing: For the first time in ages, she seems happy. It's like Emile Hirsch at the end of Into the Wild; sure, he's dead, but he's finally free, and on some level you have to feel good for him. Go forth confidently into this Fred Phelps–less world and do your thing, MK! We luh ya, mami.