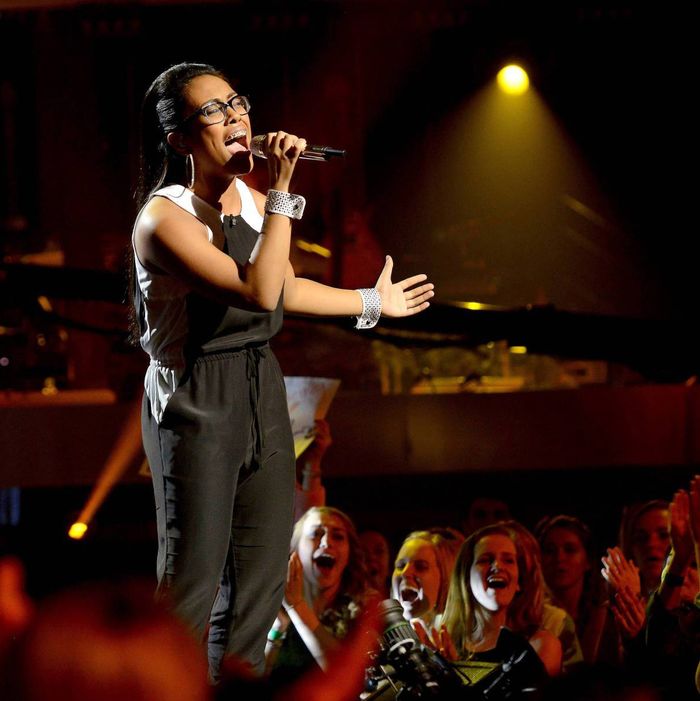 Photo: Michael Becker / FOX
You guys, tonight renewed my faith in American Idol season 13. It's not that a few of these kids seemed to have reclaimed their personalities (although that's true). It's not that a couple of genuine front-runners emerged (although they did). It's that tonight's theme is Movie Songs, and not one of the top 11 chose Aerosmith's "I Don't Want to Miss a Thing." No, I'm serious. Leaving that song out feels like a violation of Singing Show Rules, and it's like we're all revolutionaries.
Oh, also Harry Connick, Jr. just will not stop with the Randy Jackson shade, and it's too delicious for words. Ryan asks him what he's looking for from the top 11, and he says he just made up a catchphrase of his very own: "You've gotta be in it to win it." It's not even done in an affectionate way, either. It's like: "Hey, fuck Randy Jackson, am I right?" You are right, Harry. Let's be best friends.
Okay. Let's get into the performances.
Sam Woolf: "Come Together" by the Beatles
This song was in Across the Universe, of course, but I prefer to think about the Aerosmith version from Sgt. Pepper's Lonely Hearts Club Band. Have you seen Sgt. Pepper's Lonely Hearts Club Band? Starring the Bee Gees and Peter Frampton? With George Burns singing "Fixing A Hole" to a group of confused children, and Steve Martin mugging his way through "Maxwell's Silver Hammer?" If not, it's on Netflix Instant, and if you want to see the most effective anti-cocaine advertisement the world has ever produced, you really should check it out. Anyway, tonight Sam does the dullest version of this song I have ever heard, by a wide margin. Not much movement, no vocal variety, he's just sittin' on a stack of amps, tellin' the girls about toejam football. It's like a folk-mass version of "Come Together." Keith says he's glad we saw this side of him, but this side is exactly like the other side. Jen says she wanted personality. Harry calls it an "average performance" but says he's on his way, which is as close to a total pan as he's going to get tonight. The suits at Fox have gotten to him.
Jessica Meuse: "The Sounds of Silence" by Simon & Garfunkel
Jessica says she has sung this song in bars a million times, which makes a lot of sense. Unfortunately, it doesn't result in a confident performance. It is merely decent. No emotional connection, no audience connection, a ton of vibrato. Classic Jessica. Harry notices that the band was off during a portion of the song, and he's right. The band seems to be off a lot. What's the deal with the band this season? Is Randy back there telling jokes? (Here's a terrific joke Randy would tell the band: "I'm in this band! That's my guitar! WHAT! CRAZY.") Jen says she thinks Jessica can win this whole thing, and based on what I've seen so far, she's not wrong. How depressing a thought is that?
C.J. Harris: "Can't You See?" by the Marshall Tucker Band
Okay, here we go. From the first note, you can tell this is going to be great. Granted, this is a song C.J. knows well, but what's the problem with that? His performance is lived-in and emotional and warm. Not even the band can fuck it up. Best performance of the season so far, says me! We finally have a front-runner! The season can begin! Harry agrees; he says C.J. sang his way back into the forefront of the competition. Praise Jesus.
So, okay, let's talk about Randy Jackson for a minute. Exactly what kind of deal did Idol offer Randy Jackson this season? Exactly what's wrong with Randy Jackson that he would accept this deal? Because here's what they've had him do so far this year: Meet the finalists, make quiet, vague observations in the corner of the screen about how they'll have to sing well if they hope to continue, and tonight just pop up silently twice while Harry Connick Jr. openly mocks him. Is his salary that high, or is his self-esteem that low?
Dexter Roberts: "Sweet Home Alabama" by Lynyrd Skynyrd
This song was apparently in Forrest Gump. What a boon Forrest Gump has been for unimaginative singing-show contestants on Movie Night! (A more adventurous singer might choose something fun from the American Hustle soundtrack, but tonight is not the night.) Ryan reminds us that it was also in Sweet Home Alabama, and then adds, "Josh Lucas!" If you're wondering who still remembers Josh Lucas, the answer is Ryan Seacrest. Anyway, this is a fun version of the song, but not revelatory in any way. It'll get the country people awful excited, though. The judges kinda feel the same way as I do. Faint praise all around. It's all he needs, really.
Ben Briley: "Bennie & The Jets" by Elton John
How do you solve a problem like Ben Briley? How do you hold a perfect 50/50 mix of Ryan Gosling and Danny Cooksey in your hand? A few weeks ago, he was my pick to win the whole thing, but he hasn't been able to form a consistent identity. Tonight, for example, he's in a suit and his hair is slicked back, and while the effect is definitely yowza, it almost comes too soon. One almost wants the Reveal of the New Look to come a tiny bit later. In Top 11 week, it just reads as identity confusion. So does his performance; it's far from the last few weeks' country outings, but not in any discernible direction. It's a departure for sure, but where is he going? Harry calls it "lacksadaisical." Hey, America: though it means "excessively relaxed," the word is "lackadaisical." If we're going to be such graceless dicks about having to press one for English, let's take a moment and learn the language, can we, please? Harry succinctly adds that he still hasn't heard the real Ben, and it's such a good call, I'm going to let the whole thing slide.
Majesty Rose: "Let It Go" by Idina Menzel
Boy, that Adele Dazeem thing proved that we can't have nice things anymore, didn't it? It went from exciting blooper to Twitter cliché to Slate quiz to Facebook feed bugaboo in less than 12 hours. Let's burn the internet down, you wanna? Anyway, Majesty says this song was written just for her, but if that's the case, then why can't we hear her in the opening lines at all? Seems like if it were written for her, it should be in her range, but maybe she's just not all that picky. I had Majesty pegged for the Top 2 weeks ago, but she's been stumbling for the last couple of weeks. She makes up for it tonight by prancing. Prancing and stumbling. This is a huge song right now, so I feel like she might end up in the bottom three, but end up safe. Harry says if she's going to try a million new things, she needs to be better at all of them. Harry is learning how to speak painful truths without making the audience call for his head.
Caleb Johnson: "Skyfall" by Adele
I am straight-up, get-out-of-my-seat stunned that Caleb didn't choose "Bohemian Rhapsody." It's such a shocker that I almost forget how boring "Skyfall" is until about halfway through his performance. He is in fine voice, as ever, but this song is Snooze City. The judges go nuts, just because it wasn't a predictable rock song. Harry says the competition started tonight, and I don't disagree, and I hope for this show's sake that we're right. Me and Harry. We're such a good team, except he doesn't know it or care.
MK Nobillette: "To Make You Feel My Love" by Bob Dylan
Oh, this song. This aching, gorgeous song. I love it, and it is the perfect song for MK, in that it comes across best when it is sung the least. It's one of the rare songs that can easily be oversung, and … let's just say MK is in no danger of over-performing any time soon. Tonight, she actually gives a really beautiful performance, even if her affect is still tentative. Jennifer compares her to k.d. lang (almost apologetically), Harry says it was solid but didn't need the runs (and he's right), and Keith says there were glimpses of the star she could be (and seriously, if all else fails, she will be Northampton, Mass.'s most popular coffeehouse entertainer). Ryan ruins it all by sneaking up behind her and saying "Someone wants to be here. Someone wants to prove herself." Like she's a puppy.
Oh, also, throughout this whole show, there's a running gag where the top 11 audition for the parts of each other. So you get to see how they really feel about each other after having spent so much time together. They have insights like: Sam wears hats and Majesty likes flowers and some of Jessica's hair is pink. Deep stuff. If you're going to have people impersonate each other, you might want to make sure they have personalities.
Alex Preston: "Falling Slowly" by Glen Hansard and Marketa Irglova
Though they mostly state the obvious in these comedy segments, everyone kind of goes nuts in the Alex Preston segments. He's a cipher, our Alex, but at least he's putting something consistently interesting out there. You kind of already know what this performance sounds like, and you're right — it's nice and intimate. Harry says he loves the lack of fireworks, Keith loves the authenticity, Jennifer thinks it's perfect.
Jena Irene: "Decode" by Paramore
Ryan is apparently a big Twilight fan, and he mentions the scene where Edward stops the van with his bare hand so it doesn't crush Kristen Stewart, which, like, even I know that scene. Ryan doesn't have anyone making fun of his feyness this season, so he's taking the task on himself, and it's beginning to bum me out. Anyway. Jena's performance is very shouty, and even though it's from Twilight and the judges love it, I think she might be in the bottom three again.
Malaya Watson: "I Am Changing" by Jennifer Holliday
So, before the commercial break, Ryan tells us Malaya has chosen a song from Dreamgirls, and I just go ahead and type "And I Am Telling You I'm Not Going." And then she says it's not that song, and I type "Listen." And then she starts this song, which is not only kind of a deep cut, but a super-smart song choice for her. It's as dynamic a song as the other two, but it's even better because she actually is changing! I kinda fall back in love with her tonight, folks. The judges love it, too.
So there it is, people. I think Majesty, Jena, and Sam are in trouble tomorrow. And whoever gets voted off, I think they'll have Randy Jackson dress like a clown and sweep them off the stage.