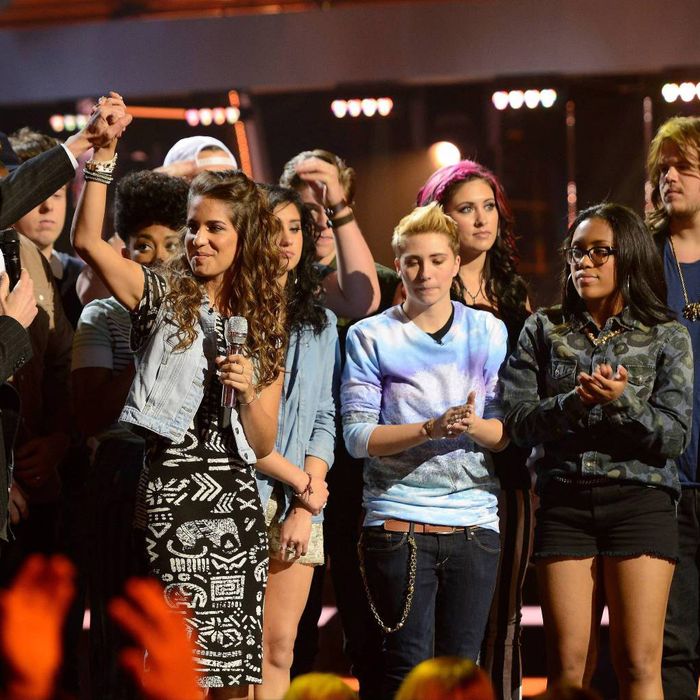 Photo: Michael Becker / FOX
Okay, I'm going to acknowledge it: American Idol season 13 has gone off the rails a little bit. It's not the judges: They have chemistry with one another, they're smart, they make forceful and succinct points. It's not the production itself: These results shows, once a gruesome time-suck of group numbers and Ford music videos, have become a zippy hour of smart bookings and occasional suspense. It's not even Randy Jackson: He's barely there. (It's probably partially Randy Jackson.)
The problem is the finalists. What was a promising group a few weeks ago has boiled down to a dull top 12. Appealing oddballs Alex Preston and MK Nobillette are suddenly nervous performers. Potential dreamboats Ben Briley and Sam Woolf are failing to develop. None of the girls can sing in tune. It's getting grim.
Last night, now that I've had a day to think about it, was a clunker. I came out of it on a Harry high, but once that faded; nothing endured. Nobody stood out. (At least not positively. There were a couple of exceptionally bad performances.) Tonight's highlights montage of "Home Week" really drives the point home: There were no highlights.
And I think Fox blames the judges. Here's why: Tonight's show starts with a long — and I mean long — talk with Ryan, Randy, and the top 12 on one side and Harry, Jen, and Keith on the other. The topic: Were the judges too harsh in the performance show? Harry is forced to spend a couple of minutes — an eternity in Idol time — explaining why he didn't coddle each and every special snowflake left in the competition, and he's absolutely right: His job is to make them better singers, not tell them how good they already are. "You made it here," he says. "You're all talented. I'm not going to belabor the fact that you're great. You're all grown-ups." And then he notices Malaya and Sam up there, and says, "Well, most of you anyway."(Because he has never seen a perfectly good moment he couldn't ruin, Randy interjects here: "Me and Ryan! Me and Ryan aren't grown-ups! HA HAAA! It's me and Ryan!" Randy Jackson's entire comic sensibility is "ME. The thing you were talking about is ME." Anyway.)
I would wager good money that someone at Fox demanded this moment. Here's the thing: I think we need someone to tell us, by ladling on unreserved praise, that we saw some good performances. We needed mean old Simon Cowell to tell us once or twice a show: "That was brilliant" and then clam up. That's how the show's stars emerge. Consistent constructive criticism looks to us like consistent bad reviews. Consistent bad reviews indicate consistent bad performances. And if a bunch of kids we barely know are consistently giving bad performances, we might as well just change the channel, which Fox's research indicates we are doing.
What I'm saying is I don't think we're a smart enough audience for a judge like Harry Connick Jr.
By "we," I of course mean the other dummies who watch American Idol. Not us. Them. But there is life in this show yet, and if these kids would start taking some chances, I believe they can turn this ship around. With Randy as their mentor, it's unlikely, but hope springs eternal.
All right, there are a couple of decent live performances on tonight's show that are worth discussing.
— Phillip Phillips is back with his new single "Raging Fire," which will be on a commercial for Ford trucks by the time you read this. It is catchy, you can sing the chorus from memory by the end of it, and it is more Dave Matthews than anything Dave Matthews has done in years. It's nice to see ol' Phil-Phil, though, if only to be reminded what charisma looks like. The kid's still got about a five-note range and no particular interest in talking to the audience, but I'll be damned if he doesn't have magnetism, and his performance shows us all the passion that last night lacked.
— It's Randy's turn as "Trendsetter" or "Tastemaker" or whatever they're calling this new thing, and he introduces Irish band Kodaline with all the enthusiasm of someone who checked the band's Wikipedia page during the commercial break. "All I Want" will be familiar to those of you who listen to any of the alternative/adult type stations on Sirius/XM, as they've been playing the hell out of it for a year. It's one of those early Coldplay-style slow-builders, and the lead singer looks like a mick version of Brian Littrell from the Backstreet Boys. All this to say: You will be hearing more from Kodaline.
— The audience wants to participate in these performances, and surely the audience coordinator is urging them on, but they really should not clap. The American Idol live audience has no fucking rhythm and it's distracting to me, so it must be hell for the finalists and guest performers, especially during the quieter numbers. There is basically not a moment at which someone is not clapping. It sounds like someone is pulling packing tape off a stubborn roll. It's the worst. If you're micromanaging, Fox, I have your next to-do item right here.
Anyway, apparently 70 million votes were cast last night. "That's a great number," Ryan tells us. "Congratulations." Is he congratulating the Idols for inspiring so many votes? Us, for voting so many times? We don't know and we never will, because Ryan is an enigma.
The bottom three end up being MK, Emily, and Jena. Two new faces are on the stools of shame, and once again they are both girls' faces. I know I've blamed the young ladies of America for only voting for young men, but now that they're showing us the Facebook profile pics of the voting public, I see that I should blame mostly middle-aged women only voting for young men. That, or only middle-aged women are still using Facebook, which is a theory my personal time line would absolutely support. Either way, take it easy, Gayle from Accounts Payable!
Jena is sent to safety, leaving MK and Emily. And even though I expected it to be MK (and so did you, and so — even with her unbelievably strong lesbian support system — did she), it is Emily who must sing for her life. And her version of Grace Potter's "Stars" is fairly strong, despite that damn crowd and their idiot clapping, but it's not going to be enough. Jennifer kind of spoils the ending by saying "this wasn't unanimous," but Harry still takes a nice, long pause before sending Emily home.
The judges are saving their save … but for whom exactly? Is there anyone we cannot live without this season? Some stars are going to have to start emerging here. Tell us Gayle who to root for, Harry.