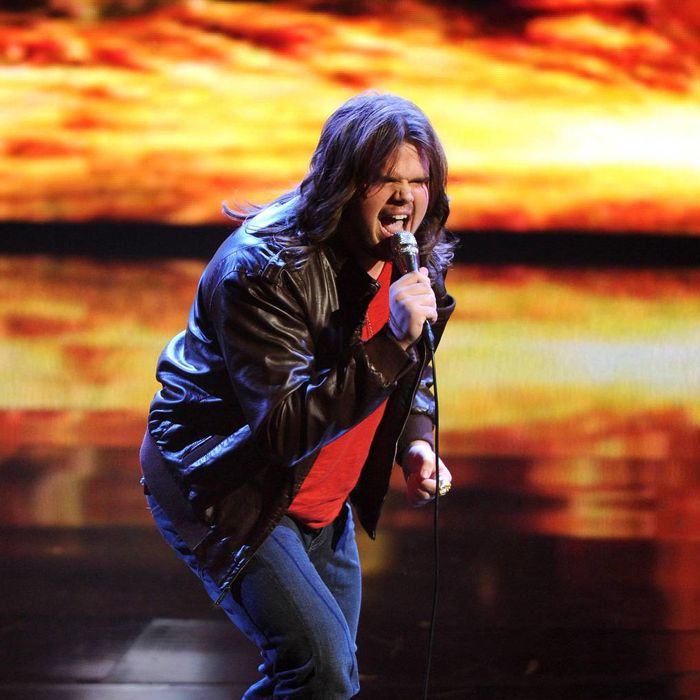 Photo: Frank Micelotta / FOX
Tonight's theme is "Home," and according to Ryan Seacrest, it's "definitely one of our most emotional themes ever." I would add that it's also one of the vaguest and least useful; the top 12 just have to pick a song that reminds them of home, and since it's pretty much impossible to prove that a song doesn't remind a person of home, they can kind of just do whatever. Not that I mind the top 12 picking whatever. I'd just rather we all be honest and call the theme "Whatever." Overall, just like your hometown, tonight's kind of lackluster and you end up wanting to like it much more than you actually do. Let's get into it.
Jena Irene "Suddenly I See" by KT Tunstall
This was supposed to be Hillary Clinton's 2008 campaign song, but her advisers balked at the "hell" in the chorus. That's how much of a puritan nation we still are. It's just as clunky a fit for Jena; there aren't a lot of big notes in this song. With no belting opportunities, it all comes down to sass and personality. Luckily, she has both in spades. It's kicky and fun, if never overwhelming. Harry says he wasn't blown away, but he adds that the crowd was clapping on the one and three, which killed her energy since she came out bouncing on the two and four. Yet somehow the crowd doesn't boo him. He's calling you out, you idiots! Wake up!
Alex Preston "I Don't Wanna Be" by Gavin DeGraw
Alex is wearing a very blue, very Robert Palmer suit, but with the pants rolled up. It's off-putting. He's off-putting. Yet I root for him! Somehow, this song — which would seem to be a perfect match for his voice — seems to be out of his range; he's flat in the middle and sharp on the edges. It's his first legitimately rough performance of the season. Harry admires him for switching up the arrangement, but says he likes him when he's more "inward," the very quality he razzed him for last week! Harry, you are an enigma wrapped in a riddle covered in a cozy-looking sweater.
Jessica Meuse "White Flag" by Dido
She says she chose this dreary number because it reminds her of her teenage years. What a tragedy to associate your teenage years with Dido! I am initially worried, but her hair is curled and she looks like a real star tonight. And then I get worried again, because she sounds like an open-miker in a coffeehouse. And I stay that way because it's a rough performance: off-key and lifeless throughout. Harry points out that every time anyone hits a big note on this show, people applaud, and this was the first time that nobody did, because she was off the whole time. Keith launches into a whole huge thing about how pitch doesn't matter if you sell it, and he proves it by speaking with such conviction that the crowd applauds his bad review. Wow. Ryan asks how she feels after a read from the judges, and she answers, "I'm sure y'all are right, because you're so much more accomplished than me," thus summing up her problem: You can't tell whether she's serious or being a big, petulant dick about it. It's a bad scene all the way around, and it just goes to prove what I've always said: If Dido reminds you of home, run the hell away from home.
Dexter Roberts "Lucky Man" by Montgomery Gentry
Dexter opens by saying, "This song is for someone back home who isn't here with us no more," pretty much assuring his safety right off the bat. You simply can't dislike this guy, and you wouldn't if you could, because his performance is great. It's the flip side of Jessica's performance: It works because it feels like a great performance in a coffeehouse. I was never blown away by Dexter before, but tonight his stock has risen. The judges go bananas over it. Best New Artist in at least seven of the 19 major country awards shows next year. Mark it.
Emily Piriz "Let's Get Loud" by Jennifer Lopez
Let's get this out of the way: Emily gets sent a video message by her Marine boyfriend who looks like a beefy Jesse McCartney, so she's already a winner. And my hopes are high as she takes on a J.Lo classic, because you don't have to do much to improve on the original vocal performance. Yet she doesn't! Her voice is buried in the mix, and she doesn't engage with the crowd. Harry points out that the production was too big for her, and he's absolutely right. Keith and Jennifer love it, obviously. I'm disappointed, because I expect big things from Emily Piriz. If nothing else, if you're going to sing a song called "Let's Get Loud," I should be able to hear your voice.
Caleb Johnson "Working Man" by Rush
Rush! On American Idol! Weird, wonderful things are happening this season. Caleb is definitely the most committed to putting on a show, and he gives "Working Man" the big-personality treatment that Geddy Lee never could. My only complaint is that I don't know exactly where Caleb wants to go; I feel like if Fuel reached out to Caleb Johnson the way they did to Chris Daughtry, he would be like: "Sure, why not." The judges like it, but Harry asks him what he's going to personally do to push rock and roll forward, which — what a question! Can you imagine any judge in any previous season treating these kids like artists in such a generous and challenging way? Harry Connick Jr., you are a national hero.
At this point, Ryan shows some kind of Facebook map-thing that purports to show who's doing well in the votes, and Dexter is in the lead with Jessica just behind. It also shows a cascade of profile pictures of the people who are voting, and it is like 99 percent middle-aged women.
MK Nobilette "Drops of Jupiter" by Train
Oh, MK. Where to begin? First off, MK is somehow dressed like both Mr. Peabody and Sherman. Second, this song. This song! The second-to-last thing the world needs is a song about a person who "listens like spring and talks like June," but the last thing the world needs is a listless version of it. Say what you will about Train — I sure have — but Pat Monahan sells this shit. MK meanders through it, and doesn't even join in on the na na nas at the end (which, real talk, kind of redeem the song for me). Harry says he still gets the sense that MK doesn't want to be here, and as usual he's absolutely right.
CJ Harris "Waiting on the World to Change" by John Mayer
Guys. GUYS. This song. What is it with Idol people and this fucking song? Musically, I guess it's just fine, but if you take two seconds and read the lyrics — and the producers scroll them right across the Idol Jumbotron tonight — you will discover that they are about apathy. The whole point of this song is that Mayer's generation lacks the gumption to change the world, and yet everyone on Idol sings it like it's some kind of Up With People, Yes We Can anthem. I'm so annoyed by this, I have no idea how CJ's performance is. Harry briefly calls out the song's lyrical content, but he's quickly drowned out by Jen's and Keith's praise.
Sam Woolf "Just One" by Blind Pilot
This is both a smart move and no move at all. Sam chooses a relatively obscure song that he and his Michigan friends used to listen to, and he makes me listen to the lyrics, and the girls all pressed up against the stage have stars in their eyes. But he doesn't push his brand forward at all. He's a competent singer, but he needs to grow as an interpreter. Harry asks for more emotional dynamics. Again, can you even imagine Simon Cowell asking for such a thing?
Malaya Watson "Take Me to the King" by Tamela Mann
Malaya's hair all flat-ironed and stuff! She's in a demure little Heather-Locklear-in-Melrose-Place suit! She sits at the piano and does a gospel number that builds in emotional intensity before giving her a massive center-stage belting moment! She is back! The judges agree. Also, even with flat-ironed hair and a Locklear suit, Malaya is a big goofball.
Ben Briley "Turning Home" by David Nail
There is a show-tune-belter inside this big sexy moose. I want to see what he can do with "Being Alive" from Company. (When do I get to choose the songs, by the way? Haven't I earned it?) Tonight, he treads water with a country song that was written by a computer, and although there are no bum notes, there's no real revelatory moment either. Harry says he's waiting for a knockout performance from Ben and hasn't seen it yet. Ditto.
Majesty Rose "Fix You" by Coldplay
What does this theme even mean anymore, other than "The Song I Want toSsing"? Majesty gets tonight's pimp spot, and pretty much botches it. She starts the song all quiet, and in these moments, she's terrific. But then she pushes for a grand finale and she's totally off-key, ending the whole thing with a big note she can't hit. Majesty Rose is starting to look vulnerable. But also she's wearing Prince's cloud suit from the "Raspberry Beret" video, so I will give her a pass.
Tomorrow, a performance by Phillip Phillips (swoon!) and we say good-bye to one singer, who will be MK, and she will be kind of relieved. Mark it.