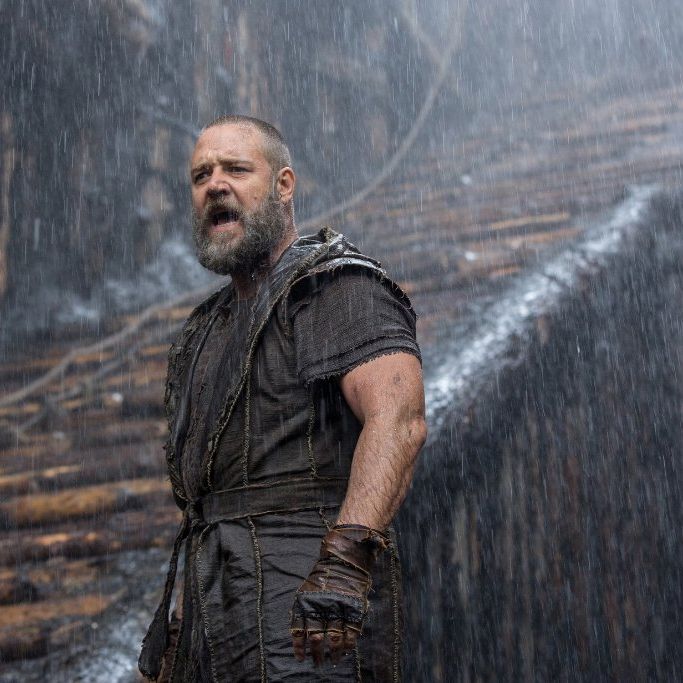 Photo: MMXIV Paramount Pictures
It has been a rocky voyage for Noah, Darren Aronofsky's watery biblical epic. While religious tales are a predictable magnet for controversy, the battle over Paramount's $125 million Old Testament blockbuster has been more contentious (and full of half-baked storm puns) than most. As Christian groups criticized the film's message — not to mention its portrayal of Noah as an "environmentalist wacko" — the studio tussled with the notoriously independent Aronofsky over test screenings and the right to a final cut. Here's a timeline of how it all went down:
October 2012
Long before the movie was due to hit screens, religious screenwriter Brian Godawa expressed early doubts about the film. After reading an early draft of the script, he posted a review, criticizing it as an "anachronistic doomsday scenario of ancient global warming" that portrayed Noah as an "environmentalist wacko."
July 2013
Anticipating controversy, early efforts were made to appeal to Christian viewers, with Aronofsky showing an exclusive sneak peek from the film at Texas's church-based Echo Conference.
October 15, 2013
Meanwhile, a behind-the-scenes battle burst out into the open, thanks to an article in The Hollywood Reporter. According to the piece, Aronofsky and Paramount were sparring over Noah's final cut, with THR quoting multiple sources who said that early test screenings with key groups — including Christian viewers in Arizona, Jewish filmgoers in New York, and the "general public" in California — had all produced worrisome results. Sources said that Aronofsky had been resistant to the studio's changes, with one talent rep saying that "Darren is not made for studio films," and that "he's very dismissive. He doesn't care about [Paramount's] opinion."
As Aronofsky worked on his own cut, according to the article, Paramount set out to make their own version of the film, making and testing up to half a dozen alternate versions (Aronofsky had reportedly surrendered final cut early on in order to secure the film's big budget). It became increasingly unclear whose version would ultimately appear in theaters.
February 12, 2014
Months later, in an exclusive interview with THR, Aronofsky opened up about the earlier friction, saying that he had been vehemently opposed to the studio test-screening his unfinished work. "I was upset — of course," he said. "No one's ever done that to me." Yet while Aronofsky acknowledged that "there was a rough patch," both he and the studio told the magazine that the controversy was behind them.
Ultimately, the studio ended up using Aronofsky's cut of the film, finding their alternative versions tested no better. "They tried what they wanted to try, and eventually they came back," the director said. "My version of the film hasn't been tested … It's what we wrote and what was greenlighted." Advocates for strong-willed auteurs everywhere breathed a sigh of relief.
February 17, 2014
With the creative infighting cooling down, public controversy began to heat up. Variety reported on the results of a survey published by the website Faith Driven Consumer, in which founder Chris Stone asked the site's readers whether they would be satisfied with a biblical-themed movie that replaces the Bible's core message with one created by Hollywood. 98 percent said they would not.
February 18, 2014
Paramount lashed back, citing its own internal studio research and strongly disputing the Variety story. "The survey question that had the 98 percent response rate did not contain any reference to the film Noah, despite the fact that the Variety reporting implied that it did," the studio said in a statement, writing that "research from industry-leading firms about the upcoming epic paints a very different picture."
February 24, 2014
At a convention of the National Religious Broadcasters in Nashville, president and CEO Jerry Johnson held a panel discussing Noah, concluding the event by asking Paramount to add a disclaimer to the film.
February 27, 2014
In response to Johnson's remarks, Paramount joined with the National Religious Broadcasters to issue a disclaimer that would appear on all future marketing materials. The disclaimer reads: "The film is inspired by the story of Noah. While artistic license has been taken, we believe that this film is true to the essence, values, and integrity of a story that is a cornerstone of faith for millions of people worldwide. The biblical story of Noah can be found in the book of Genesis." An exclusive item in the Wrap later reported that Aronofsky knew nothing of the disclaimer and was "not happy" to learn about it in the press.
February 28,  2014
Over on the Faith Driven Consumer site, Stone responded by thanking Paramount for engaging the religious community in dialogue.
Late February and early March 2014
Not all Christian takes on the film have been negative. John Snowden, the film's biblical consultant, wrote an article for the Christian Post defending the movie and explaining why people of faith should embrace it. Meanwhile, Christian filmmaker and media critic Phil Cooke wrote a blog post recommending that Christians see the movie, while Ted Baehr, chairman of the Christian Film and Television Commission and publisher and editor-in-chief of Movieguide, told the Christian Post that he approved of the film's "primary message" (although the review featured on his site was hardly glowing).
March 6, 2014
And it's not just the Christians who have it out for Noah: The United Arab Emirates, Qatar, and Bahrain all banned the movie for contradicting Islamic law by depicting a prophet. Similar rulings are expected in Egypt, Jordan, and Kuwait. (Jews are presumably just relieved to see a biblical epic without Mel Gibson at the helm).
March 19 2014
Meanwhile, after two failed attempts and a whole bunch of needy tweeting, Russell Crowe finally met the Pope. So, there's that. 
Dear Holy Father @Pontifex , Sorry that I have caused havoc in your social media world. Seriously though, #Noah the movie will fascinate you

— Russell Crowe (@russellcrowe) February 25, 2014

Holy Father @Pontifex , it would be my deepest pleasure to bring the @DarrenAronofsky film to you to screen. That this may happen Inshallah

— Russell Crowe (@russellcrowe) February 25, 2014

Pre show with some of the girls pic.twitter.com/KZwuRFnN0j

— Russell Crowe (@russellcrowe) March 19, 2014
March 21, 2014
Inevitably Glenn Beck had to weigh in, too, saying that he hoped the "dangerous" film would be "a massive failure." But after seeing a test screening a few days later, Beck reigned in the fire and brimstone, opining that the film wasn't so much morally detrimental as laughably bad. "I believe it is not a Godless climate-change movie. It's more like Sinbad the Sailor meets Shining and Friday the 13th with a sprinkle of Mad Max," said Beck, who also suggested that it could be called the "Babylonian Chainsaw Massacre," based on how Noah was "running around, not kidding, trying to kill his whole family."
March 24, 2014
At the behest of Paramount, Phil Cooke created a seven-minute featurette exploring the film's biblical accuracy and featuring praise from a number of Christian leaders. Focus on the Family president Jim Daly is quoted, saying: "Darren Aronofsky is not a theologian, nor does he claim to be. He is a filmmaker and a storyteller, and in Noah, he has told a compelling story … This cinematic vision of Noah's story gives Christians a great opportunity to engage our culture with the biblical Noah, and to have conversations with friends and family about matters of eternal significance."
March 25, 2014
Noah is banned in Indonesia. Sorry, Indonesia.
March 26, 2014
Crowe, who had so far managed to restrain himself from angry outbursts, weighed in forcefully on Good Morning America. "We've had probably over a year now of very harsh criticism from a bunch of people who have put their name and stamp on an opinion that's not even based on the movie or seeing the movie, just an assumption of what it could be or how bad it could be or how wrong it could be in their eyes," said Crowe, "which I think quite frankly is bordering on absolute stupidity, because now, I think, people are seeing the movie and they're realizing how respectful it is and how potent it is."