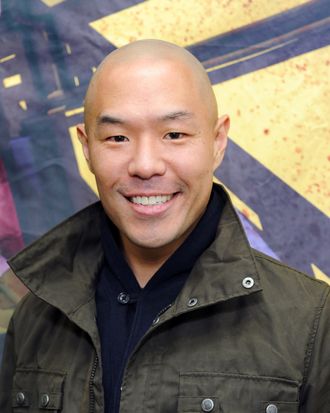 Hoon Lee.
Photo: Craig Barritt/Getty Images
Last night, Banshee wrapped its second season with two major character deaths and an unclear sense of what's next for the show's transgender computer hacker, Job. We spoke to Hoon Lee, who plays the character, to get his best guess on Job's future and what it was like to finally have a big action sequence this season.
Job finally got his bloody action sequence this season. How was your Jason Bourne moment? 
There isn't anyone in Banshee who doesn't get into serious scraps. I was assuming it was going to happen. It was really fun to shoot. It was hot in that old factory, and we shot it in the basement with gigantic lights. I got to stretch some muscles a bit there. The camera crew was amazing. One guy was literally doing everything I was doing, backwards.
The opening scene of the penultimate episode, "Homecoming," gave fans a scare that you were getting killed off.
Our show isn't necessarily trying to shock you. That's counterproductive at some point. You would come to expect it. But they are constantly looking for ways to up the stakes and increase the drama. I wouldn't put it past them to put any member of the cast in danger if it increased the dramatic stakes of the plot. I feel like that's legitimate. I may not like it when it is my time [to be killed off], but these people are incredibly violent and take incredible risks, so there are going to be bad consequences for those actions.
Both Emmett Yawners [played by Demetrius Grosse] and Alex Longshadow [played by Anthony Ruivivar] died in the finale. Was it hard to say goodbye?
It is a sad day. When you lose anybody on the cast, you are essentially removing an element from a fairly efficient group. We all come from different, bigger places around the world, but when we are [shooting] in Charlotte we are in this bubble together. When we lose somebody, it makes the effect that much stronger. You don't see them around.
Are you sick of your character having to save Hood every season?
We talked about that element, actually. It's something that you don't want it to be predictable but in reality there are only so many people who are tied to Antony [Starr]'s character in a certain way. The people who know his identity and know his history leave a list of candidates to assist him which is very small.
Looking forward to season three, any details to divulge on what's ahead?
At this point, I honestly don't know. They have broken story, but the things that we get told at this point are very general. They are so general that they are almost meaningless. You could be doing a scene and they will tell you to "expect more of that." You have no idea what that means at that point. You could be slinging off the roof of a building or something else in the future but you just don't know. If anything, we are as eager as anybody to find out. We have been with these characters for a couple of years so they are feeling more native. Jonathan Tropper [executive producer/writer] has been very respectful of our contribution to the show, so you can feel him writing more and more to the actors.
Let's say Greg [Yaitanes, exective producer, showrunner, and director] and Tropper come to you and ask you to write the first page of season three. Where do we find Job in season three, episode one if you had a chance to write it?
At least from what we know at the end of season two, he is not in Banshee. He is away. I would imagine he gets pulled in somehow. That's just a setup though. For me, half of the amusement that Tropper gets out of writing Job is that this guy is pissed and not where he wants to be. So I see Job starting off by being in New York but eventually coming back to town. He's having a good time and then he gets roped back in and gets very annoyed!