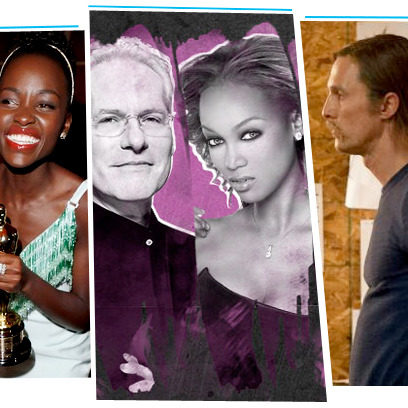 Every week, Vulture faces the big, important questions in entertainment and comes to some creative conclusions. This week, we speculated about the True Detective finale, relived the glory of Oscar night, and kicked off our historic Reality Rumble bracket. You may have read some of these stories below, but you certainly didn't read them all. We forgive you.
Q: How were the Oscars?
A: Despite this year's many shortcomings, it's almost impossible to completely screw up the Oscars telecast, says Vulture TV critic Matt Zoller Seitz. If you agree and want to relive the glory of Oscar night, we're here to help: You can read the highs and lows of Sunday's telecast, check out the best frozen moments, watch every important GIF and video from the ceremony, see the best after-party photos (and read Kyle Buchanan's weekend party timeline to go along with it), and fan-girl out with slideshows of best supporting acting winners Jared Leto and Lupita Nyong'o.
Q: What's the best reality-show season of all time?
A: We plan to solve this contentious issue once and for all with our Reality Rumble bracket, which kicked off this week (read the eligibility requirements and check out the contenders here). So far, The Real World San Francisco beat out Project Greenlight, The Bachelor season 13 dominated over Flavor of Love season 1, and The Osbournes season 1 proved victorious over season 3 of So You Think You can Dance.
Q: Seriously!?
A: We know that there are bound to be dissenting opinions, but unfortunately there can only be one winner. Thankfully, we have lots of great supplemental content about the booted shows: Project Greenlight producer Chris Moore reminisces about Matt, Ben, and breakout star Shia LaBeouf; the Flavor of Love co-creator and casting director discuss their casting decisions; and Margaret Lyons looks at the insane lineage spawned by the Surreal Life, "the gift that kept on giving".
Q: What's going to happen on the True Detective finale?
A: Vulture recapper Kenny Herzog sizes up the remaining suspects, while Margaret Lyons looks at seven questions we need answered in Sunday's episode (even though she doesn't actually need True Detective to solve its crime).
Q: Got any more True Detective content? We can't get enough.
A: Do we ever! Denise Martin spoke to production designer Alex DiGerlando about thirteen set pieces, Abe Riesman chatted about McConaughey's chain-smoking with Detectives Papania and Gilbough, while Anna Silman did a deep dive into rural Cajun Mardi Gras traditions. Oh, and Amanda Dobbins tells you why you should really, really be paying attention to director Cary Fukunaga (because he is "Ryan Gosling but with even better bone structure–level handsome"). You can also test your ability to differentiate Rust's pontifications from other Matthew McConaughey lines with Jesse David Fox's "True or False Detective" quote quiz.
Q: Speaking of predicting endings: What's going to happen on How I Met Your Mother?
A: Whatever happens, please don't let the mom die, begs Margaret Lyons. (If you're wondering why this is even up for discussion, read Phoebe Reilly's recap of Monday's upsetting episode here).
Q: When do Game of Thrones and Mad Men come back?
A: We've got a schedule of all the 2014 TV premiere dates right here.
Q: Is The Grand Budapest Hotel any good?
A: As David Edelstein says in his review, there is "a case you can make for the movie's campy ingenuousness." Meanwhile, Jesse David Fox talked to Wes Anderson's music supervisor about twelve memorable scenes and Kyle Buchanan investigated why his characters seem to have lost their freedom of movement. Once you've studied up, test your knowledge with Fox's super-hard Wes Anderson superfan quiz.
Q: What about Nymphomaniac?
Edelstein deems volume 1 of Lars von Trier's newest film "both dumber and more entertaining than anyone had a right to expect."
Q: Is this year's Whitney Biennial worth going to?
A: "There's a smart show struggling to get out of this big, bland Whitney Biennial," writes art critic Jerry Saltz. If you prefer a more avant-garde artistic experience, you can explore the city's diverse offerings with one of Saltz's NYC art walking tours.