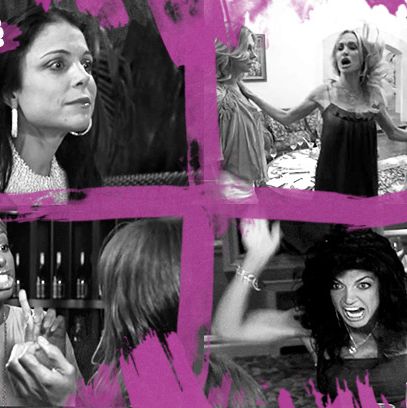 The suits at Bravo probably tell their advertisers that people watch the many Real Housewives iterations because the shows are aspirational: They offer viewers a window into a rarefied world that is out of reach for most of them. And that may be partially true. But the bigger reason millions keep tuning in: the fights. From table-flipping to wig-tugging and from wine-throwing to crazy-going, the real housewives of Every City, USA have put on some spectacular altercations that are often as ridiculous as they are brutal. As we say buh-bye to RHoA in our Reality Rumble tournament, Vulture pours one out by counting down the top 20 throwdowns in Real Housewives history.
20. Tamra Barney vs. Simon Barney
The linked clip cuts off at just the wrong time, because right after Tamra says, "F— you," she says, "F— you. I want a divorce." And that's it. That is how Tamra and Simon's marriage ends. After an entire season of The Real Housewives of Orange County that found her trying to keep her marriage together (she even got his name tattooed on her finger), Tamra gives up and does so violently. But this is really a fight about Tamra becoming a star and Simon not liking who she has become, with a side of her being fed up with earning all the money in the relationship after his business failed. This is about everything, all at once, coming to the head in the back of a limo on the way to a party with the cameras rolling. It is tragic and fascinating and humiliating and scary and, most important, it is real. This is why we watch these shows, to be rewarded with little snapshots of terror like this one.
19. Joe Giudice vs. Joe Gorga
Finally Teresa Guidice's husband, Joe, and her brother, Joe Gorga, get into the all-out brawl they'd been heading toward for two seasons of Real Housewives of New Jersey. At a retreat in Lake George to try to heal the family, Joe Giudice finds out Joe Gorga called his wife scum and rushes him like a bull going after a red cape. But it wasn't red everyone was seeing — it was black, when the spray-on hair that Joe Gorga uses to cover up his bald spot wiped off on Joe Giudice and everyone who tried to intervene.
18. NeNe Leakes vs. Sheree Whitfield
Sometimes in Real Housewives land, we have no idea what is going on in a fight. But that doesn't meant the fight is bad — it just means we get to enjoy it for what we really want to watch: awesome putdowns. NeNe is clearly shown to be in the wrong here when Sheree gets a party promoter on the phone and calls NeNe on a bluff. But then NeNe drops a line that has become one of her catchphrases: "I am very rich, bitch." This should be something we use to ridicule NeNe, a woman who just copped to buying $50K veneers. But instead, we say it with pride and we say it with relish. So, yes, Sheree may have been the winner on fact in this instance, but she's clearly the one who lost.
17. Teresa Giudice vs. Andy Cohen
It's some sort of sick karmic retribution that Real Housewives mastermind Andy Cohen would one day get swept up in a catfight similar to the ones he has so artfully orchestrated on his shows. His moment of truth came on a reunion special for Real Housewives of New Jersey, when Teresa Giudice freaks out at Danielle Staub for bringing up Teresa's strained relationship with her brother (which would be featured in the next season of the show). After Andy tries to hold Teresa back, she throws him back into his chair like a rag doll. You reap what you sow, Andy.
16. Sheree Whitfield vs. Kim Zolciak
Sheree Whitfield is the undisputed fighting champion of the Real Housewives brand. She has a way of seeming both vicious and calm at the same time, as she does here during a confrontation with Kim Zolciak in which Sheree pulls on Kim's wig so that it shifts a little bit on her head. But that is not what sets this fight apart. What sets this fight apart is that Michael Lohan is somehow involved. I've never been able to figure out why he turns up, and it only makes the proceedings more absurd.
15. Camille Grammer vs. Taylor Armstrong
A single event transitioned Camille Grammer from the villain of the first season of Real Housewives of Beverly Hills to her season-two role of St. Camille, Patron Saint of Calling People Out. That moment happened when she challenged Taylor to stop pretending as if she hadn't told everyone that she'd been beaten by her husband, Russell (who would soon commit suicide). This is not that fight. This is the fight after that, when Taylor comes to her (and Russell's) defense at a party Brandi is throwing in Malibu. There is screaming, there is a Taylor's wild vacillation of mood, and there are two crazy secondary characters. What makes this a great fight is that Camille's friend DeeDee is crying about Camille's image and Brandi's friend Linda Thompson — Brody Jenner's mother and ex-wife of both Bruce Jenner and future RHOBH fixture David Foster — is getting all New Age–y on everyone's asses.
14. The Salahis vs. America
You probably know them better as the White House Party Crashers, and they were the only interesting characters on the ill-fated Real Housewives of D.C. Before the show even aired, Michaele and Tareq Salahi made a scandal by showing up at a White House state dinner uninvited. They even got their picture taken with Joe Biden! Their preparation for the party and reliving it later was eventually aired on the show, but before we even got there, they were at the center of the media storm, and even that was far more interesting than anything that happened on the show.
13. The Guidices vs. the Gorgas
After the war between the Real Housewives of New Jersey and Danielle Staub wrapped up, the show's third season needed a whole new direction. In the first scene of the season-three premiere, we see Teresa and her brother Joe Gorga start a brawl, and it's so epic that we were forced to rewatch the previous season just to see how their relationship had become this heated, where not just one table was flipping (Teresa's specialty), but dozens of them. After several seasons, their family squabble has gone on way too long, but watching how reality-TV fame affects a family — both those who have it and those who desperately want it — was the most fascinating thing to come out of this entire kerfuffle.
12. Vicki Gunvalson vs. Gretchen Rossi
Sometimes Real Housewives of Orange County matriarch Vicki Gunvalson screams at a pitch that is so high it makes your dog run toward the television and any crows that might be congregating in a tree outside your house fly up in unison in a scary murder. This is one of those times. And it's all the better because it's happening when she's got crimped hair and everyone is decked out in ridiculous '80s looks at some sort of "Bunco Party." This is why dressing up in costumes on the Real Housewives is always dangerous, because when the inevitable fight happens, everyone looks even more ridiculous than usual. Sure, this was just another salvo in the ongoing war between Vicki and Gretchen's fiancé Slade Smiley, where she calls him a deadbeat and he calls her ugly, but this is the only one featuring neon colors and fishnets.
11. Teresa Giudice vs. Danielle Staub
Like the Rocky Balboa and Apollo Creed of the Real Housewives of New Jersey, these two had to go after each other multiple times before the score was settled. Personally, I like this season-two fight far more than the more iconic table flip, because it unleashes such a melee in a very public space and we get to see the cameras try to keep up with the havoc as it unfolds in real time. Also, the violence escalates when Danielle accuses Teresa of having a house in foreclosure, which she vehemently denies. Oh, the dramatic irony! I wonder if Teresa remembered that when she was pleading guilty to fraud charges.
10. Bethenny Frankel vs. Jill Zarin
More heartbreaking than ridiculous, the season-three dissolution of the friendship between the Lucy and Ethel of Real Housewives of New York was amazing to watch play out in real time. Jill treated Bethenny shabbily, Bethenny was snippy to Jill, and two people who used to find so much joy in each other's company (and make such awesome television) were undone by the very fame that once united them. It's impossible to boil this struggle down into one single altercation, but the image that always sticks with me is Bethenny on the sidewalk in her red coat crying what seem to be very real tears.
9. Tamra Barney vs. Jeana Keough
When people think of Real Housewives, they often picture women throwing drinks in each other's faces. However, the only time it actually happened is here, when Tamra throws down with former cast member Jeana at the "cast reunion" party that capped off this season of Real Housewives of Orange County. Here they aren't fighting about something that happened on the show but in the press. Boring! But you know what? Who cares! With an altercation as good as this, the reason almost doesn't matter. I love watching the chaos of the wine-throw spread like someone throwing a Baby Ruth in a public pool.
8. Adriana de Moura vs. Joanna Krupa
The Real Housewives of Miami is woefully underrepresented on this list, because most of their fights, thanks to series star Lea Black, are of a strange and passive-aggressive nature. They're more manipulators than brawlers, except when it came to this scrap, which happens at a lingerie party, no less. Adriana got her talons out toward season two's whipping girl Karent. Joanna, always unruly when she drinks, stepped in for an assist. When Adriana tried to walk away and Joanna followed her, she spun around and clocked her. This might be the first incident of a Real Housewife actually slugging a fellow cast member. Sure, Adriana claims it was self-defense, but isn't that what the guilty always say?
7. Brandi Glanville vs. the Sisters Richards
A tragic game night in an eerily empty house, an obviously intoxicated Kim Richards hiding Brandi's crutches, and an amazing confrontation that kicked off a whole season of tumult. Yes, this is one of the best. Kim and Kyle didn't even know Brandi at this point in Real Housewives of Beverly Hills' second season and started out being mean to the new girl who was taller and thinner than anyone else. Brandi, as usual, was the only one brave enough to state the obvious — that addict Kim was clearly using again — and it caused both sisters to vehemently deny this. Who were they fooling? Sure, Brandi may have cursed more, but it was these two former child stars really showing their true colors. This is one of the first times that viewers met Brandi, but it was a harbinger of lots of knockdown drag-outs to come.
6. Allison DuBois vs. Kyle Richards
The problem with this "dinner party from hell" is that Allison, the psychic who is the inspiration for the show Medium, has her best lines about Kyle after Kyle left the room. She sips on her apple martini and drags on her e-cigarette (very avant-garde at the time), and says that she knows when Kyle and everyone in her family will die and she loves that about herself. However, for sheer pandemonium, this is a great fight. Camille Grammer, the devil of the Real Housewives of Beverly Hills' first season, comes for the "morally corrupt" Faye Resnick, Kim Richards turns on Taylor Armstrong, and Camille sits by grinning and apologizing like this isn't exactly what she wanted to happen at this acrimonious meal.
5. Sheree Whitfield vs. Marlo Hampton
The reason this fight, which is really just another garden variety Real Housewives of Atlanta fight, is memorable, is that it's the most meta fight in franchise history. As it escalates to Sheree calling Marlo a prostitute and Marlo calling Sheree broke, they stop using words to fight each other and just make weird, vaguely threatening and mocking sounds. At some point, that is what all Real Housewives fights are — not really trying to make sense of complex situations, just jungle animals trying to intimidate and humiliate each other with noises.
4. Teresa Giudice vs. Danielle Staub
This fight gets high marks for being an iconic moment and the explosive one that launched the first season of Real Housewives of New Jersey. However, as a fight, it sort of doesn't make much sense. Sure, Danielle was talking down to Teresa about the allegations in a book about Danielle (that she was arrested for dealing cocaine and was involved in a kidnapping case), but Teresa just wigs out. She's so frustrated by Danielle's far superior verbal sparring skills that she stoops to the only other method at her disposal: brute force. This is not one of the best Real Housewives moments, but certainly one of the most memorable.
3. Kelly Bensimon vs. Bethenny Frankel
These two had come to blows on Real Housewives of New York before (Bethenny always thinks of Kelly's infamous "I'm up here and you're down there" line when counting her Skinnygirl millions), but nothing was as good as when Bethenny got up from dinner and shouted for Kelly to "Go to sleep!" after she completely lost touch with reality while the crew was on vacation in season three. There has been no suitable explanation for this incident, later dubbed "Scary Island," in which Kelly rambles incoherently about Don King, satchels of gold, and vampires. Was it drugs? Was it exhaustion? Who knows. But it was amazing to watch.
2. Kim Richards vs. Kyle Richards
The best part about Real Housewives of Beverly Hills is when the immense darkness in these women's lives bubbles up to the surface, and there is no better example than this season-one brawl when former child star Kim Richards accuses her sister Kyle of stealing her house and Kyle revealing to the world that her sister is an alcoholic. This is a real life Whatever Happened to Baby Jane? — or, better yet, a dialogue that Tennessee Williams would have written if he were alive in the reality-TV age.
1. Sheree Whitfield vs. Antony the Party Planner
And here it is, the best fight in Real Housewives history. There is rampant ridiculousness on full display and it is exactly the sort of hilarious misbehavior that is the Housewives calling card. In season two of Real Housewives of Atlanta, Sheree goes to meet with Anthony, her party planner, to discuss the details of an upcoming event. Sheree is upset that she has yet to meet the poet who is supposed to write a poem about her for her party and Anthony doesn't react well. Notice Anthony's co-workers, who let the two continue to fight but close the door so they don't have to hear it. This is the fight that launched Sheree's catchphrase "Who gonna check me, boo?" but my favorite line comes at the end when she asks, "What ever happened to customer service?" Indeed.