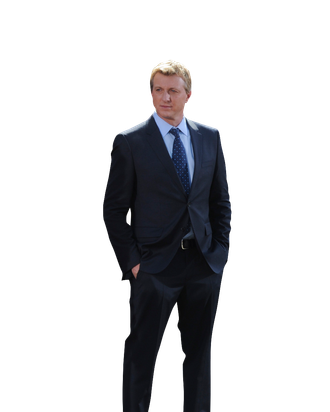 Few actors have portrayed a bully quite as convincingly as William Zabka, a.k.a. Billy Zabka. Starting with 1984's The Karate Kid, in which he played Johnny Lawrence, a headband-wearing rich kid making life a living hell for Ralph Macchio's pipsqueak underdog, Zabka became Hollywood's go-to preppy goon, also stealing scenes via pitch-perfect bitchface performances in 1985's Just One of the Guys and 1986's Back to School. More recently, the 48-year-old actor has endeared himself to a new generation through small parts in the 2010 comedy Hot Tub Time Machine and the long-running TV shows How I Met Your Mother and USA Network's Psych. With the HIMYM finale looming, Vulture spoke to Zabka about the burgeoning Zabka renaissance (that he and his Twitter fans are calling the #Zabkatage), his 2004 Oscar nomination, and, of course, the Cobra Kai.
How did your role on How I Met Your Mother come about?
That whole thing happened out of nowhere. The TV gods reached down from the clouds and picked me up and put me on a hit network TV show. I was just thrilled that the show had mentioned me in the past — not even me, but [his The Karate Kid character] Johnny Lawrence. That gave me a good chuckle. Then they said, "Hey, we've got an episode where you play a clown and at the end, you take off your makeup and we see half of your face and a headband." I thought that was how the whole ride was going to end — on the Karate Kid joke note. Then it snowballed into a really nice character arc they wrote for me. Next thing I know, coming down to the wire, they tie me off.
So you're not in the finale?
I'm not, unless they do some kind of flashback. The show has got nine years behind it, and this is time to focus in on all the stars. Even being there sometimes, I felt like, "What am I even doing on this show?" It was such a surreal thing. The last one for me was when they turned me into a poet.
Have you ever written poetry?
I used to write tons of music, but I'm not a poet. I'm going to have to start turning some poems out for How I Met Your Mother fans who expect me to be a poet. Now I have a new task. Just like learning karate after The Karate Kid, I can do it.
The roles on HIMYM and Psych poke fun at your image. You're okay with laughing at yourself, I take it?
It's been enough time between the early films and now. It's a thrill to have a brand as an actor and a fun thing to spoof yourself. The great thing about HIMYM is they dared to go into a part of me that has never been explored because of the way I've been cast. They went more into my comedy and me as a misunderstood nice guy, where a lot of the casting people want to keep me in a version of my old image.
Like on Psych?
Right. I played an ex-sports-star who'd had an ATV accident and turned into a third-grade dodgeball coach. I had a ball doing that, but playing a more three-dimensional guy on HIMYM has been like water to my acting soul. But it's fun to play with the image. I'm not running from that at all.
Maybe your role Hot Tub Time Machine put you back in the Hollywood consciousness?
I couldn't map it, man. It's just so random. I think I scared enough kids when they were young who've turned into writers and producers and are running network TV shows now and have memories of me. It's awesome that they're pulling me out. The guys behind Hot Tub Time Machine called me out of the blue and wrote me a part. The reception has been nice from the fans and my Twitter followers and my family. It's really great how happy everybody has been to see me back.
And you did play an awesome bully back in the day. Did it bother you to always play bad guys?
I never looked at them as bad guys. The secret to a good bad guy is to look at the world through his eyes, and in his movie, he's the good guy. I just had fun with it.
Do people ever want to pick fights with you?
Not really. I had a couple times back in the day, where I had some guys who wanted to call me out. I'd say, "You don't know me. If you did know me, we'd probably be friends. But if you want to be a jerk, let's go outside right now." And that was the end of that. I get more people that want to join the Cobra Kai than want to fight me. I get guys in headbands saying, "Cobra Kai never die!"
Do you ever get tired of people yelling "Sweep the leg!"? I know you made a music video parodying it a few years ago.
No, it's part of the lexicon of Americana. It doesn't bother me. It's an honor to be a part of something that has a legacy like that. 
Since you were in Back to School with Rodney Dangerfield, do you ever feel like you don't get no respect?
[Laughs.] No, I take it all with a grain of salt. The love and the digs — it's all show business, man.
You received an Oscar nomination in 2004 for Most, a short film you co-wrote and co-produced. What was that like?
That was amazing. We made it in Prague and Poland with a European cast, far away from the Hollywood system on purpose. We wanted to make a piece of art. I know what it's like to not win an Oscar. I know what that smile and that clap is like when they don't call your name. [Laughs.]
That's acting!
Yeah. There's a strange element of relief, though. Because there are so many people you have to thank, and you have to talk in front of all these people. One thing I was going to say if we won was, "It's an honor to win an Oscar as a writer or director, but what I really want to be is an actor."