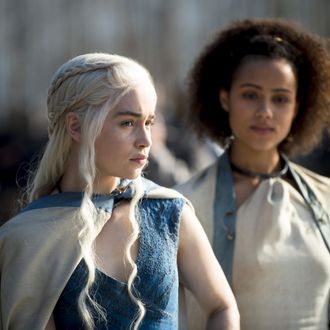 Photo: Macall B. Polay/HBO
In additional excerpts from Vanity Fair's April cover story, Game of Thrones showrunners David Benioff and Dan Weiss reveal that their plans for wrapping up the series have been heavily influenced by the ending of Breaking Bad. "Looking at Breaking Bad, which is probably the most consistently great show in history, and I think the fact that they decided relatively early, it's going to be five seasons and that's it, I think that was an incredibly smart choice," says Benioff.
"Would I have watched another season of Breaking Bad? Of course. Would I have watched another two seasons of Breaking Bad? Of course. The fact that I would easily have watched much, much more than I got made the ending so much more poignant and stronger and better for me," adds Weiss, who speculates that Thrones will end by the seventh or eighth season.
Yet even when the interviewer's questions moved away from Breaking Bad, No. 1 Vince Gilligan fanboys Weiss and Benioff manage to steer the conversation back to their favorite show. "One of the things that made Breaking Bad so powerful, for me, was I'd never felt that somebody was more on the job, in the control tower, than on that show," continues Weiss. "Everything little thing I was seeing was there for a reason and would come back into play in some surprising but retroactively inevitable way, shape, or form."