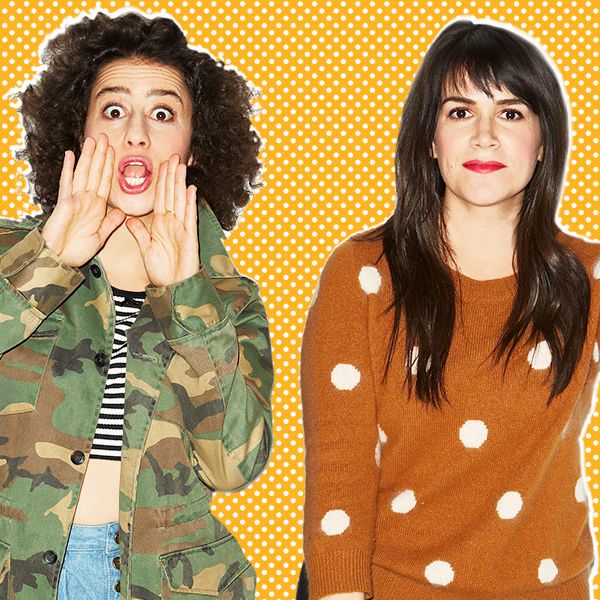 Photo: Maya Robinson and Photo by Comedy Central
In the last ten weeks, Broad City has become an essential part of my TV life. It's my favorite Wednesday show (sorry, Nashville, it wasn't even close); Ilana and Lincoln are probably my favorite TV couple right now; and I'll never tire of shows by and about funny women. I like the characters' enthusiasm for Bed Bath and Beyond coupons, and their willingness to be sort of disgusting. But while I wait for Broad City's second season, what I'll miss the most is how much Ilana and Abbi like each other. Someone you'd ask to help you dispose of your panic-poop during a hurricane? That's love.
There's no firm setup to Broad City: Ilana (Ilana Glazer) and Abbi (Abbi Jacobson) navigate life in New York City, just one or two degrees off from normal. Everything's heightened, but I wouldn't call it satire — more the way you'd describe your real life if you wanted it to be a better story. We were soooo stoned. Or he was soooo disgusting. In that way, Broad City draws in its audience, putting us at the inside of an inside joke. That connectedness and feeling of intimacy is part of what defines Broad City. It's a very tender show! Our heroines and BFFs Ilana and Abbi are a team, and Ilana's sorta-boyfriend Lincoln (brilliant stand-up comedian Hannibal Buress) is a major ally for both of them, be it through free dental care or the willingness to attend a gallery opening that turns out to be at an obnoxious vegan sandwich shop. The most common obstacle in Abbi and Ilana's life, other than mild poverty, is the general outside world: Penn Station. Far-flung FedEx facilities. Bosses. Abbi's roommate's boyfriend, the gross weirdo Bevers (John Gemberling), who winds up being her de facto horrible roommate.
Among its Comedy Central brethren, Broad City is maybe most akin to Workaholics, though that show has an aggressive cynical streak where Broad City is far more buoyant. Aspects of Broad fit in with some of Inside Amy Schumer, particularly as it skewers arbitrary social hierarchies, but just as often it reminds me of Drunk History in that Broad City genuinely sounds like actual people saying the most perfect dumb shit in the world. That's not the entire show — far from it — but Broad City captures that defiant, even dangerous self-regard we typically see only in the intoxicated. It's refreshing and exciting to see a character as gutsy as the sometimes loopy Ilana. And the best part is that the series doesn't treat her as a weirdo or outcast; she loves herself and the other characters love her, so we love her too. If her uptight co-workers can't handle it, that's their problem.
There's no central tension on Broad City, and that contributes to the show's relaxed vibe. It's also what makes each episode so wonderfully different from the next: a bottle episode one week, like "Hurricane Wanda," and a Planes Trains and Automobiles episode, like "Destination: Wedding," the next. There's the stoner-comedy "P*$$y Weed" episode (a treasure), and the detective-tinged "Stolen Phone" episode. Abbi and Ilana are not trying to solve any one problem. They're barely trying to do much of anything, frankly.
What's carried the show along for its first season, and made it feel like a cohesive piece and not just an anthology, is the continuity of the relationships and the characters' circumstances. Abbi comes into some money and tries to move out, but her plan is thwarted. Ilana likes to hook up with random dudes ("damn, that penis is pink!" she tells one suitor), but she and Lincoln always find their way back to each other. Abbi will never really seduce her neighbor Jeremy (Stephen Schneider), and Ilana will neither succeed at nor get fired from her Groupon-like job. Despite the show's and characters' abiding love for Oprah, Broad City doesn't have a lot of a-ha moments. They're more like mm-hmmm moments, moments that are comfortable and affirming and familiar, but not necessarily transformative. Want to go get some candy? Mm-hmmm. Most of us are not living our lives a-ha to a-ha. It's more mm-hmmm to mm-hmmm, week to week, Broad City to Broad City. Hurry back, show.