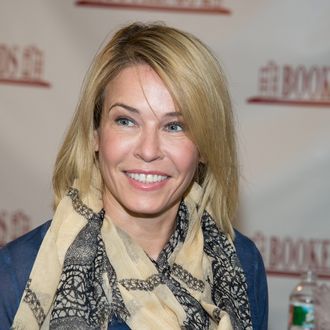 Photo: Dave Kotinsky/Getty Images
The Hollywood Reporter reports that Chelsea Handler, who has hosted her talk show, Chelsea Lately, on E! for the past eight years, plans to leave the channel when her contract expires in nine months. Handler has been open about her dissatisfaction with E! for a while — she recently called it "a sad, sad place to live" on Howard Stern's radio show — and, according to her manager, Irving Azoff, her complaints weren't part of a strategy to negotiate with the network. "Chelsea intends to leave when her contract expires. She hired me to figure out her life after E!" he told THR. Meanwhile, E! refused to comment on the situation.
Handler, whose show has an average viewership of 572,000 a night, is believed to make around $9 million a year at E! THR reports that her reps have been "settings meetings with companies including Sony Television and Lionsgate as well as FX to discuss her future," though "a source at one company that has been contacted" said, "I don't know if anybody's going to pay her as much as E!" Still, Azoff, who also mentioned "a radio presence and a possible nightly or weekly late-night show on another network or digital service," as possibilities for his client, sounds optimistic: "We have at least seven suitors and many ideas," he said. We'll leave it to Handler to make the inevitable group sex joke out of that.