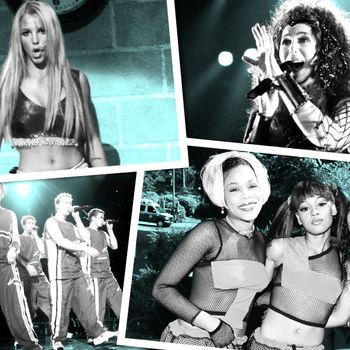 Each week, through my Somewhere In Time column, I hop in my DeLorean GIF to a moment in our pop-culture past to reevaluate just what we as a nation thought was good. This week I travel back fifteen years and flip on the radio: Though the cover of Billboard's March 6, 1999 issue trumpeted a rock resurgence (led by standard-bearers the Flys and Everlast), the rest of the magazine was all pop. We were in the spring of the Boy Band Moment, we were post-grunge and pre-Y2K, and we were wearing bucket hats. Join me as I check out the top 40 songs on that glorious week's pop singles chart.
40. The Offspring, "Pretty Fly for a White Guy"
If you're looking for the moment when the Offspring just gave up and turned into the Dead Milkmen, you will find it here.
39. Shania Twain, "From This Moment On"
Shania's "Come On Over" was less an album than a military campaign. It was released in a country format in 1997, repackaged for the pop market in 1998, and then a dancier international version was unleashed in 1999. It had songs for chick-flick wine-party dance scenes ("Man! I Feel Like A Woman"), songs you will regularly hear on karaoke night to this day ("That Don't Impress Me Much"), and not one but two songs written expressly to be the first dance at your least-imaginative friend's wedding ("You're Still the One," and this). In all, it sold over 40 million copies worldwide and spawned 12 singles. TWELVE. For perspective, Eagles' Greatest Hits (1971–1975), the best-selling album ever in the United States, only has ten singles on it, and it's a greatest-hits compilation.
38. Shaggy featuring Janet, "Luv Me, Luv Me"
This song was included on the soundtrack for How Stella Got Her Groove Back, and the video features Angela Bassett, Regina King, and Shaggy in a suit that Steve Harvey would absolutely still wear. There are the requisite clips from the movie and the standard shots of the actors dancing out of character in a fabulous tiki bar, but what really sends this one over the top is the running gag of Whoopi Goldberg stuck in traffic. You want a hit song, you need ol' Whoops kvetching at a hapless cab driver in the video.
37. Vengaboys, "We Like to Party"
In the summer of 1999, MTV's whole production department relocated to Paradise Island in the Bahamas for Isle of MTV, the most ambitious of the summer-house promotions of yore. That was just the kind of thing that would happen at 1515 Broadway in those days. You'd get a call from your boss saying: "Hey, you're going to live in a Club Med for the next three months. Can you be ready to go tomorrow morning?" It was heaven.
We had a huge, live Isle of MTV kickoff event in late May, and though I don't remember what bands played, we may safely assume Limp Bizkit was there. I was one of the hosts, and just before I was about to run up onstage and start it off, my producer Summer pulled me aside and gave me this command: "We need big top-of-show energy for this one, so just go out there and just … " here she waved her hands in front of her face, sputtering for a moment before settling on les mots justes, "be, like, retarded."
Okay. I have a long-standing distaste for the R-word and all those who use it, but let me say two things: 1) It was, without a doubt, the clearest and most useful piece of direction I ever received at MTV, and 2) it fit perfectly into the cadence of the opening lines of Vengaboys' "We Like to Party," which the DJ started playing at that exact moment. We realized it at the same time, and sang it right at each other: "Be. Like. Retarded. Be like, be like retarded." Anyway, I went out there and did just as she suggested, and if I have had any longevity in this business, it is because I never stopped.
36. Barenaked Ladies, "One Week"
Say What? Karaoke started up that summer, and Carson was supposed to have hosted it, but couldn't make the first tape date owing to some travel snafu, so they put me in at the last minute and I accidentally ended up hosting it for three years. "One Week" was a popular choice that first summer, simply because of the high degree of difficulty.
35. 2Pac, "Changes"
Among work by Mozart, Dame Shirley Bassey, and Fleet Foxes, "Changes" is one of 12 songs on the Vatican's official MySpace Music playlist. I picture the Vatican employing a chipper young social-media intern named, like, Kenzie.
34. Monifah, "Touch It"
This video is a time capsule of 1999 fashion: lip liner, little tiny hair clips, crop tops with weird things that tie around the midriff and make you look like you're in some kind of Richard Simmons bondage fantasy dungeon? Check, check, and check!
33. Alanis, "Unsent"
This song — the text of a series of unsent letters to ex-boyfriends and literally nothing else — represents the moment we started to feel buyer's remorse over Alanis Morrissette.
32. Next, "Too Close"
So let's move on to this song, which is all about poking someone's thigh with your boner.
31. Matchbox 20, "Real World"
Or this one, in which Rob Thomas fantasizes about climbing so high up the corporate ladder that he will one day be able to send an underling out for office supplies. A potent reminder to dream big.
30. Mariah Carey, "I Still Believe"
Mariah Carey got her start as a backup singer for Brenda K. Starr, then went on to become an infinitely bigger star. In 1999, as a tribute to her former boss, Carey recorded a version of Starr's biggest single, "I Still Believe," and made it an infinitely bigger hit. It's the kind of tribute that makes you wonder exactly how much of a bitch Brenda K. Starr was to Mariah Carey.
29. Jay Z, "Can I Get A … "
By March 1999, I was not quite a year into my gig at MTV, and I spent every day with the overall feeling that I'd been shot out of a cannon. Not shot up, necessarily. Not shot into the air, just shot somewhere else, and very fast. Suddenly my favorite thing to do (talking about music) got mixed with the thing I feared most (being myself in front of people) and became my job. It was like a dream, in that I had no idea what was going on and I felt awkward talking to my friends about it.
In the recent VH1 documentary about the TRL years, there's a part about the time when Jay Z and I did a live segment in the Virgin Megastore on the day Life & Times of S. Carter was released. The Jiggamania was so out of control they had to shut the store down and we were evacuated with police protection. What's amazing to me is that I have absolutely no recollection of this. Nothing. It's not that I was prematurely jaded, it's that my brain was too actively in shock to form consistent memories.
28. Barenaked Ladies, "It's All Been Done"
I do remember this, though: There would always be people outside 1515, and they'd always ask for pictures. For a person with chronically low self-esteem, this is quite simply a nightmare. You have to say yes, and you want to say yes, but you can never fully let yourself believe that anyone would want a picture with you. I would always oblige; I would always smile; I would always be absolutely certain the picture was destined for someone's Burn Book.
By mid-1999, though, I had made peace with it. I dared to believe that I deserved it, even. One afternoon, at the height of my hubris, two women outside the studio approached me and said, "We're sorry to bother you, but would you mind taking a picture?" "Sure," I said with a smirk. Of course they want a picture with you, I thought. You're on TV and they like you. Relax and enjoy it, Dave Holmes. You're a star.
The two women squared themselves up with the TRL studios right behind them, fixed their hair, and handed me the camera.
27. Lauryn Hill, "Doo Wop"
The week before this, Lauryn Hill won five Grammys, and it represents the moment Lauryn Hill started to feel buyer's remorse over stardom.
26. Blackstreet and Mya featuring Mase and Blinky Blink, "Take Me There"
Your credibility just never recovers from a song built around the Rugrats theme and a video where you're in a giant crib. Though of course, "Take Me There" will forever be remembered as the moment we met Blinky Blink. Can you even remember a time before Blinky Blink?
Also, the biggest debut on this week's album chart was from Mr. Serv-On, with Trick Daddy's "www.thug.com" just behind. 1999, you're weird.
25. Lenny Kravitz, "Fly Away"
Let's just not.
24. New Radicals, "You Get What You Give"
This is the greatest pop-rock song of all time, and if you say any different, I will fight you. I WILL FIGHT YOU. Gregg Alexander (who pretty much was New Radicals) gave up recording soon after this, though he went on to become a fairly prolific writer-producer. Santana and Michelle Branch's "The Game of Love" is his biggest success, but his best is "I'm Gonna Blow Your Mind" by Carly Hennessy, who went on to American Idol success as Carly Smithson.
I know "I'm Gonna Blow Your Mind" is 13 years old now and the window of opportunity has probably closed, but can we work together and make this song a hit? Share it, friends. Make it go viral. Buy it on iTunes. If we can put Betty White on Monday Night RAW, we can do this.
23. Deborah Cox, "Nobody's Supposed to Be Here"
Fun fact: There is never a second at which this song is not playing in some terrible gay bar somewhere in the world.
22. Eve 6, "Inside Out"
This is a perfectly fine song. It's never been my favorite, but I've never turned it off either. Lead singer Max Collins is fine, so "Inside Out" gets a gentleman's C from this reviewer. Even the video is kind of inoffensive and blandly watchable, to the point where I had no idea what to say about it. Until that final "THROUGH WITH YOUUUU" at 3:10, where he straight Maxell-commercials that shady, roller-skating ex-girlfriend right out of the restaurant. Such is the force and vigor of his throughness!
21. Sheryl Crow, "My Favorite Mistake"
The rumor is that Sheryl Crow wrote this song about Eric Clapton, with whom she had a brief relationship in the late 1990s. They were set up on a blind date by the color beige.
20. TLC, "No Scrubs"
I didn't have a whole lot of interaction with Jesse Camp, but this is one of my favorites. We were sharing a car to the airport for some event or other, both of us trying to catch a little shut-eye. This song came on the stereo, and Jesse came to life long enough to ask, "Hey, what's a scrub?" Just then, the chorus explained "a scrub is a guy who can't get no love from me." "Okay. Thanks," Jesse said, and then went back to sleep, the matter having been settled.
19. Edwin McCain, "I'll Be"
The song that launched a million shitty American Idol auditions.
18. Divine, "Lately"
Neither the star of "Polyester" nor a Stevie Wonder cover, but wouldn't it be great if it were both?
17. Goo Goo Dolls, "Iris"
You know what's a fun read? The Parents' Television Council's ranking of the ten best and worst shows of the 1998, 1999 television. Not surprisingly, 7th Heaven sits atop the best list, having dethroned the previous season's winner Touched By an Angel. But the entry for Will & Grace (debuting at No. 3 on the worst list!) contains this classic line: "Most of the especially salacious jokes come from Will's effeminate gay friend Jack, who tells of 'check[ing] out butts' at the park and remarks that he 'get[s] a little funny in the tummy around the Washington Monument.'" Male-on-male butt-check[ing]-out? NOT ON THE PTC'S WATCH.
16. Sixpence None the Richer, "Kiss Me"
When I moved out to Los Angeles in 2002, I went on a blind date with a guy who ended up being the first of many name-droppers I'd go on to meet out here. But this guy dropped only one name over and over, and the name was Leigh Nash, lead singer of Sixpence None the Richer. Plus, he was boring, so I made up my own personal drinking game: one big sip every time he said "my friend Leigh Nash." I had to take a taxi home. We did not visit each other's Washington Monuments.
A week or so later, after I never called, he sent an email: "So, I guess that didn't work out. But I'm wondering if you can do me a favor: Could you tell me what your first impression of me was? My looks, my clothes, the way I talked, etc? I keep asking my friends to do this for me, but nobody will!" My fingers hovered over my keyboard for a long minute before I finally just hit "delete" and went outside. Don't make me date-Yelp you, man. Leigh Nash wouldn't do me like that.
15. Jewel, "Hands"
Friends dropped to No. 7 on the PTC worst list this season, not because it had gotten any less raunchy, but because the rest of television had gotten so much more so. It was still Smut City up in Central Perk that year: "The affair between two of the characters, Monica and Chandler, supplied much of the show's humor, as they discussed ad nauseum their sex life: how they made love seven times during their first night, how their sex life is 'amazing,' and 'the best,' and other erotic elements of their relationship." Oh, Brent Bozell, you're making me blush!
(The No. 1 worst was Dawson's Creek, owing to its sexually active teenage characters and that "teen self-identification with homosexuality is also given a thumbs-up." You are reading that correctly: Dawson's Creek was the worst show on television because they didn't actively make the [not yet sexually-active] gay kid feel shitty enough about himself. Christ almighty.)
14. Backstreet Boys, "All I Have to Give"
The video for "All I Have to Give" is basically a parody of 1999 boy-band videos. The bouncing shoulders! The rack focus! The vintage microphone! The just-matching-enough outfits! Nick's Anne Heche hair! All of Kevin's hand choreography! When this video would play in the TRL studio, it was like we'd sent catnip through the ventilation system; the girls' jaws would slacken and a hush would fall over the room. They perfected the formula. And "I Want It That Way" was still two months off!
13. Matchbox 20, "Back 2 Good"
Weird, wonderful things happen in New York City. In 1999, there was a secret karaoke night at a place called the Elbow Room on Bleecker Street — it didn't start until around 1 a.m., but if you wanted to see Rufus and Martha Wainwright sing David Bowie's "China Girl," or Lara Spencer do "Give Me One Reason," this was the place to be. And at 3:30 a.m., the stage would get reset for the Jeezie Awards, wherein gold spray-painted Jesus statues were given to the best performers of the evening. It was a real production — presenters, podium banter, speeches, the whole nine. I don't know how they pulled any of it off, I just know it lasted about a month before word spread and it all fell apart, just like everything eventually does.
Anyway, right here in my office I have a Best Duet Jeezie for Rob Thomas's and my "Islands in the Stream." (I was Dolly.)
12. Third Eye Blind, "Jumper"
Okay, now I'm name-dropping. (Drink!) Rob Thomas is the only rock-star friend I made during my time at MTV, mostly because we were both the kind of people who would voluntarily do karaoke at 3 a.m. on a Wednesday. He and his then-girlfriend Marisol were fine, down-to-earth folks. And then they got married, bought a house in the suburbs, and stopped coming into the city. Stars — they're just like us.
Anyway, Stephen Jenkins of Third Eye Blind called Rob "fat" in an interview somewhere around this time, so this band is dead to me.
11. N'Sync, "God Must Have Spent a Little More Time On You"
Probably the Parents' Television Council's No. 1 Best Song of 1999.
10. Monica, "Angel of Mine"
A cover of a U.K. hit by girl group Eternal, sung by the future star of the reality show Monica: Still Standing. If you were an R&B singer in the 1990s and you have not yet received your reality show, please stay on the line. Someone will be with you shortly.
9. Shawn Mullins, "Lullaby"
Among the highest-charting singles ever to name-check Dennis Hopper.
8. Brandy, "Have You Ever"
Once, on TRL, Brandy was asked to read a viewer's comment that contained the word ass, and she said, on air, "I can't say that word, because of my image." You can't talk about your image in front of your fans, Brandy! It's like giving yourself a nickname. Unthinkable.
7. Will Smith, "Miami"
At around this time, a friend of mine from home asked me: "Is Will Smith a good rapper?" By the look on his face, I could tell he didn't mean good like talented, he meant good like not evil. A real human person in 1999 wasn't sure whether Will Smith rapped about guns and drugs. White people!
6. Eagle Eye Cherry, "Save Tonight"
A timeless Listen-at-Work station classic, and a fine place to point out that Neneh Cherry's new album Blank Project is seriously pretty good.
5. Sugar Ray, "Every Morning"
If you're looking for the moment when Sugar Ray just gave up and turned into a platinum-selling pop band, you will find it here.
4. Britney Spears, "Baby One More Time"
This is a true classic and I will not hear otherwise, but can we pause for a moment and reflect on the fact that Britney's debut album contained a song called "Email My Heart"? No, I'm serious. It's weird: cars and phones have been the subject of countless pop songs, yet nobody sings of email. Did the colossal wackness of "Email My Heart" scare them off? Only Brittney Cleary would take on technology again, in her timeless 2002 hit "I.M. Me."
3. Sarah McLachlan, "Angel"
Dogs. Sad dogs. This song evokes the lonely faces of abused shelter dogs. I can't listen to it without falling apart from dog-concern. I can't listen to any Sarah McLachlan song, for that matter. I can barely watch The McLaughlin Group.
2. Goo Goo Dolls, "Slide"
This song was my jam. My roommates and I played it a lot in 1999. A lot. We played a lot of music a lot, and had a lot of very loud parties. During one such kicker, the very patient lesbian couple upstairs finally called down to complain (and they had every right to do so, what with their new baby and all. God, we were assholes). I was overcome with very appropriate guilt over the whole thing, so the next day, I sent up a giant spring bouquet and a note of apology. The day after that, there was a note on our door: "Thanks for the flowers. We take back everything we said about your mothers."
1. Cher, "Believe"
If you ever want to be surrounded by a billion gay dudes in their 60s who go fucking bananas every time a lady puts on a new dress, go see Cher in concert.