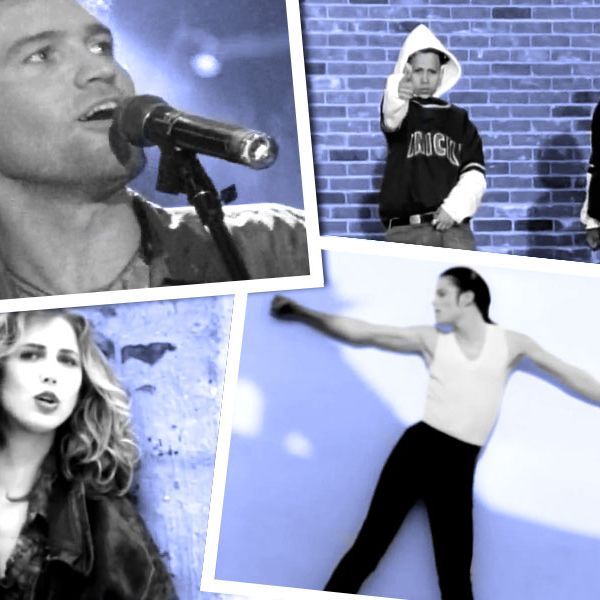 Each week, through my "Somewhere in Time" column, I hop in my GIFfy DeLorean and travel back to a moment in our pop-culture past to reevaluate just what we as a nation thought was good. Inspired by the Reality Rumble going on at Vulture, I set a course for May 21, 1992, when seven strangers stopped being polite and started being real, and in the process ushered in an entire industry. Life before reality television was a profoundly different one than after MTV uncorked The Real World, and the top 40 pop songs from that week sound like a transmission from another dimension all these years later. Let's go through them together, shall we?
40. Atlantic Starr, "Masterpiece"
The '80s really did a number on a lot of '70s bands. Heart and Aerosmith turned into faceless corporate hitmakers. Robert Plant gave us the Honeydrippers and "Tall Cool One." And funk stalwarts Atlantic Starr turned into sugary ballad generators. With "Masterpiece," they continue the long nap they started with 1985's "Secret Lovers." But if you ask me, that year's "Freak-a-Ristic" was where it's at, Atlantic Starr–wise. It's a jam they couldn't get on top 40 radio, and a slang word that really should have had some legs. Let's get on it.
39. Linear, "TLC"
A follow-up single to the surprise hit "Saving All My Love" from Linear, a Miami freestyle band whose name looked like it should have been pronounced LIN-ee-yur but was actually pronounced luh-NEER (briefly, until we reacted to the confusion by forgetting them entirely). Linear scores bonus points for a freak-a-ristic video that looks like the credits sequence from a Peter Engel Saturday morning sitcom.
38. Jody Watley, "I'm The One You Need"
In 1992, music's old guard was starting to get nudged out of the way by the new. Jody Watley's hit streak ended just as the one by TLC (no relation to the song above) was getting started. The same was true for television: The Cosby Show aired its last episode right around this time, just as The Simpsons and Seinfeld were establishing their dominance. And over on MTV, an entire industry was hatching, as The Real World made its debut. If you haven't seen season one of The Real World recently, it's on Hulu, and it's absolutely worthy of another look. It has, like, anthropological importance now. These people had no idea what to do on camera, because nobody had ever done what they were doing. Nobody had been compelled to play themselves on television in real time. Nobody had done a confessional interview. Nobody had begun a sentence with the words "I'm the kind of person who…" Cameras were rolling on a whole new genre, and our seven guinea pigs didn't even know where to look.
37. Prince & the New Power Generation, "Money Don't Matter 2Night"
Am I wrong for wanting a Prince reality docu-soap? Wouldn't it, by force of sheer weirdness, blow everything else off your DVR? I know he has neither the desire nor the dwindling bank account to get the ball rolling, and I respect him for it. I just want to watch the guy eat breakfast. Is that so wrong?
36. Kathy Troccoli, "Everything Changes"
If memory serves, Kathy Troccoli was another Christian hitmaker whose special prayer was to follow the trail Amy Grant had blazed into the mainstream top 40. The very early '90s were a great moment for female pop star flashes-in-the-pan: Tara Kemp, A'me Lorain, Karyn White, and don't even get me started on Cathy Dennis. If you are in any way curious as to whether I was ankle-deep in cassingles by all of these women, I can assure you that I was.
35. Bonnie Raitt, "Not the Only One"
Ol' Bon-Bon was still riding a Grammy wave from Nick of Time's Best Album win in 1990. There was such a thing as a "Grammy wave" in the 20th century. Real quick, without looking it up, who won Record of the Year this year — see, you can't!
34. Shanice, "Silent Prayer"
This is one of my favorite things to do when I'm bored, and I cannot recommend it highly enough: Go to the saddest bar in your neighborhood in the middle of the afternoon when only the silent day drinkers are there. If they have an internet jukebox, which most do now, put on Shanice's "I Love Your Smile," find yourself a seat with a good view of the crowd, and watch what happens. I call it "Shanicing," and I promise you the results will never be less than magical.
33. Howard Jones, "Lift Me Up"
Howard Jones was too beautiful for this world. He had simple, positive messages: Things can only get better, don't try to live your life in one day, throw off your mental chains, whoo hoo hoo.
And boy did I need some lifting up in 1992. I was 21, I had absolutely no idea what to do with my life, the homosexuality I had been desperate to call a phase was proving itself to be anything but, and I was stuck on the campus of Holy Cross, a very good but very homogeneous Catholic college where the gay community consisted of … oh wait, there was no gay community. I was terrified, angry at myself for being terrified, and trying to convince myself and everyone around me that I wasn't angry and terrified. I generally behaved like a character in a Hold Steady song.
I needed a way forward, and here's what I decided to do: I decided to write an anonymous letter to the school newspaper about my experiences as a gay student. How I was just like everyone else, living in the same dorms and taking the same classes, even playing on one of your sports teams (I rowed crew. Shut up, it counts!), and how I was sure I couldn't be the only one, but just so you know, I'm here and you might know me. It got published right on the front page, and I spent the days afterwards stalking the campus like a spy, listening for snippets of conversation, dying to find out how it would be received. Waiting for news about my future, basically.
It was received mostly positively; in his column the next week, Bill Simmons, who was a year ahead of me (hey, whatever happened to that guy?) got in a good line about how brave our football team's star quarterback had been to write that anonymous letter. But get this: There was a not-insignificant number of people who assumed the letter had been written in jest. Let me repeat that: In 1992, several people separately came to the conclusion that the idea of one homosexual person on a campus of three thousand people was so ludicrous it must have been a joke.
That one threw me, folks. I'm not going to lie to you.
32. Jodeci, "Come & Talk To Me"
Without Jodeci, there would be no Dru Hill. Without Dru Hill, there would be no Sisqo. Without Sisqo, there would be no "Thong Song." This is my simple case for Jodeci's induction into the Rock & Roll Hall of Fame.
31. Lidell Townsell, "Nu Nu"
Here's one I had totally forgotten about, and what do you know: Austin Mahone has more or less remade it in his brand-new single "Mmm Yeah," a song whose video bites its whole concept from Jamiroquai's "Virtual Insanity." The whole thing is so derivative, Pitbull does a verse on it. Austin Mahone, I am rooting for you merely because you are not Justin Bieber, but you better come original. And when I am deploying 311 lyrics, you better believe the situation is critical.
30. Jon Secada, "Just Another Day"
Ah! A song of love and longing so achey only a Latin pop star could pull it off. Ol' Jonny Dry began his string of pop hits here, and I listened to this particular one about a million times in a row, because I had a crush on about 90% of my friends.
29. Lionel Richie, "Do It to Me"
Nowadays, with all the excellent content coming from all the different distribution channels, we binge-watch good show after good show. In the early '90s, there wasn't much quality stuff, so the few things we liked, we watched again and again. We dependency-watched, which countless weekend-afternoon marathon airings of the early seasons of The Real World made easy. When MTV re-aired the first season recently, I worried my boyfriend by mouthing the dialogue along with the screen. I'd unwittingly committed it to memory, and if you're in your mid-30s or up, you did too: "He's probably gonna kill himself," "You look like the type who'd be right picky," "If you from the Bronx, and you wanna go to college, you either tryin' to shoot that jumper, or you BUGGIN'." (Julie and Heather had all the best lines.)
28. Color Me Badd, "Slow Motion"
CMB are a punch line now, and they should be; they were ridiculous. But this song is kind of a jam, let's be honest with ourselves.
27. Paula Abdul, "Will You Marry Me?"
In these marriage-equality-dominoes-fallin', post–Fred Phelps times, it's easy to forget that coming out was still kind of a big deal in 1992. Holy Cross was obviously not going to give me sexy results, so once I got my first car, I started to venture out on solo trips to Boston-era gay bars. They were all hidden, they were all dimly lit, and they all seemed to be video bars. I guess we all needed something to look at while we pretended not to be cruising one another. The video that was playing when I went into Club Cafe, my first gay Boston video bar, was "Crucified" by Army of Lovers, a megadose of pure uncut rainbow that nearly sent me right back out the door. Toto, I don't think we're in Catholic school anymore.
26. Amy Grant, "I Will Remember You"
If Amy Grant had had her moment in this decade instead of the early '90s, there would be so many Tumblrs devoted to the guy from her "Baby, Baby" and "Good For Me" videos it would break the internet. I mean, look at this guy, will you please?
25. Wilson Phillips, "You Won't See Me Cry"
"Give It Up" should have been the first single from "Shadows and Light." You know it, I know it, the whole world knows it. (Actually, there's a case to be made that this album bombed because Chynna Phillips grew her hair out. This might have been the rare example of a reverse Felicity, people.)
24. Luther Vandross & Janet Jackson, "The Best Things In Life Are Free"
This was produced by Biv and DeVoe of Bell Biv DeVoe! Besides "smack it up, flip it, rub it down OH NO," this is the best thing BBD gave us. (Related: "Me and the crew used to do her" would not fly in today's climate, am I right?)
23. Mariah Carey, "Make It Happen"
I want belty, gospelly, unctuous Mariah back. Staccato-singing, Dowager Countess–behaving Mariah, you are dismissed.
22. Mr. Big, "Just Take My Heart"
The last gasp of the hair-metal-bands-who-are-better-known-for-their-acoustic-ballads sub-genre, which included Extreme's "More Than Words," Tesla's "Love Song," and … okay, not much else. It was a sub-sub-genre.
21. Richard Marx, "Hazard"
Richard Marx's last big U.S. hit, a song about a guy who's been wrongfully accused of murder … or has he? There are theories online. I repeat: There are theories about the identity of the murderer in a Richard Marx song on the internet.
20. Def Leppard, "Let's Get Rocked"
Let's get bent. Just as pop-metal was dying, and before "alternative" became a parody of itself, there was a good 18 months of excellent indie music in the early '90s, and Nirvana had even the mainstreamiest among us eager to try new things. 1992 alone brought us Buffalo Tom's Let Me Come Over, the Lemonheads' It's A Shame About Ray, Pavement's Slanted and Enchanted, Juliana Hatfield's Hey Babe, and Beastie Boys' Check Your Head. If I watch Cosmos intently enough, I'll learn how to build an actual time machine, right?
19. Arrested Development, "Tennessee"
Reader, I challenge you to a game of horseshoes. A game of horseshoooooes.
Oh, Arrested Development. My senior year of college, I was the president of the social committee, because nobody gets more done than a man who's trying to sublimate his sexual needs. Among my duties was booking bands for big campus events, and for our big spring concert in 1994, I secured Arrested Development. It seemed like a smart choice, because they were about to release their sophomore album, Zingalamaduni, and immediately drop off the face of the earth forever. By this time, we were all familiar with their idealistic message, and in their rider they asked for spring water and buckwheat pasta. I took the campus activities van to pick them up from the airport, and there they were, in their dashikis and Dwayne Wayne granny-glasses. They even brought their elderly spiritual advisor Baba Oje, who would sit onstage in a rocking chair through the entire show, offering his silent benediction. It was all so promising, so utopian, so early '90s.
On the ride back to the hotel, Baba scooted up to my seat, fixed his serene eyes upon me, and asked, "So where the pussy at?"
18. Billy Ray Cyrus, "Achy Breaky Heart"
In the summer of 1992, there was a package tour called The Young Country Round-Up, featuring Brooks & Dunn, Tricia Yearwood, and a young up-and-comer named Billy Ray Cyrus. By the time the tour reached St. Louis in late July, "Achy Breaky Heart" was a genuine smash, but poor Billy Ray was stuck in a lousy early slot. His set was 25 minutes long. He opened with "Achy Breaky Heart." He closed with "Achy Breaky Heart." In the middle, he did a medley which featured a chorus of "Achy Breaky Heart." Dude knew where his bread was buttered.
Also, toward the end of his set, he looked out into the crowd — an easy thing to do, because it was 1pm — and said "I see a lot of veterans out there." Then, to his band: "Guys, you can take a break now — I have to say something to these people." He then sang an a capella version of "America the Beautiful," which he absolutely did at every other stop on the tour, but I'll be damned if everybody in this audience didn't think it was just for them.
17. Genesis, "Hold on My Heart"
I hadn't thought about that Arrested Development story in a long time, and from today's perspective, there are so many parallels to the Clinton administration, I don't even know where to start.
16. Bryan Adams, "Thought I'd Died And Gone to Heaven"
Bryan Adams was not afraid of a long title. "The Only Thing That Looks Good on Me Is You." "Can't Stop This Thing We Started." "Have You Ever Really Loved a Woman?" These are things I think about, and I cannot tell you how grateful I am to have landed in a place where a mind troubled by such matters is a job requirement.
15. U2, "One"
For a brilliant and hilarious meditation on U2's significance, I will direct you to an Irish film called The Stag, which just opened in the UK and Ireland and will be released via VOD in the States in April (under the title The Bachelor Weekend, because the distributor doesn't think you know what a "stag" is). It is an absolutely charming film starring Andrew Scott (Moriarty from Sherlock!) and Peter MacDonald (the dad from Moone Boy!) and it deserves to be a sleeper hit. Get into it.
14. Ugly Kid Joe, "Everything About You"
Band name and unfortunate grunge hair aside, Ugly Kid Joe's lead singer Whitfield Crane is seriously handsome. The face of a Kennedy, that one! At around this time, Whitfield was going out with then-MTV VJ Duff, with whom I have a standing lunch date whenever I'm in New York. Let me tell you this: When you are with Duff, it is like you are with the Mayor of the World. Everyone knows her, and everyone wants to please her. You are greeted, you are whisked to the table, you are sent a little something from the kitchen. And when you talk to her, you get it. Duff is sweetness, smarts and spunk incarnate. Duff is deeply good people. Whitfield Crane, I don't know about.
13. Mariah Carey, "I'll Be There"
After spring finals each year, Holy Cross had an unofficial tradition called Cape Week, in which the entire student body would relocate to a town in Cape Cod, rent houses, and drink for a solid seven days. It was a giant debauch, and I can't believe I survived it four — okay, five — times. In Cape Week 1992, I went in on a house with a bunch of guys from the soccer team, a couple of whom I'd become friends with that year. One week, non-stop keg parties, one frustrated 21-year-old homosexual, and nine straight guys with perfect calves. What sounds like the beginning to an epic porno was in reality a week of torture and repression for this reporter.
So I pulled the "gotta go visit some family friends" card in the middle of the week and took my Jetta a few stops further down the cape to meet my new Boston gay friends in Provincetown. Have you been to Provincetown? Provincetown is that Army of Lovers video but in all three dimensions, and the second I pulled up and saw it — with this Jackson 5 cover playing on the radio — I thought, Maybe my anonymous letter was a joke.
12. Celine Dion, "If You Asked Me To"
Not bad, but everybody knows Patti LaBelle did the crucial version of "If You Asked Me To." (Also, I'm not saying Celine played the French girl in "Better Off Dead," I'm just saying watch the video and draw your own conclusions.)
11. Eric Clapton, "Tears in Heaven"
Yeah, you make a joke about this song.
10. Vanessa Williams, "Save the Best for Last"
My freshman year at Holy Cross, I went to a campus dance with a girl from my dorm, and on the day of the event, I realized that I'd forgotten to order a corsage. Without a car and therefore immediately out of options, I decided to get her a Koosh Ball instead. It ended up matching her dress and lasting much longer than a flower would besides. So it became a tradition among my friends: no flowers, only toys or the occasional potted plant. In the spring of 1992, my friend Brad and I got asked to a Sadie Hawkins by a pair of roommates, and we decided to buy them an inflatable kiddie pool for their suite. Filling it was a challenge, as we only had party tumblers and vases, but once the job was done, the ladies removed their hose, we doffed our shoes and socks and rolled up our pants, and, ankle-deep in tap water and dizzy from Keystone Light, the two pairs of us slow-danced to this song.
If you're going to leave heterosexuality, go out on top. That's my motto.
9. Queen, "Bohemian Rhapsody"
Whatever appreciation I may have had for this song (re-entering the charts here, courtesy of Wayne's World) has been forever extinguished by the commercial for Las Vegas hotel and casino the Cosmopolitan that references it. Look upon it, ye readers, and despair.
8. TLC, "Ain't 2 Proud 2 Beg" 
Listen: TLC packed a lot of good and bad into their too-short career, but I cannot forgive them for asking "Chilli: what's up with that sauce?" in the intro of their debut single and then leaving the matter unresolved. I want answers.
7.  Sophie B. Hawkins, "Damn! I Wish I Was Your Lover"
Sophie B. Hawkins is your aunt who wears her hair in a loose grey bun, tries to sell you on the health benefits of kombucha and has a dreamcatcher hanging from the rear view mirror of her Volvo, but damn! This is still one of the sexiest songs ever produced.
6. Michael Jackson, "In the Closet"
The Teddy Riley tracks on "Dangerous" should have pointed the way forward for Jacko, but he chose what was behind the "Heal the World" door instead, and spent the next decade being some other planet's biggest pop star.
5. Sir Mix-a-Lot, "Baby Got Back"
Never heard of it.
4. Joe Public, "Live And Learn"
So where are the seven strangers of Real World I now? Most of them have gone back to the actual real world, which is a refreshingly bright idea. Julie's back in Alabama, Kevin's a writer and politician in New York, and after all the noise Andre made about having to act like a country boy in that episode where they switched identities, he's now in Silverlake fronting a bluegrass band. I hear Eric is a spiritual advisor/life coach of some sort now, and I must admit I don't know what that entails beyond yoga pants. Heather B. is the co-host of Sway's morning show on Sirius/XM. The last time I visited those studios, Heather B. and I ran into each other in the lobby, hugged and caught up for around 20 minutes before we realized it was the first time we'd met.
3. Red Hot Chili Peppers, "Under the Bridge"
What would have surprised the 1992 version of you more: that RHCP would someday play the Super Bowl halftime show, or that the very idea of it would make you drowsy? For the record, the 1992 Super Bowl halftime show was called "Winter Magic," and it featured performances by Olympic figure skaters Brian Boitano and Dorothy Hamill. Super Bowl halftime shows were for old people until much more recently than you probably thought.
If they've evolved to include the Peppers, 1992 provided the pivotal moment. This was the year that Fox successfully counter-programmed with their own Doritos Zaptime In Living Color Super Halftime Party, which opened with "Men On Football," in which Damon Wayans and David Alan Grier pretended to be effeminate gay guys and made five million demeaning anal sex jokes. Honest to God, if you were a gay man in 1992 and you managed to get out of bed and go about your business every day, you deserve a goddamn ticker-tape parade.
2. En Vogue, "My Lovin' (You're Never Gonna Get It)"
Talk about zaptime. En Vogue had been another faceless R&B girl group, and as great as "Hold On" was, I assumed they'd fade into the ether like so many Seductions, Company Bs and Sweet Sentations. And then along came this song, which straight up grabbed you by the necktie and forced you onto the dancefloor. Funky Divas established En Vogue as the real deal.
And then they immediately faded into the ether.
1. Kris Kross, "Jump"
At the same time as Jermaine Dupri was establishing his place in the pop music world with "Jump," Pharrell Williams was making his production debut with Wreckx-n-Effect's "Rump Shaker." Twenty-two years later, they're still running things. Jermaine Dupri and Pharrell Williams are freak-a-ristic, is what I'm saying.